The Story of My Life Continues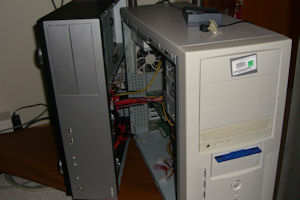 Recently I posted a blog about how my development/HD server system died on my after my UPS beeped briefly. Well, I decided that it was worth a quick look to see if it was the power supply or not. I knew it would be a quick test, so I came up with the following test rig.
Believe it or not, it did actually work (the test that is). I plugged in the main motherboard power and the CPU AUX power connectors and flipped the switch. Sure enough, the system started to work again. All in all I think this took me about 10 minutes to test out. After hooking up a couple of molex connectors for the hard drives and the graphics card, I was able to get the system up and running again. Now I just need to dig through my closet and see if any of my old power supplies are powerful enough (and new enough) to run in this system. I don't want to strip the one that I used for the test. I have other plans for that…
And so the saga continues. Now I know what the problem is. What, if anything, do I want to do about it? Hmm.. As always, feel free to share your opinions in the forums!