Life With A Plugin Episode 16: Movie Collectorz 6.0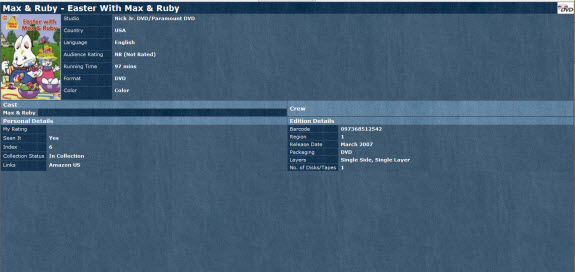 My previous tango with Movie Collectorz was only a few short months ago. It won my heart with a dual purposed approach that includes a MCML based Vista Media Center plugin (that works in Windows 7) and an excellent cataloging program. Since then, Movie Collectorz has grown into an integeral part of my Media Center setup. The combination of the two products work extremely well for my needs. With Version 6 out of the hopper, I hope to see some improvements that I outlined in my first review along with anything else they might throw in to continually imrpove the product.
Prior to releasing, much to their credit, the president of Collectorz released a series of emails outlined a few of the improvements they were going to make. Below is a quick summary of the improvements and my thoughts.
Overview of Cataloging Program
---
Perhaps the biggest change for V6 was the removal of all external data sources such as IMDB and Amazon. Now if you search you will only be using the Collectorz.com database. For the average user, this should simplify the process off adding a movie with only 1 source of information. V5 was a bit of cluster when using all the data sources. With that said, if you have a niche collection you will run into problems with the program supplying enough information. I had a pretty good success rate except when it came to kids movies I was adding. Below is a pic of a Max & Ruby cartoon search by barcode but came up with no plot information. If you don't deviate from the main stream movies to much, you should be good to go.
I am sure there are many good reasons to move to their own data-source but I really would have liked them to save the IMDB database
Movie Details screen for Max & Ruby lacks info.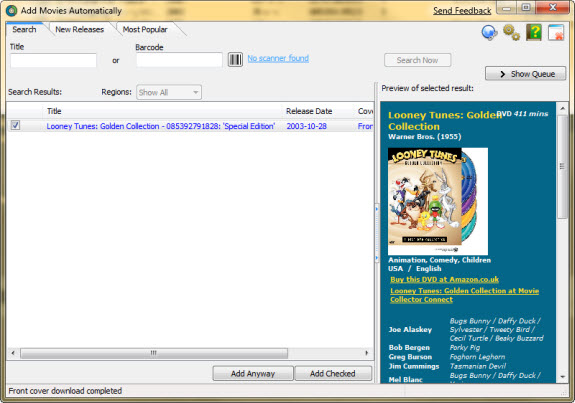 Search for movie is pretty simple when using barcodes rather then by title.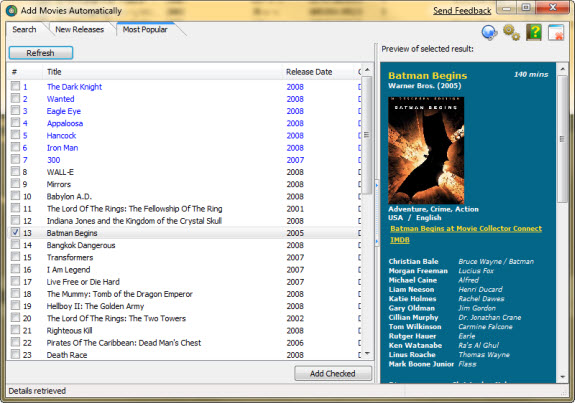 Two new screens were added to the "Add Movie" process. If you grab a
new release, you should be able to take it right away fomr the newly
added or popular list. This is also a way to get you to buy more movies
to add to your collection ;).
Cover Art

---
The Collectorz.com database now stores 600 pixel cover art instead of
the 400 pixel coverart. This is pretty important for folks who use the
MCE plugin on high def displays. Cruddy, compressed and pixelated cover
art completely ruins the feel of a DVD or music library. You can get
the new cover art with version 5 or 6. No reason to upgrade because of
this feature.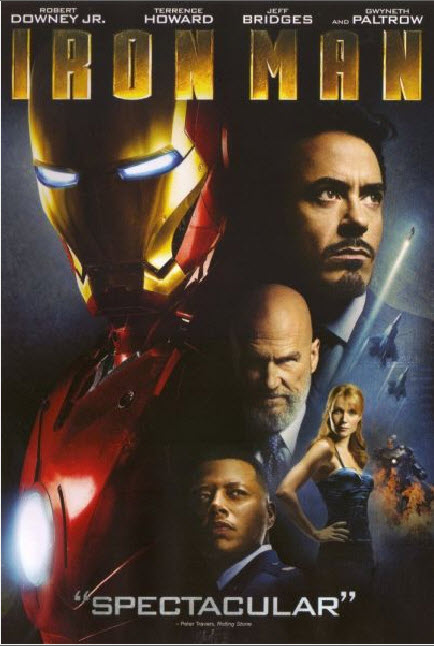 Overview Of Media Center Plugin
---
Brian Baskerville of MCEZone updates the VMC plugin for Collectorz
and he has added a few improvements. He has a tough job to compete with
all of the free video library development going on. My first impression
of the new plugin is that they add some nice UI improvements and
functionality but do not go the extra mile to compete with My Movies
and OML.
The biggest addition to the bunch has to be the addition of ISO
mounting and inclusion of using PowerDVD to playback DVDs. I am a
little puzzled as to why he did not include Arcsoft Total Media
Theater, as that is popular among the Media Center Enthusiasts.
As you can see, a few other enhancements have made it into the mix
including a few different type of transitions and themes. They are
pretty basic but add a nice touch to the program. Custom backgrounds, I
think, are always a nice touch. Its obvious Brain does his best to keep
the MCE plugin simple and clean and he achieves his goal. The big
trend, along with higher resolution coverart, is fan art. Certainly in
the not too distant future, I would like to see Collectorz support this
feature in the cataloging part of the program and MCE plugin.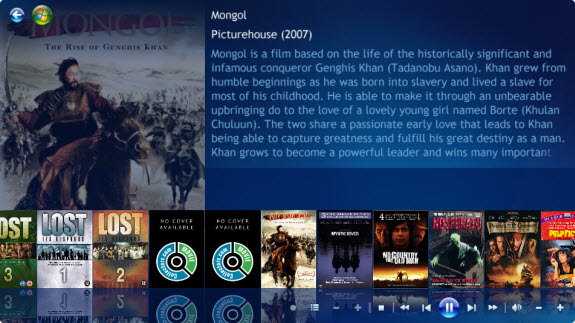 In keeping with his simple is better theme, the developer chose not to
have a menu/filter bar on the top or side of the screens. Instead, you
press pause or ctrl+p to bring up a menu that allows you to choose
between different views, filters or search for your movies. There are
just too many clicks in the process to filter all the way down to a
specific genre. It seems cumbersome, I would really like the option to
have preset filters present on the main screen.
In the movie below, you can see the new views. The plugin really
shines here, he sliced and diced the view options every which way. No
matter who picks up this program, they should find at least one option
they find useful depending on screen real estate and more.
Above & Beyond

---
Overall, my experience has improved, if ever so slightly from Version
5. The cataloging program is very effective and simple to use. The MCML
based VMC plugin is well thought out with an assortment of views and
options that work quite well. The addition of ISO and PowerDVD support
is nice plus for MCE users.
Falling Short

---
I am not sure why Collectorz chose not to include Arcosft TMT support for Blu-ray discs. This certainly needs to be
changed. My other beef is the quasi-network support really did not get
solved this go around. The XML file required for the VMC plugin is saved
locally, so you have to edit the database on your local computer to
ensure the VMC plugin is updated along with the database.
The upgrade fee is a hard pill to swallow. For $30 dollars you really
do not get much in the way of a tangible improvement in the cataloging
program. It certainly is simpler to use but the trade off is that you
have less sources to use. A wash in my opinion.
Grade: Approved For Everyday Use

Overall I really like the program and will continue to use it. It is
easy for me to recommend the full version of this program if you have
not purchased version 5. However, it is hard for me to recommend the 30
dollar upgrade fee as it does not add enough in the way of
functioanlity to make it worth while. Add fan art, TMT support and an
always on filter menu, and I will fall in love :).