Windows7: Video Resume finally a reality–Thank you Microsoft!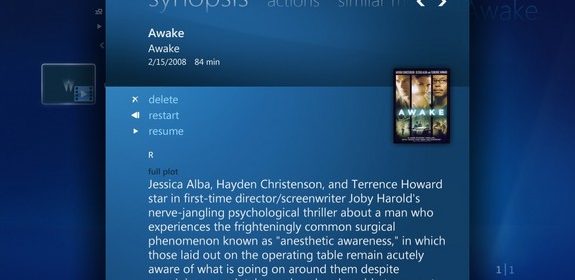 The story of my mission for getting video resume in Media Center is a long one, but I will condense it for your sanity. Ever since the original Portable Media Centers were released–remember, those brick sized devices before IPods ever existed–the one and only feature I clammored for and missed from those devices were Video Resume. By video resume, I mean the ability to play a video file (non-DVR-MS or WTV), press stop, and then be able to come back to the video file the next night and be able to pick up right where you left off.
This simple and often overlooked feature (found in every portable video player in recent memory and some software as well) has been painfully missing from Media Center for all these years. Every MVP Summit I have reminded the eHome team of this ommission, and every year I've seen no change–always "good suggestion, just didn't make the cut."
So it's with great pride I can report that my prayers (and clearly not just my own) have been answered, as I can report that as of the public beta of Windows7, VIDEO RESUME EXISTS! Add some videos (divx, avi, wmv, whatever!) into your Video Library, click on a file and it will begin playing automatically. Click Stop, do anything else, play another track, heck even close Media Center, and when you go back to play that same video, you will be greeted with a screen like the above.
Again, probably a feature some of you could care less, but I can't imagine I'm alone in my excitement–not just that this feature has finally made it's way into Media Center, but that it shows that Microsoft has been listening (albeit slow to implement). No complaints though…thank you Microsoft! No more will I have to stay up late to finish watching a movie for fear of having to skip 5000 times to get back to that point! No more will I have to convert my movies just to have this!