SuperTooth Disco Bluetooth Speaker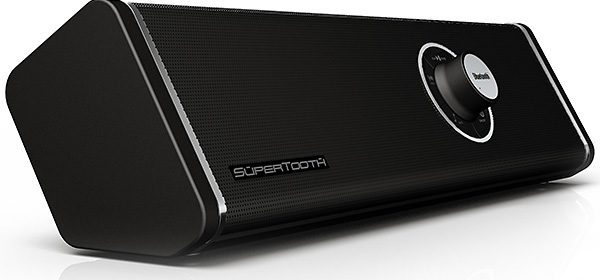 Many of us have home theater setups in a particular room in our homes fully configured and ready to integrate with all our content and devices. But what about when you want to take that entertainment to another room, outside or even to someone else's house? That's where the SuperTooth Disco Bluetooth Speaker comes into play as it is a fully portable and powerful speaker setup designed to let you wirelessly send audio from a variety of devices to it. With an MSRP of $149 the Disco is positioned right where other portable audio solutions are placed but with the added benefit of being connected without power or wires to your audio player.
SPECIFICATIONS
As always let's start with the specifications and marketing speak given to us by the manufacturer of the SuperTooth Disco Bluetooth Speaker:
Your music anywhere, anytime thanks to its record-breaking battery life and its carry case. Powerful, it is the most powerful portable Bluetooth A2DP speaker on the market at the moment.
Bluetooth
Bluetooth A2DP stereo speaker
Power
28 watts of sound (1 x 12 watt subwoofer, 2 x 8 watt stereo drivers).
Size (LWH)
4" x 14" x 4"
Weight
3.75lbs
Battery Type
NiMh
Battery Life

Built-in battery for 3 to 4 hours non-stop music at high level
10 hours at medium level

Warranty
2 years
Compatibility
Compatible with all Bluetooth-enabled devices, including the latest version of iPhone, iPad – or even iPod Touch. Equally compatible with all other phones, PCs, and MP3 players that support Bluetooth A2DP.
Other
Supplied with a Jack 3.5 cable to stream music from non-Bluetooth device
Unlike some other speaker solutions this is a single bar speaker which contains two individual 8 watt stereo drivers along with a 12 watt subwoofer, all enclosed in its case. There is a carrying case which the Disco comes with which allows full operation–even plugging in the line in and AC Outlet charger–while within it.
Under Bluetooth compatibility the technology required is A2DP which stands for Advanced Audio Distribution Profile–"This profile defines how high quality audio (stereo or mono) can be streamed from one device to another over a Bluetooth connection." Make sure your particular Bluetooth device supports this protocol or you will be a bit disappointed. Testing was done on an iPhone 3g, ASUS Centrino Duo laptop and a 2010 Core2 Duo Macbook, all of which functioned with the speaker.
TESTING AND USAGE
The SuperTooth Disco Bluetooth Stereo Speaker arrived very well packaged in a tight long box with the speaker unit already within the padded carrying case. Along with the speaker system itself is an AC charger adapter, 3.5mm mini-to-mini cable and user guide in various languages. Setup and configuration is a breeze but does require reading the manual to get the passcode for configuring your Bluetooth player with the speaker device.
As you have noticed from the specifications the Disco unit is capable of operating while plugged into the wall outlet or wireless as it includes a rechargeable NiMh battery–as mentioned in the specs the life of the battery is completely dependent on the level of volume you are listening to. If you want to save even more you can turn off the sub-woofer via the "Bass" button on the front of the unit. Even at its highest volume level SuperTooth rates the speaker at 3 to 4 hours, which is acceptable, and this lifespan can be expanded to over 10 hours under medium volume conditions.
Streaming via Bluetooth is something that is becoming increasingly popular recently as shown with our XTremeMac InCharge Home BT and Manhattan Speaker units, and for a reason–the range and control available via Bluetooth is very powerful. In my apartment I tested the range of the SuperTooth Disco Bluetooth Stereo Speaker by going through walls and doors, as far as possible (approximately 20' away) and the connection did not degrade at all. As I mentioned I tested with an iPhone 3g with IOS 4.2, an ASUS Windows 7 whitebook laptop featuring Intel Centrino Duo and a 2010 Macbook with OSX 10.5. Consult your manual for your device if you are unsure if it supports Bluetooth, but most recent laptops should include it, along with the majority of mobile smartphone devices. The performance of the Macbook and iPhone was on par, both connecting instantly and the quality of streaming equivalent. My ASUS Windows 7 Laptop was a slightly worse experience, taking approximately 30 seconds of stuttering audio before it synced properly and then the connection was uninterrupted–although there was a popping sound exhibited during audio playback which was not present with the same audio tracks on the other two devices. These popping were also not present when I connected via the line-in jack on the rear of the SuperTooth Disco–a reminder that the quality is somewhat dependent on the Bluetooth transmitter within your device as much as the speaker itself.
Audio quality is on par with what you would expect from 8 watt speakers, however I found the audio quality to be above what was heard via the Grace Digital IRMS-300 Bookshelf System when the volume level was maxed out. There was little distortion even at peak levels. The subwoofer is a bit underwhelming but did provide a decent amount of bass although at higher volumes it did begin to distort. Overall however I was very impressed with the capabilities of the Disco unit, as it was able to fill my entire apartment with clear audio–it's a deceptively powerful speaker setup in a very small package!
I tested the unit both within and outside it's carrying case. The case has a strap on one end for convenient holding and has a covered panel on the rear for the charging cable as well as the 3.5mm line-in jack; there is also a vent space for air from the subwoofer. The front panel folds down and exposes the front of the unit and velcro holds it tight when shut. While audio can be played while the unit is inside the case there is a bit of a muffled tone to audio, so I would recommend removing it from the case during playback if that bothers you.
When powered on the unit remains in a standby mode while awaiting connection to a playback device. Wattage tested during standby and playback was interesting. When plugged in and turned OFF the unit pulls just over 12 watts of power (measured by our Kill A Watt device). When playing the unit pulls its power from the battery so wattage consumption drops to 0. And the last interesting touch, when in standby mode (blinking light) it would draw 2.4 watts. The blinking bright blue light would annoy many people, so powering off the unit when not in use is always a good idea as long as you unplug the device–however just realize it may not be fully charged the next time you play it. If you can stand the light, standby seems to be the optimal power state for it and then it's always ready to play.
The SuperTooth Disco does not include a remote control, as you would expect from a device which can be controlled via Bluetooth from the player itself. However there are playback buttons located on the face of the unit which allow for Play/Pause/Previous/Next. With the A2DP Bluetooth compatible units the speaker can actually control the playback remotely from the unit–so if you have your iPhone located in a different room you can still skip songs from the Disco. A very convenient feature, especially if you have the speaker outside or in an environment where you want your telephone to be safely tucked away. Conversely the volume controls on your player can also control the volume to the speaker unit.
CONCLUSION
Overall I am very impressed with the entire package offered with the SuperTooth Disco Bluetooth Stereo Speaker. It is one of the most powerful portable speaker systems I have heard and offers the convenience of being plugged in or running directly off of its rechargeable battery. The range of the Bluetooth was very good and the quality and crispness of the connection did not deteriorate as the range increased. The audio volumes produced were very impressive as the unit easily pumped sound throughout (and outside) my modest 700sq foot apartment, while still maintaining its clarity and quality. I would have no doubts in putting this speaker outside or taking for a camping trip without worry, and unlike some iPhone docks does not require the iPhone connected to it. At an MSRP of $149, but it can be found on Amazon for $123, the SuperTooth Disco speaker is an easy recommendation to make.
PROS:
Extremely powerful, tiny package
Carrying case very well thought out, allows for usage inside or out
Playback controls directly on the unit
Great range
Completely portable, able to last 10 hours off battery
CONS:
No iPhone charging abilities
Unit seems to constantly be charging the battery in off mode (12 watts)
Thanks to SuperTooth for providing the review unit. The Disco is available today at Amazon.com