Fractal Design Array R2 Mini-ITX Chassis

In the last few weeks we have taken a look at a wide range of chassis based on feedback we've received from our readers in regards to what form factor is most used for their home theater PC (HTPC) as the results were mixed. But one form factor which has not been covered simply due to a lack of viable options has been the "cube" case, which I have admired for years but never saw one compact enough for my home theater space–most of the cube cases were either very large or made of the clear acrylic and flashy lights not at all suitable for a living room. Only recently coming from overseas and available in the US, the Fractal Design Array R2 chassis provides a blend of refinement with a ton of storage space options, in an all aluminum black enclosure–not exactly a cube by measurement, but of similar structure. Not being clearly a desktop nor HTPC chassis however, will this find a place in your environment?
SPECIFICATIONS
Let's examine the cold hard facts of the features included within the Fractal Design Array R2 chassis:
Case Specifications

Built with high-quality aluminum
Silent, efficient 300W SFX PSU included
Room for six silicone mounted 3,5-inch HDD
Room for one SSD
Removable HDD cage for easy mounting
Silent Series 140mm fan included in front, with washable filter
Space available for CPU cooler: circa 90mm height
Space available for expansion card: circa 140mm length
Fits Mini ITX and Mini DTX motherboards
Two expansion slots
Case dimensions (WxHxD): 250x200x350mm
Net weight: 4.1kg

PSU Specifications

80 PLUS rated SFX 300W PSU
Silent, temperature controlled fan
7x SATA-connectors, 1x Molex, 1x 4-pin and 1x 20/24pin
Meets CE, TUV safety requirements

Fan Specifications

140mm Silent Series
Dimensions: 140 x 140 x 25mm
RPM: 600 +/- 10% RPM
Noise: 9 dBA
Airflow: 39 CFM, 66 m³/h
Connection: 3-pin
Power: 2.52 W +/- 10%
Textile covered electrical cable

Additional information

EAN/GTIN-13: 7350041080428
Product code: FD-CA-ARRAYR2-BL
Gross weight: 4.3kg
Outer package dimensions (WxHxD): 330x265x430mm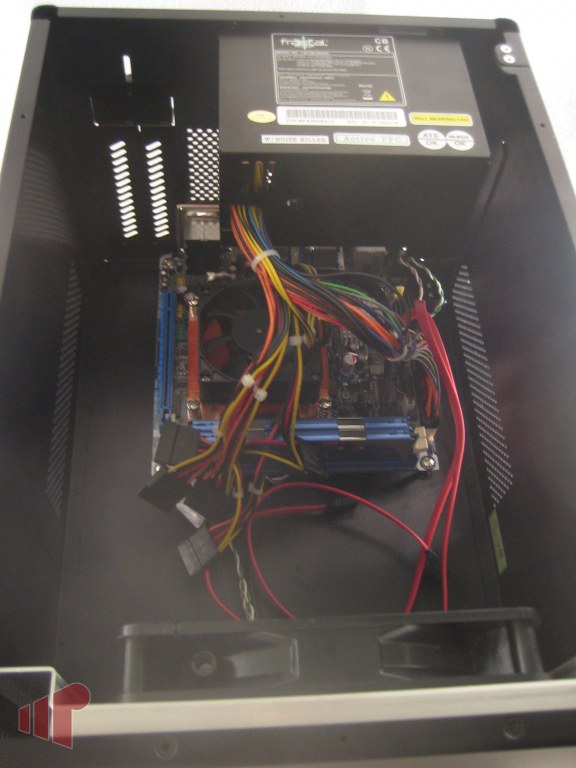 TEST SYSTEM
Motherboard
Intel DH57JG
CPU
Intel Core i3-540 3.0GHz
CPU Cooler
Dynatron Low Profile R12 and Intel Stock HSF
Memory
4GB (2x2GB) Kingston Hyper-X DDR3
GPU
n/a
Hard Drive / Solid State Drive
Intel G2 80gb SSD
3 x Seagate Barracuda 7200.11 1.5TB SATA
Optical Drive
n/a
Power Supply
Built-in 300W
Operating System
Windows 7 Professional 64-bit
PACKAGING & HARDWARE
Due to their size, enclosures typically arrive in their actual retail packaging without any outer shell or protection (as with most chassis we have seen). Fortunately, FedEx had mercy on the box; there were no bruises or holes found on the outer box, and the Styrofoam sufficiently protected the chassis inside. All of the components for the Array R2 were found zip tied to the hard drive enclosure to prevent them from moving around. Disappointingly, my unit arrived without a user manual, but I have been told by Fractal Designs that this was unusual and that one does come with the retail package. Enough hard drive screws and motherboard screws were included to max out the space within the chassis.
To get inside the gorgeous black anodized aluminum enclosure required the removal of six small black screws from the top of the unit. Further exploring found six more screws at the bottom which allowed for the motherboard plate to be removed–more on this awesome feature later. I should note that the screws are small, flat, and seemed to strip easily; my fear would be this getting progressively worse if you frequently open your enclosures. The power supply is held by a small stand and six black screws to the rear of the Array R2. On the inside of the lid is a piece of sound absorbing material.
On the inside of the front plate (taking up almost the entire space) is a 140mm fan made by Fractal Design, which touts an impressive sound rating of only 9dbA.
Overall, the first thought of the chassis was as expected–impressive. The chassis is extremely light thanks to its aluminum, and the brushed aluminum is so gorgeous that our pictures simply do not do it justice. Even the bottom of the chassis is brushed aluminum!
BUILD
Getting into the Fractal Design Array R2 chassis was not difficult, but it was time consuming. As we mentioned, the lid is connected with six small black screws. Once opened, we see everything neatly tucked inside, but in order to do anything inside the large hard drive bracket must be removed–an easier task said than done. The hard drive bracket is held together by two black screws on each side. Then, there are small bracket connectors inside the chassis held by two silver screws which allow for easier removal. Here is where the user manual would have benefited me since I was having a heck of a time separating the hard drive from the chassis, only to find that if I removed those side pieces it easily lifted up and out. Since the hard drives do require screws on both sides, the removal was required to install the drives–two screws on each side are connected and there are rubber grommets in place to help absorb the vibrations from the hard drives.
The Array R2 features one of my favorite features ever in a chassis which has rarely been included in any Mini-ITX or other HTPC-styled chassis–a removable motherboard tray! What does this mean? You can simply unscrew the six base screws underneath and then you have a blank canvas to install your motherboard, CPU, RAM, and (in my case) solid state hard drive, without any of the obstructions inside the case or the cramped space interfering. This also makes routing cables with proper planning much simpler.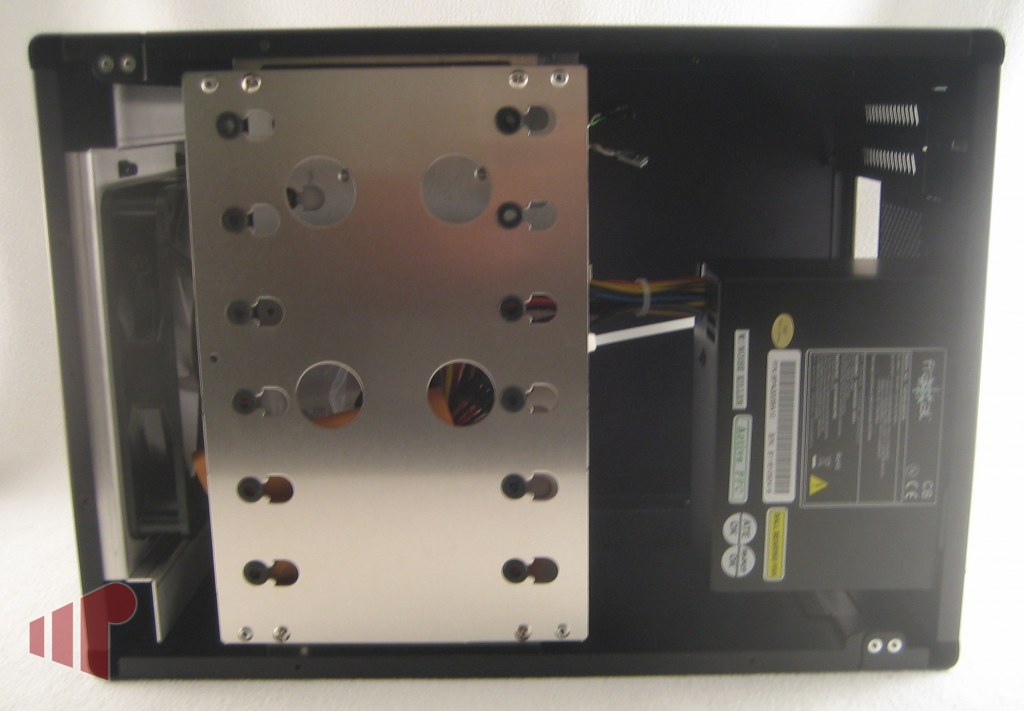 The chassis is not a perfect cube, but the dimensions allow for enough flexibility. There is space to support either a Mini-ITX board or a rarer Mini-DTX board, as well as space for a PCI add-on card–although the potential depth of the card is minimal due to the hard drive cage. But this chassis is certainly not designed for gaming so that's not a fault–remember, there's no optical drive at all. I used an Intel DH57JG Mini-ITX motherboard which allowed for a nice cushion of space on both sides, which I used to route and store some excess SATA and connector cables. Understanding the height limitations (90mm for CPU Heatsink and Fan), I opted to go with a Dynatron R12 low profile heatsink and fan (HSF), which I connected to a Zalman fan speed adjustment to get down to a nice and quiet 1900RPM. There was enough space for a taller HSF, but I wanted to play it safe.
The front of the chassis only has a single power button, and the internal connector only requires the power switch and power LEDs, which control the blue light from the front of the unit. Fortunately for my visitors, the LED is not overbearing but a nice touch–no blinking or blinding strength, and easily turned off if so desired by removing the on-board connector. The lack of any optical drive keeps the front and sides smooth and sleek, hiding the appearance of any actual computer.
The omission of an optical drive is easily understood once we built the system, as the hard drive cage–which can support up to SIX drives–takes up a large percentage of space within the chassis. Fortunately for my needs, one was not required as all of my movies have been stored digitally, and I have a laptop with a DVD drive if I need to store any new discs.
The power supply included with the Array R2 is branded by Fractal Design–not sure if they manufacture themselves or rebadge–but it includes shortened power cables which easily reach the drives and motherboard as necessary, and require very minimal cable management optimization on my part to maximize airflow. It also includes an 80mm fan within it, which can help exhaust heat from the CPU since it sits directly above it.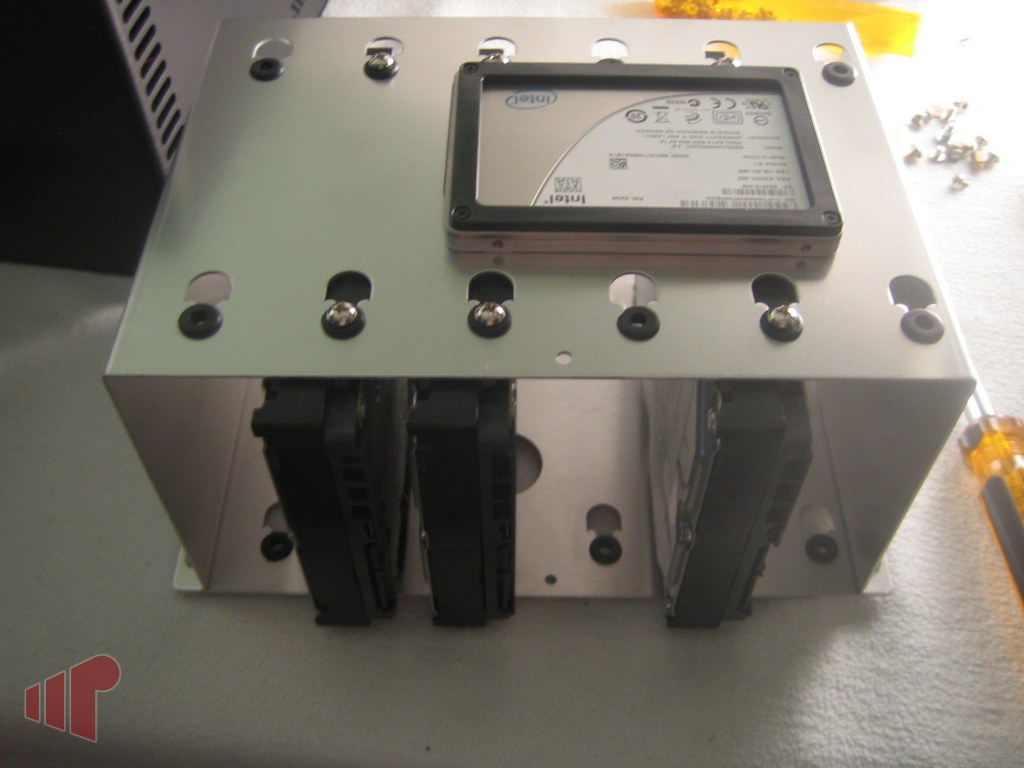 While initially I had custom placed my Intel Solid State Drive (SSD) into the bottom portion of the chassis using a foam piece to prop it (due to a lack of installation instructions so I had not noticed the following), Fractal Design actually have a location for it underneath the hard drive cage (if you're following, that's seven hard drives total that can be supported!). Note that the screw locations (screws for SSD were not included, so just use a standard smaller hard drive screw) do require removing any 3.5" hard drives in the middle placement, but I found the position to be a great choice given that it will get plenty of cooling from the 140mm intake fan directly in front of it. The most difficult item about this placement was cable management, since reaching underneath was not an option. I resolved this by inserting the cage at an angle, connecting the drive, and then placing it in normally.
With everything in place, the final step was re-affixing the hard drive cage inside the Array R2. As you can see from the photos, it occupies a large amount of space. Knowing the trick about the side brackets being removable made re-installation significantly easier, although it did require some balancing since I only have two hands–having to both hold the caddy and affix the screws. It's a tight fit but that's one of the trade-offs any time you choose a Mini-ITX chassis. And because of its all-aluminum body, the entire built unit weighs only fourteen lbs TOTAL!
PERFORMANCE
For thermal and performance testing we use synthetic tools to test extreme conditions to sample a worst-case scenario. By burning-in all of the CPU cores and stressing the hard drives with I/O benchmark we can maximize the potential heat to see the range of variations from idle to peak.
Before beginning, please be aware that we installed a Zalman Fanmate controller to slow down the stock CPU fan, so it will not adjust even during CPU load, which will affect our temperatures. Given that my normal usage is as a media center, this is acceptable for my situation, but if you are using a hotter CPU you will want to make sure to use the 4-pin connector on the motherboard which adjusts based on CPU and temperatures. The 140mm front intake fan was connected to a 4-pin on the motherboard. For these reasons, we will pay closer attention to idle instead of burn-in temperatures.
| | | |
| --- | --- | --- |
| | Load | Idle |
| Ambient | 28 C | 28 C |
| VR | 78 C | 71 C |
| Memory | 44 C | 39 C |
| PCH | 67 C | 61 C |
| HDD-1 | 45 C | 44 C |
| HDD-2 | 45 C | 45 C |
| HDD-3 | 45 C | 44C |
| Core 0 | 77 C | 47 C |
| | | |
| CPU | 2053 RPM | 2030 RPM |
| Chassis | 464 RPM | 464 RP |
I also tested with the stock Intel HSF and saw similar temperatures and even lower sound volumes since the fan was running comfortably at only 1100rpm. I did not notice the sound of the front intake 140mm fan in any scenario, which is to be expected.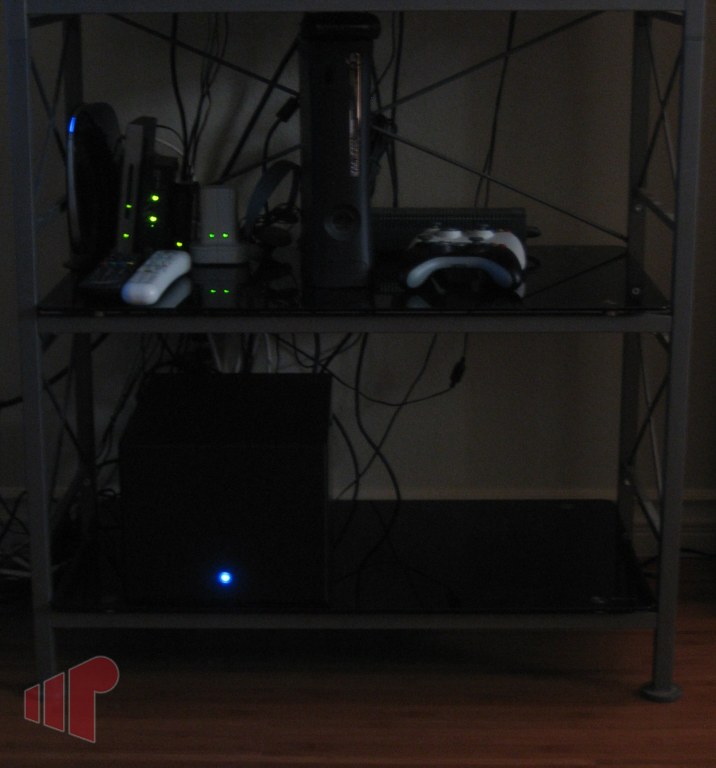 CONCLUSION
At the end of this review I find myself thoroughly in love with the Fractal Design Array R2 chassis–not only for its incredibly gorgeous brushed aluminum black body, but also for the convenience it has allowed me. Since the beginning of my HTPC days over ten years ago, I have fought the urge and temptation to utilize a standard tower chassis in my living room to accommodate a number of drives, which has always forced me to use the HTPC+Server/NAS situation. The Array R2 has finally let me have a single HTPC-Server in my living room which can act as my file server and full time HTPC, all while still looking beautiful in my A/V Stack.
By simply reading the specs of this case, and considering the lack of an optical drive, you might automatically assume this is a server case; but to hide this type of chassis would be a travesty. Of course with beauty comes a price, but given all the benefits included (w/140mm fan and 300W power supply), the $189 asking price via Newegg is fair, especially considering what other HTPC styled chassis have gone for in the past.
PROS:
Super light weight (14lbs assembled)
Gorgeous exterior/interior brushed aluminum
Quiet 140mm Fan & 300W power supply included
Supports six 3.5" and one 2.5" hard drives
Only a single muted blue LED on front
CONS:
Six small screws to get into the case
No removable side panels makes cable management difficult
No optical drive
Thanks to Fractal Design for providing the review unit.