Habey EMC-600B SFF Chassis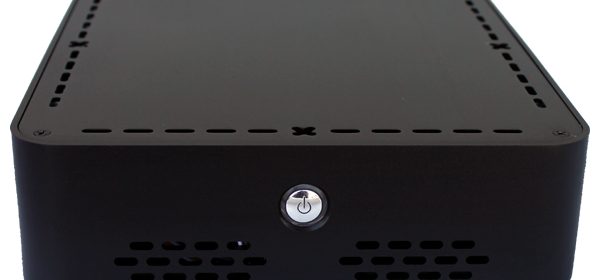 The quest for the perfect home theater PC (HTPC) case is always a challenge even in today's world where there is a healthy amount of chassis to choose from in all shapes and sizes. While some people prefer an HTPC chassis which stands out in their A/V stack there are plenty of people that want something quiet, subtle and most importantly–tiny. Fortunately for those fans there have been a number of small form factor (SFF) chassis which we have looked at recently which make the choice that much easier.
The Wesena ITX7, HDPlex H10.ODD and Vidabox vCase3 are all great cases with a direct focus on HTPC aesthetics and each has their pros and cons. The one con almost always present when discussing HTPC chassis is PRICE–SFF chassis with home theater A/V focused designs are frequently over the $100 price range, not including the power supply. What Habey is offering in their EMC-600B enclosure is a stylish aluminum SFF chassis for mini-ITX only that occupies a tiny footprint with a nice appearance to fit just as appropriately in your A/V stack as in your bedroom–and it includes a power supply, all for under $70.
Inside the Box
The packaging for the Habey EMC-600B was as plain as you could possibly imagine, arriving in a brown cardboard box without even a logo or sticker. The important part however was the packaging within the box which was fantastic with foam protecting the chassis and a box fitted inside housing the manual, screws, rubber feet, cable and power supply.
Here are the specifications for both the silver and black versions of the EMC-600B:
| | |
| --- | --- |
| Standard | Mini-ITX |
| Materials | Heavy duty 3mm aluminum |
| Drive Bay | 1 x 3.5″ or 2 x 2.5″ internal drive bay |
| Cooling | Optional side 5010 case fan |
| Front Control | Power on/off |
| System Board | Slim Mini-ITX, up to 1.25" in height with heatsink or cooling fan |
| Expansion | – |
| Power Supply | 12V DC 120W ATX power supply with 12V 5A power adapter, 20+4 |
| Humidity | 5%~95%(non condensing) |
| Temperature | 0°C (32°F)~50°C (122°F) |
| Dimensions (W x D x H ) | 200mm x 225mm x 57mm, 8″ x 9″ x 2.25″ |
| Packaging (W x D x H ) | -40 ºC – 60 ºC (-40ºF – 140 ºF) |
| Gross Weight | 1.5KG, 3lb |
The review unit was obtained from Newegg at a cost of $63.99 with $11.57 for shipping and includes both the chassis and the power supply. I did some investigating and did not find a model from Habey without the power supply, so that is something to consider if you tend to be very particular about it.
The Case
Immediately upon looking at the Habey EMC-600B chassis you notice that the chassis is extremely small–as you can see by the dimensions in the aforementioned specifications table. The chassis is a brushed black aluminum finish that looks very clean. The surface is not reflective like some chassis, which makes me happy since those types of enclosures are impossible to keep clean as fingerprints and dust are easily visible. Squarely on the front is a silver power button which has a blue light ring around it, and on the right side is the external power brick connector. The empty chassis weighs approximately 3lbs which was about what I would expect given the use of aluminum and steel.
Opening the Habey EMC-600B is done by simply removing four Philips screws on the lid. Once inside the case we see a middle plate which helps the sturdiness of the chassis yet also acts as hard drive storage. While the chassis is tiny it actually does offer support for a single 3.5" hard drive, or two 2.5" hard drives. Since this was going to be used as a client HTPC only a 2.5" hard drive was installed. There are also screw mounts on the plate if you wish to connect a small 60mm fan to the unit, but given the hardware selected for this build, additional cooling was not required. Underneath the middle plate is fairly basic as you would expect–the power supply PCB is found on the front of the case with ATX and other power cables provided inside.
As with any device of this size you must make some sacrifices to do so. For starters there is no space for an optical disc drive, not even a laptop size drive, nor is there even a slot for it if you wanted to squeeze one in there. Also the front of the unit avoids some common ports such as USB or audio connections–not a big deal given how easy it is to reach around the back, but something to note if you plan to tuck this away somewhere.
Build
Configuration:
| | |
| --- | --- |
| CPU: | Intel Atom D525 1.8Ghz (included on-board MB) |
| Motherboard: | Intel D525MW |
| RAM: | Patriot Signature 2GB 204-Pin DDR3 SO-DIMM DDR3 1333 (PC3 10600) Laptop Memory Model PSD32G13332S |
| Storage: | Western Digital Scorpio Blue WD1600BEVT 160GB 5400 RPM 8MB Cache 2.5″ SATA 3.0Gb/s Internal Notebook Hard Drive – http://www.newegg.com/Product/Product.aspx?Item=N82E16822136391&cm_re=western_digital_160gb_2.5%22-_-22-136-391-_-Product |
| Optical: | None |
| Power Supply Unit: | 12V DC 120W ATX power supply with 12V 5A power adapter, 20+4 |
| Case: | Habey EMC-600B |
| OS: | Windows 7 Ultimate 64-bit |
| Tuner: | None |
| Discrete GPU: | None |
Working with the Habey EMC-600B was straightforward but definitely not an easy task. As you would expect with a chassis so small the fit within the chassis is VERY tight–if you have larger hands, be prepared to squeeze them a bit. The user manual was a very basic two page diagram which was very detailed but honestly not very helpful, mainly because it did not mention that the power supply must be removed before installing the motherboard.
Once that was done, there was still a bit of a squeeze and wrangling to get it to fit cleanly, and there is some pressure applied from the audio connector piece on the motherboard with the external power connector cables going from the side to the power supply, but I do not believe there was any danger from the slight pressure but it is worth noting. For the purposes of this review I have chosen the Intel D525MW motherboard we have previously reviewed–not an obvious choice given it's focus on storage instead of multimedia. However, given that this system would be used less frequently and mostly to do web browsing or streaming multimedia, the convenience and price factor of having the Atom 1.8GHz processor already passively cooled on the board made it nice. There is space within the unit if you wanted to install something like an Intel DH57JG–or even more ideal would be the DH61AG we recently reviewed–with the stock cooler, but you will most likely need to be careful when selecting a lower wattage CPU or else the concern from heat may arise given the lack of space.
Since the board supports SO-DIMM memory I did not have to worry about height clearance with some standard memory and chose Patriot Memory's 2GB SO-DIMM–again, 2GB is more than enough given what I planned to use the system for. Please note that if you choose a board such as the DH57JG which supports desktop memory modules to not choose memory which has those tall heat spreaders built into the design as you may have issues with height clearance.
Installing the 2.5" hard drive to the middle plate was a much simpler process with the hard drive screwing into the middle plate from the bottom of the drive. The only item of concern there was in which direction the hard drive would face to make cable management within the case as optimal as possible.
While you may be questioning my choices for components above the end result was fantastic. With the combination of the D525MW's passively cooled CPU, along with a 2.5" hard drive and the external power brick, this Habey EMC-600B build is essentially 100% silent! If I had decided to go with something more powerful, I most likely would have needed an additional fan, not to mention the HSF which could get loud depending on how hot things got.
And speaking of the fan, if you are putting anything of a serious system inside this chassis you will definitely want to use it. I tested using a passively cooled Atom motherboard, which do tend to get hot, so I would take the following temperature results with a grain of salt. If I had used comparable to a Core i3 CPU and a standard heatsink to get some airflow moving inside, it would have been better. The D525MW was completely stable throughout my testing however, the case was noticeably warm to the touch after my stress testing. Temperatures jumped during burn in as you would expect from a passively cooled system, with the CPU jumping from 81 C to 95C, and overall system temperatures jumping from 69 C to 79 C. All of this is within reason given that the Habey without an additional fan installed is just a small aluminum box.
Conclusion
When evaluating any chassis purchase several factors always will come into play. Almost always the price comes first–how much are you looking to spend on a chassis? Then the features need to be there. And last is making sure the style suits your environment. The Habey EMC-600B knocks that first item out of the ballpark. With a delivery price of just under $75, including the power supply, this is one of the most affordable mini-ITX chassis on the market.
Style is always a personal preference which you can usually determine via pictures. Assuming you like the pictures in this review, it's safe to say you will be happy with the style. The brushed aluminum is subtle but fits just as well in an A/V stack as it does on my bedroom dresser. There are even standard VESA mounts and screws on the bottom of the chassis if you want to attach it to the back of your TV out of sight. The only item lacking is the features–there are no bells and whistles with the case. There is no front or side USB, no built in card reader, no optical disc drive slot for even a laptop size drive. Are any of these a requirement? Not for my situation.
Bottom line, if you are looking for a simple, yet affordable, mini-ITX chassis and really do not need much room for expansion or powerful CPU then the Habey EMC-600B is a more than capable enclosure.
Pros
Looks
Price
Size
Power supply included
Supports even a 3.5" HDD or 2 x 2.5" HDDs
Cons
Very tight fit
Had to remove PSU to install motherboard
No additional USB/card reader
No internal optical drive supported