CyberLink PowerDVD 11

Spring is here, so as usual it is time for CyberLink to release an updated version of PowerDVD (PDVD) making this number 11. With PDVD 10 already a solid product we were not expecting a revolutionary shift in the Blu-ray (BD) playback software, so the rather evolutionary changes brought to the updated application including better 3D support, a richer media experience outside of its core BD and DVD playback, and updated device support were very much in line with expectations. We did not have a long time to play with PowerDVD 11 so this is will be part review and part product guide as we explore it together.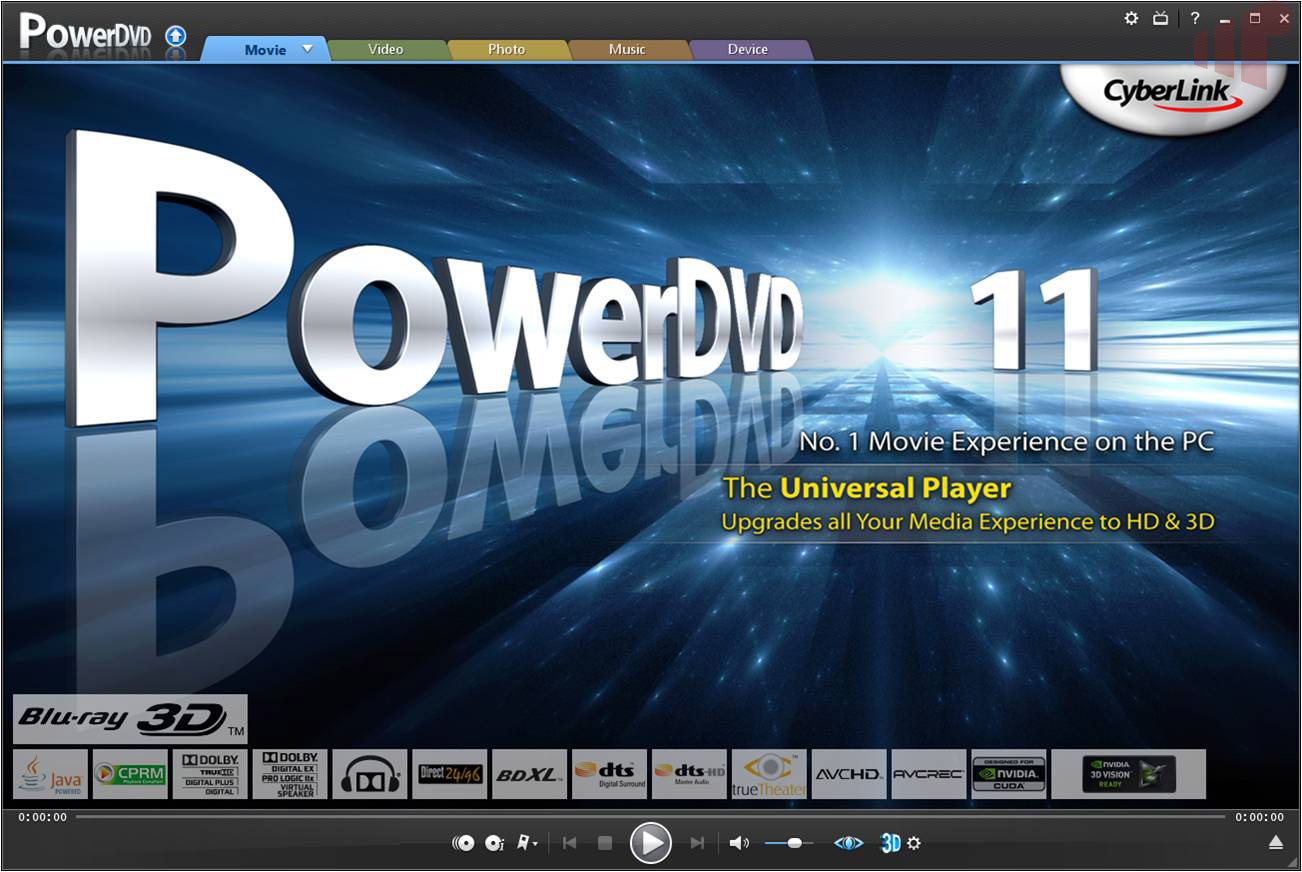 Taking a first look at the standalone application, PowerDVD 11's roots are quite evident with little significant change in the layout and presentation of the user interface (UI) compared to previous versions. While PDVD 11 looks the same there are some significant differences lurking beneath the skin, most notably the return of BDMV (Blu-ray folders) playback.
Yes, the most surprising feature included in PDVD 11 is one that was stripped from an earlier revision through an update. Because of this we asked CyberLink for some clarification, and as it turns out after reviewing the legality they are able to confirm that the feature was intentional and permanent unless standards/specifications change–let's collectively touch wood and hope that does not happen.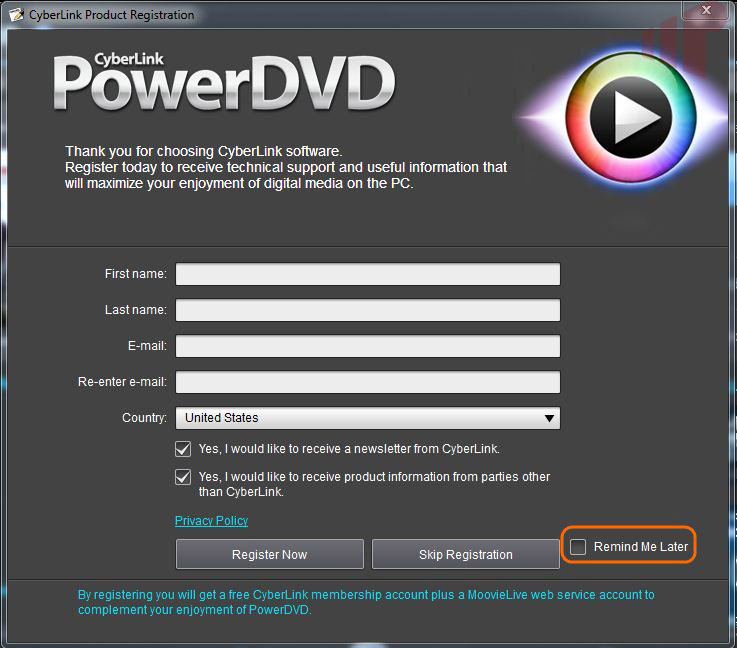 The ability to not need to register and not get nagged about is a welcome change in the initial experience compared to earlier versions of the product. While a small annoyance to just make the dialog go away, it does make the application friendlier for the rest of the family as I no longer have to show them how to dismiss it every thirty days (or so).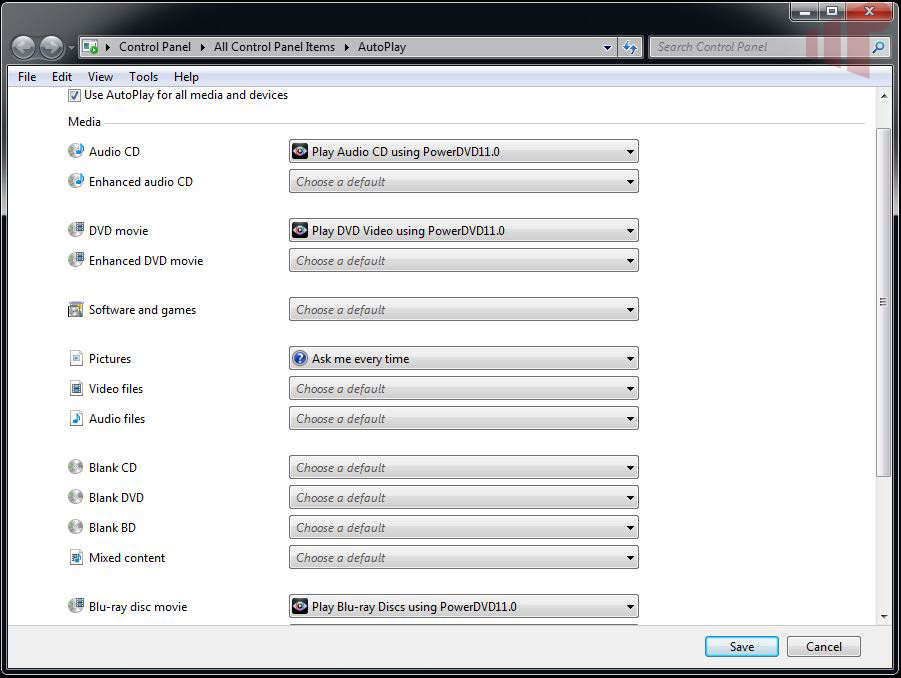 Unfortunately, one annoyance that has not changed is PDVD's insistence on grabbing all of the available AutoPlay handlers. While many users may appreciate the convenience of this behavior, I would prefer an option during the installation process not only because I set all my AutoPlays to "Do Nothing" but because it sometimes leads to weird issues where PDVD will launch underneath Windows Media Center (WMC).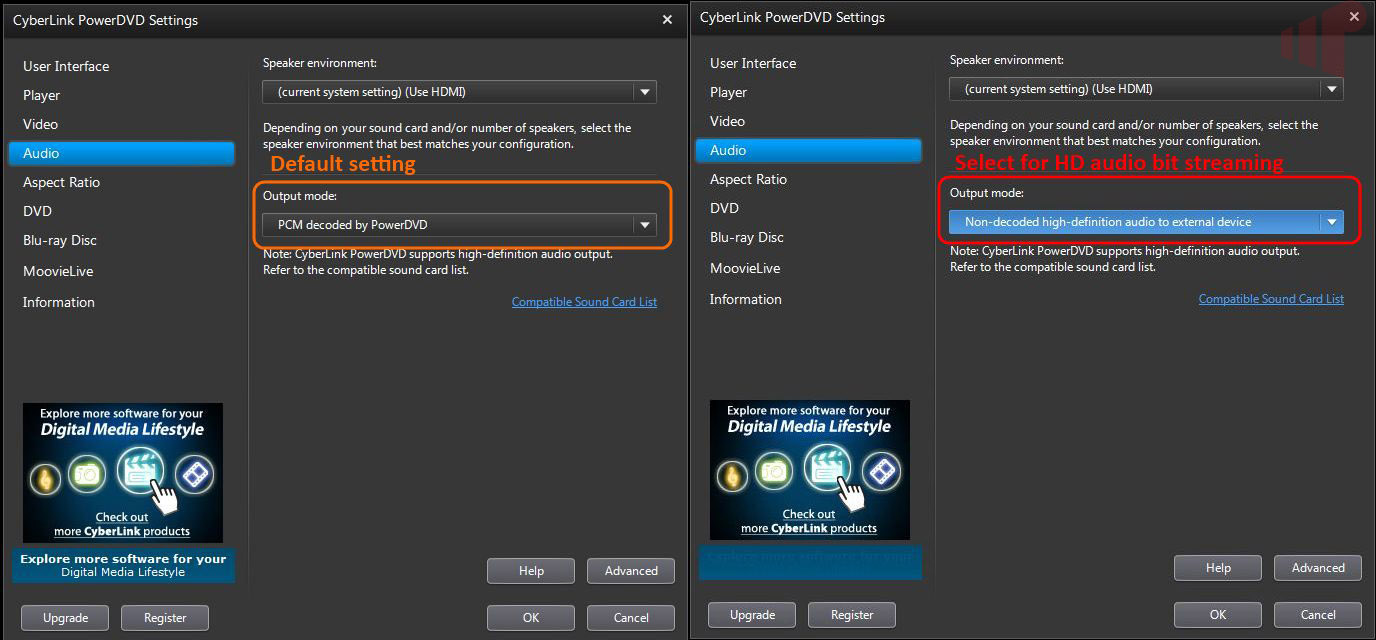 Like AutoPlay, the way PDVD 11 handles audio formats is less than optimal for most home theater PC (HTPC) users with an audio video receiver (AVR). When first installed the standalone player defaults to PCM output. Now this is not an issue per se, but the option for HD audio bit streaming is not available until initiating playback for a BD (the only media type PDVD 11 will bit stream HD audio from). The problem is that after making this selection, it is only sticky until playing something where that output format is not supported (like a DVD). The output format then reverts to standard bit streaming and does not change back when appropriate. Also, to make matters worse as the application includes better support for other video file formats the behavior adds a nuance where M2TS files that contain HD audio will only bit stream core, and MKV files will only play audio as PCM–f anything else is selected no audio tracks will be found.
All that said, PDVD has always been strongest with BD playback so many users, including myself, can just set it to output HD audio the first time and it will not be a problem because we will use other applications for the other formats. Everyone else will need to get familiar with this setting, you will be using it a lot.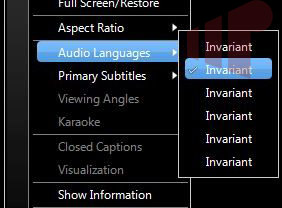 Having flushed out some areas of improvement, we should also point out that one area where PDVD 11 handles audio and SRT better–enabling stream selection for supported audio formats and both external and embedded SRT subtitles in non-disc based media.
We were able to confirm that 7.1 DTS-HD and Dolby TrueHD maintain channel fidelity using the eight channel sample files found on the Spears & Munsil HD Benchmark. Which is important for those who prefer to let the PC decode and output LPCM, at least in the Ultra version of PDVD 11 and when using HDMI. When using analog output however, only 7.1 Dolby TrueHD is properly handled with audio intended for the left/right rear surrounds mixed into the left/right side channels when decoding DTS-HD.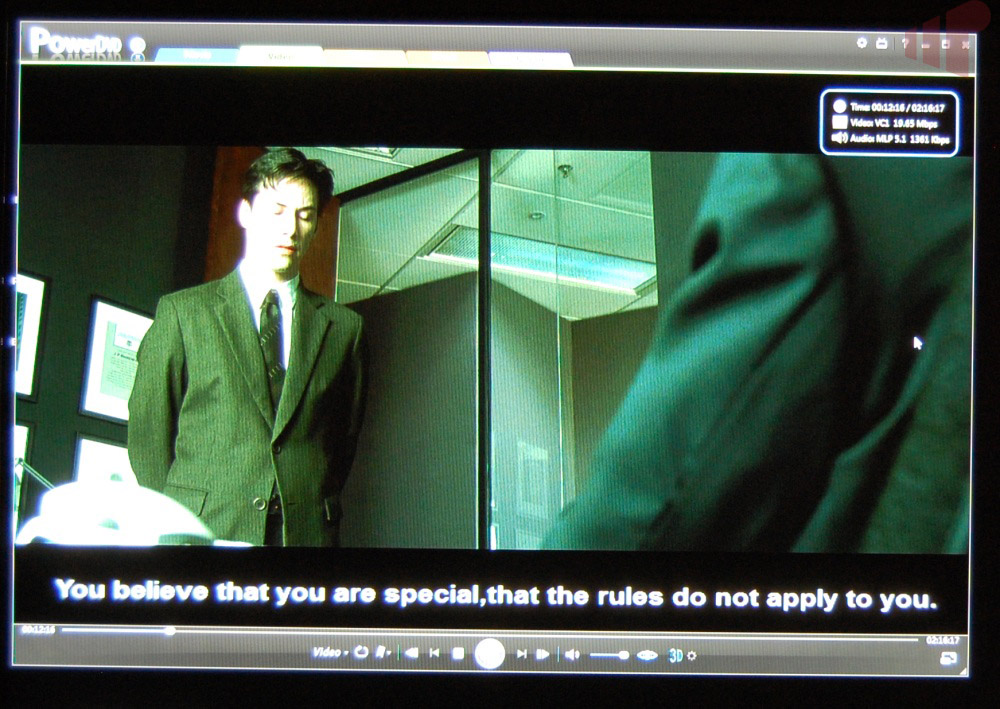 While I would like to see even better support, including PGS (Blu-ray subtitles), adding support for SRT, especially those embedded in MKV, is a big step in the right direction. Unfortunately PDVD 11 will not play many of the audio formats also found in MKV files–like PCM and FLAC–so while the overall story has improved external file playback is still best left to other applications like SageTV or MPC-HC.
Some builds of PDVD 10 have suffered from problems associated with SlySoft's AnyDVD and Virtual Clone Drive software. We are happy to report that the initial release of PDVD 11 appears to function well with both SlySoft packages
Because we cannot walk through every feature, and the best way to get a feel for an application is to see it in action, the first of three videos demonstrating PDVD is included above, this one showing it in standalone mode.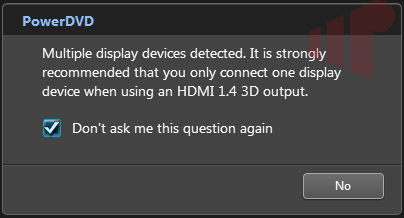 Having used PowerDVD 10 in our reviews of 3D capable hardware, we always found that in the scenario where two HDMI cables (one HDMI 1.4 to the display, and the second HDMI 1.3 to the AVR) the application does not appreciate the configuration, but works anyway. In this way PDVD 11 is very similar.
But we did find in our limited testing that it was no longer required to select the correct display type for PDVD, as it is now able to suss the proper setting while left on "Auto detect".
This is not the only improvement with 3D playback however, with significant improvements present in the 2D to 3D conversion feature, which was underwhelming in the previous version. While personally, I do not think I would use the feature it was somewhat shocking to see how well it is now executed in the application – including both DVD and file playback. 2D BD is not currently supported, but with 1080p M2TS working this could be something added in a future update. That said, the quality is not perfect exhibiting issues, like ghosting, not observed with native 3D content on the Panasonic VT25 used to evaluate this feature.
With 3D glasses still hovering around $100/pair it would be impractical to have you all over to the MissingRemote.com Midwest lab to see the 3D in action, so the video above will have to be a poor substitute for that experience. Note that content playback is blurry, which means that 3D is working 🙂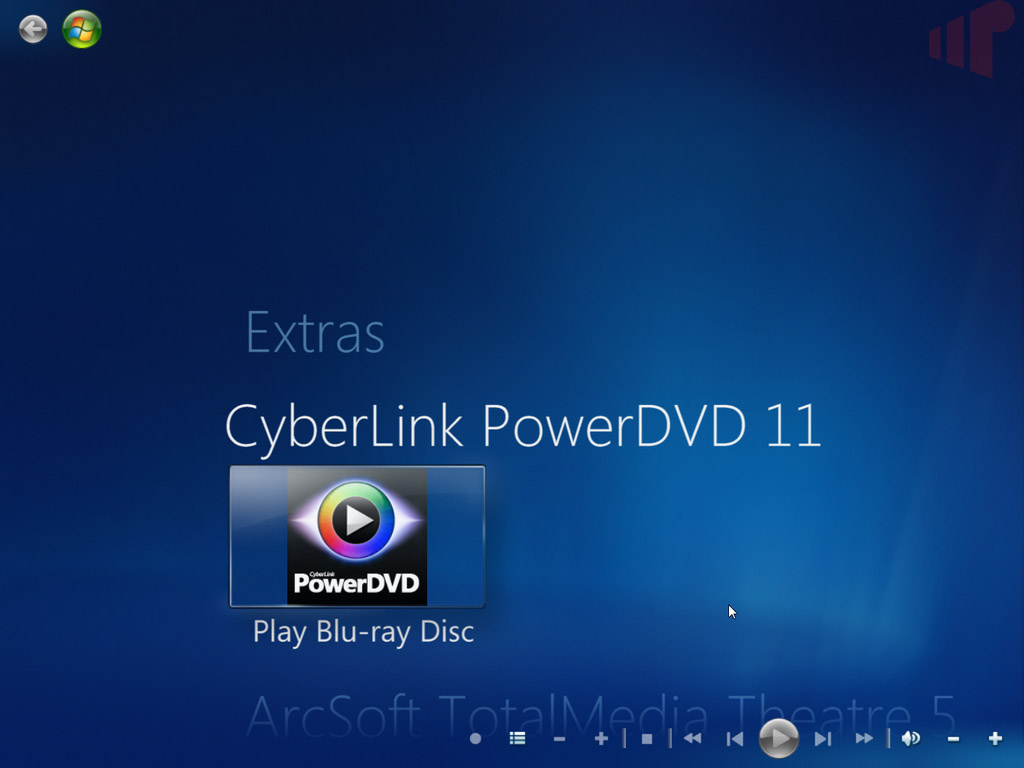 Turning our attention to the last major area of interest, the 10' player known as "Cinema Mode" or just PDVD for Windows Media Center. For the most part the playback experience is the same as the standalone application, but a bit more unfinished. For example we found a few issues with stability in the application, and some inconsistent behavior handling the transport keys (play, pause, stop , etc.) on different machines
Like the other two videos, it is best to see the application in action – so above is a walk through of the Cinema Mode player. Given the time constraints, we did not have a chance to make a fourth video showing off 3D in Cinema Mode, so you will have to trust me that the new 3D UI is pretty cool. The experience is the same as 2D, just glasses friendly.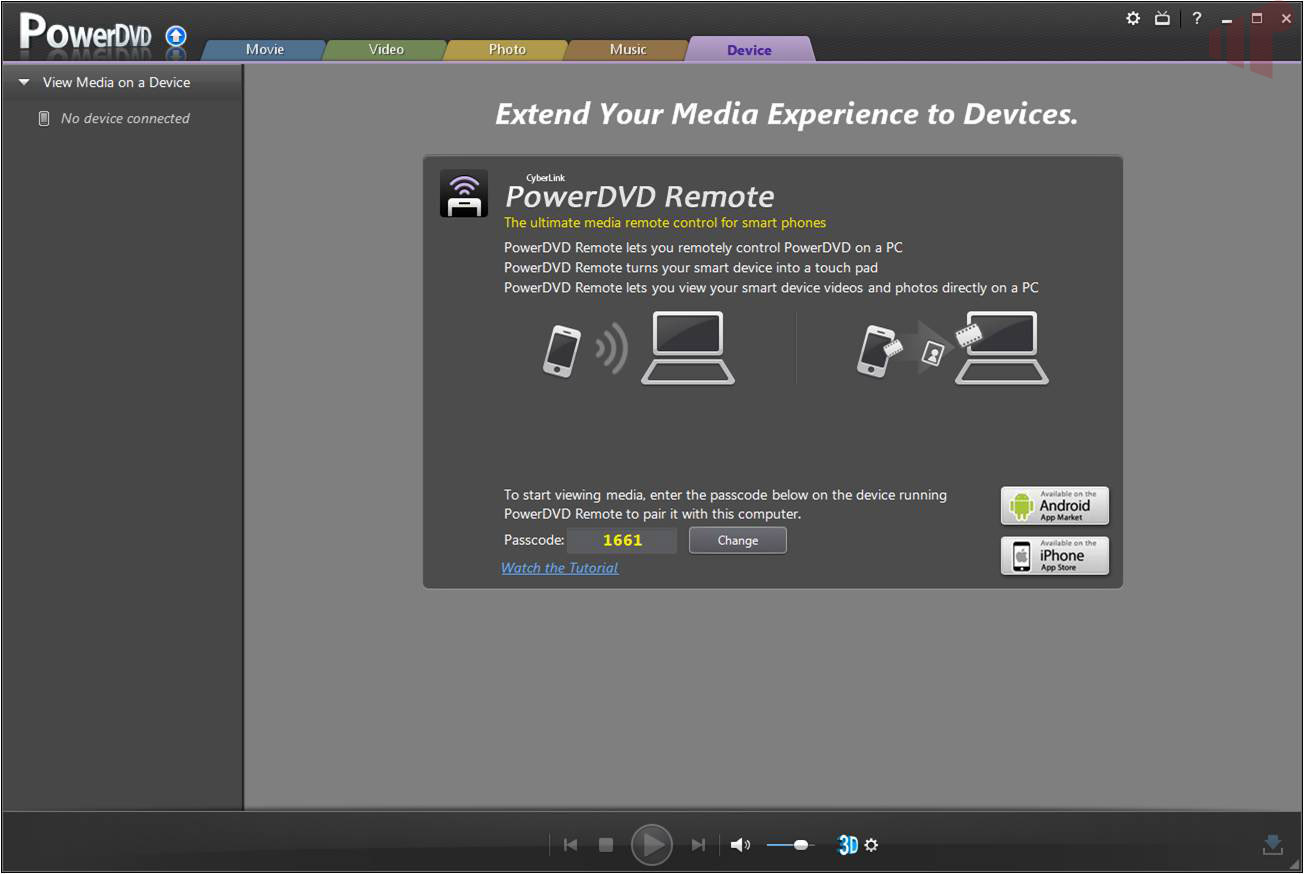 With the playback experience covered there is one more feature worth mentioning – mobile device support.
One of the new features to arrive in PDVD 11 is remote control via Android and iOS devices. The smart device apps come free with the Ultra and Deluxe versions while a nominal fee is required for the Standard variant. We first tried installing the iPhone app, however, we found that iOS 4 is required so we were unable to proceed with testing. Fortunately, we also had an Android 2.2-based device on hand which was able to support the app.
PDVD 11 installs a background service which handles communication via smart devices. If there are multiple installations of PDVD, the app will present all "Servers" for selection. On the "Device" tab in PDVD, a four-digit code is supplied that is entered into the smart device app when selecting the server for the first time. Once connected, the app opens up to a "Modules" screen containing "Movie", "Video", "Photo", "Music" and "Device" options which correspond to the standalone PDVD interface tabs and PDVD opens almost immediately.
When selecting "Movie", the app presents a set of standard transport and audio controls. There is also a "Mouse Pad" which controls the mouse cursor similar to how a touch pad operates, though there is no right-click functionality present or gesture support. The controls are responsive though they suffer from the same fate that any touchscreen device does and that is the fact that one's eyes must be taken away from the screen to verify the desired command is entered.
The other functions simply bring up each tab of the PDVD UI where the primary control is using the "Mouse Pad" on the smart device. The "Device" tab is interesting in that it allows for media present on the smart device to be presented via PDVD. It should also be noted that the smart device app can also control PDVD's Cinema Mode when launched from WMC.
Tested GPU:
| GPU | HWA | HD Audio | Multi-channel LPCM (HDMI) | Frame sequential 3D |
| --- | --- | --- | --- | --- |
| NVIDIA GT430 | Yes | Yes | Yes | Yes* |
| NVIDIA GT450 | Yes | Yes | Yes | Untested |
| NVIDIA GT560Ti | Yes | Yes | Yes | Yes |
| NVIDIA GTX 570 HD | Yes | N/A | Yes | Untested |
| NVIDIA ION2 | Yes | N/A | Yes | N/A |
| NVIDIA 8600GT | Yes | N/A | Untested | N/A |
| AMD Zacate | Yes | Yes | Yes | N/A |
| AMD 5550 | Yes | Yes | Yes | N/A |
| AMD 4850 | Yes | N/A | Untested | N/A |
| AMD 3200 | | N/A | N/A | N/A |
| Intel HD Graphics (Clarkdale) | Yes | Yes | Yes | n/a |
| 2 Gen Intel HD Graphics (SNB) | Yes | Yes | Yes | Yes |
| Intel G45 | Yes | N/A | Yes | N/A |
Format Support:
| | |
| --- | --- |
| Movies | BD-R1.1/BD-RE 2.1, BD-R2.0/BD-RE 3.0, BDROM 2.2, BD-J, BDROM Profile 1.1 (Bonus View), BDROM Profile 2.0 (BD-Live), BDROM Profile 5.0 (BD 3D), AVCREC, AVCHD, DVD-Video, DVD-VR, DVD+VR, VCPS, VCD, SVCD, CD |
| Videos | DAT, MPEG-1/2, MPEG-4 AVC (H.264), MPEG2 Transport Stream (M2TS), IFO Playback, VOB, TiVo, CyberLink RichVideo, External Subtitle, WMV-HD, AVI, WMV/ASF, VC-1, WTV, MOV, MKV (H.264), FLV (H.264) |
| Photos | JPG, BMP, TIFF,RAW Formats, PNG, MPO, JPS |
| Music | MP4, WMA, AMR, AOB |
Conclusion
Like many evolutionary software revisions, making the upgrade decision to CyberLink PowerDVD 11 is more nuanced then it would be were the feature set dramatically different from the previous version. Having only had a short amount of time with the product, it is clear that it is a worthy successor by enhancing the 3D experience, adding better audio support and adding [back] a feature of great importance to the HTPC community – BDMV (Blu-ray folders) playback. Not having had a chance to truly vet the product, it is impossible to say if it will suffer from teething issues experienced with previous versions; usually reaching full stability after the first patch, a month or two after retail release.
Also, like other PC based Blu-ray playback software, PowerDVD 11 does not offer parity with the majority of standalone "CE" players – missing critical features like refresh rate matching (i.e. real 24p support) or properly setting the channel count for PCM audio to eliminate null channels.
Pro:
BDMV Playback returns
Better 3D support
File support has improved
Con:
"Forgets" audio output settings
Cinema Mode player still rough around the edges
No refresh rate matching feature
No audio channel count matching when outputting PCM
File support not quite there yet
License model only allows one install per key
7.1 DTS-HD is not supported properly when using analog audio output
Thanks to CyberLink for providing an early copy of PowerDVD 11 as well as Aaron Ledger, Mike Garcen, and Michael Welter for their significant contributions to this review. PowerDVD 11 is currently available for purchase directly from CyberLink in the Ultra, Deluxe and Standard editions.
Related Articles