QNAP TS-259 Pro+ NAS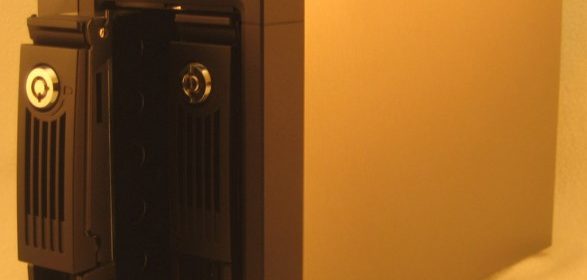 In the past we have reviewed a number of various NAS boxes from QNAP and have always been pleased with their performance and features. Today we take a closer look at their latest top of the line, the QNAP TS-259 Pro+NAS, and see how it holds up to the competition as well as taking a look at some other models.
SPECIFICATIONS
While its outside appearance is very similar to the previous generation of NAS boxes from QNAP, a closer look at the specs reveals that the system's internals have been completely overhauled. Remember that when looking at the specs, NAS boxes have a customized OS so they are normally extremely low powered and are optimized purely for network and file I/O.
CPU
Intel® Atom™ 1.8GHz Dual-core Processor
DRAM
1GB RAM
Flash Memory
512MB ROM
HDD
2.5/ 3.5″ SATA x2
NOTE:

The system is shipped without HDD.
For the HDD compatibility list, please visit http://www.qnap.com/pro_compatibility.asp

HDD Tray
2 x Hot-swappable and lockable tray
LAN Port
2 x Gigabit RJ-45 Ethernet port (Intel 82574L) – with Jumbo frame support
LED Indicators
Status, LAN, USB, eSATA, Power, HDD 1, HDD 2
USB
5 x USB 2.0 port (Front: 1; Back: 4)
Support USB printer, pen drive, USB hub, and USB UPS etc.
eSATA
2 x eSATA port (Back)
Buttons
System: Power button, USB One-Touch-Backup Button, Reset button
Alarm Buzzer
System warning
Form Factor
Tower
Dimensions
150 (H) x 102 (W) x 216 (D) mm
5.91 (H) x 4.02 (W) x 8.5 (D) inch
Weight
Net weight: 1.74 kg (3.84 lbs)
Gross weight: 2.92 kg (6.44 lbs)
Sound Level (dB)
w/o HDD installed: 33.3 dB
Stand by: 33.7 dB
In operation: 34.2 dB
(with 2 x 1TB HDD installed)
Power Consumption (W)
Sleep mode: 16W
In Operation: 25W
Power-off (in WOL mode): 1W
(with 2 x 1TB HDD installed)
Temperature
0~40˚C
Humidity
0~95% R.H.
Power Supply
Input: 100-240V AC, 50/60Hz, Output: 60W
Secure Design
K-lock security slot for theft prevention
VGA
Reserved VGA interface for maintenance
Fan
1 x smart fan (7 cm, 12V DC)
*
I want to take a moment to cover the features list of the system, as they are truly impressive. When glancing at this list, a majority of our readers will probably not be familiar with most of them which brings me to a major point of emphasis–the TS-259 Pro+more than surpasses the needs of most average home theater users. Rather, it's designed for professional usage which is critical for supreme reliability.
Modern business faces the challenge of dramatic growth of digital data, including documents, emails, applications, and so on. To deploy the IT environment with a reliable, affordable and expandable storage center to securely store, share, and back up the digital assets has become an important task for the server managers of the SMB and entry-level enterprise nowadays.
TS-259 Pro+ houses up to two 3.5-inch or 2.5-inch SATA hard disk drives, incorporates Intel® Atom™ 1.8GHz dual core processor and 1GB memory, and is capable of delivering ultra high performance, reliability, and lower power consumption during intensive data transfers. The NAS is an efficient and powerful business storage center with advanced iSCSI services, cross-platform data sharing, and all-in-one server applications. With VMware® Ready™ and Citrix® Ready™ certification, and proven compatibility with Microsoft Hyper-V environment, the NAS is an ideal shared storage solution in the virtualized and clustered environment.
The Most Affordable and Flexible Virtualization Solution
TS-259 Pro+ is certified as compatible with VMware® vSphere4 (ESX 4.0 and above) and Citrix® XenServer virtualization platforms, and is also compliant with Windows 2008 Failover Cluster. The NAS can be utilized as the network shared storage of VMware, Citrix virtualization environments and Windows clustered servers. Comparing with traditional SAN (Storage Area Network), the NAS is a competitive alternative with much lower setup and maintenance costs in an IP SAN.
Feature-rich and Integrated Applications for Business
The NAS supports file sharing across Windows, Mac, Linux, and UNIX platforms. Versatile business applications such as file server, FTP server, printer server, web server, and Windows AD (Active Directory) support are provided. The dominant features, such as WebDAV, Share Folder Aggregation (also known as DFS), IPv6 and IPv4 dual-stack, Wake on LAN, schedule power on/ off, HDD S.M.A.R.T, comprehensive log systems, and policy-based unauthorized IP blocking are all included.
New iSCSI for Virtualization Deployments
Turbo NAS provides flexible and secure storage server deployment with the following enhanced iSCSI features:



| | | |
| --- | --- | --- |
| iSCSI Features | QNAP NAS | Other NAS |
| VMware Ready® certified iSCSI array | * | * |
| Citrix Ready™ certified iSCSI storage | * | * |
| Windows 2008 Hyper-V and Failover Cluster compatible | * | * |
| SPC-3 for clustered environment deployment | * | * |
| MC/S for failover, load balancing and performance gain | * | * |
| MPIO for failover and load balancing. | * | * |
| LUN masking for advanced security | * | * |
| LUN mapping for flexible management | * | * |
| Thin Provisioning for efficient disk usage | * | * |

Storage Expansion by Virtual Disk Drive (VDD)

The NAS supports flexible storage expansion by stacking other iSCSI targets on the network via its built-in iSCSI initiator. The connected iSCSI targets are turned into "virtual disk drives" of the NAS to provide more storage capacity.

Superior Performance and Energy-saving Design

The NAS delivers superior performance and high reliability for critical business applications. It is optimized to achieve low noise and low power consumption for environment protection.

SAMBA/ FTP Access

FTP/SAMBA Testing Environment: Intel Core2 Quad CPU Q8300 2.50GHz/ 4GB DDRII RAM, WD640AAKS 640GB, Windows 7 Enterprise 32 Bits,Intel PRO 1000 PT Dual Port Server Adapter 82571
FTP/SAMBA Testing Method: Connect the TS-259 Pro+ and PC to switch, upload/download 5GB File without Jumbo Frame, FTP Tool: File Zilla

Wake on LAN

Enable this option to power on Turbo NAS remotely by Wake on LAN.

HDD Stand-by Mode

Save power consumption by enabling this option to make HDD enter stand-by mode if there is no access within the specific period.

Scheduled Power On/Off

You can create schedules to automatically turn on, turn off, or restart the NAS. Up to 15 schedules can bet set.

Abundant Business Features

Turbo NAS provides diversified server applications in the business environment.

Advanced RAID Management with Hot-swap Design

Turbo NAS offers RAID 0, 1, single, and JBOD disk configurations. It also supports hot-swap design that a failed member drive of a RAID configuration (RAID 1 or above only) can be replaced by hot swapping without turning off the server.

Online RAID Capacity Expansion

The storage capacity of a RAID configuration can be expanded by replacing the larger hard drives. All the data will be kept and seamlessly moved to the newly installed hard drives without turning off the server.

You can upgrade the disk configuration to higher RAID level with the data retained without turning off the server.

Complete Data Backup Solution

The NAS offers complete backup solution for data protection, including cloud-based storage backup (Amazon S3), Apple Time Machine support, encrypted remote replication, third party software backup, one-touch-copy backup and QNAP exclusive Windows-based utility NetBak Replicator. You can choose different backup modes for redundant data backup.

And much much more.

PERFORMANCE AND USAGE

What stands out most about the TS-259+Pro immediately is its beefy system specifications–not many NAS boxes include a CPU as capable as the Atom 1.8Ghz dual-core processor. Consequently, this is fairly impressive and is evident in the test results throughout.

The system setup is as easy as you could possibly want and those who have read our previous QNAP reviews will see familiar screenshots here as the web-interface is very similar and takes you step by step through the server configuration. The software supports Windows, Mac and even Linux as Tim has covered in previous reviews. From there you can coordinate all of the permissions, user accounts and any other setting you could ever want. The interface is somewhat intimidating but breaks down activities section by section, making it easier to follow.

Feature wise, the 259+Pro blows most of its predecessors out of the water so let's take a closer look at a real-world testing of the system in order to get a better idea of how it will work in most home theater environments by testing network transfer speeds and power consumption.

First lets take a look at the power draw–as a test baseline, I used the HP EX485 and EX487 Windows Home Server systems, and then also used the similarly Atom-powered Intel D525MW motherboard.

| | | |
| --- | --- | --- |
| System | Idle (Watts) | Active Data (Watts) |
| HP EX485 – 1 Drive | 44 | 50 |
| HP EX487 – 2 Drives | 55 | 60 |
| Intel D525MW – 1 Drive (WD Black) | 27.5 | 32 |
| Intel D525MW – 2 Drives (WD Black) | 32.7 | 35.5 |
| QNAP TS-259 Pro+w/ 1 Black HD | 21.5 | 25.1 |
| QNAP TS-259 Pro+w/ 2 Black HDs | 27.5 | 32 |

The above power draw is about what you would expect from a dedicated NAS box, easily beating out the Celeron-based EX487, and narrowly beating out the Atom-based D525MW by 6 watts of saving. Either way, considering this is a box you will have turned on 24/7/365, these numbers are very nice to see.

For performance we setup our standard set of test files on our test system (read: HTPC) which consists of a Windows 7 x64 system featuring a Core i5-661 3.33Ghz, 4gb DDR3 Memory and
Seagate ST31000533CS Pipeline-HD Pro 1tb 7200 RPM hard drives. I performed the test by timing the transfer speeds over a D-Link gigabit switch to and from the HTPC above from the device.

I used the aforementioned HP EX487 Windows Home Server box along with the Intel D525MW motherboard tests from previous reviews.

| | | | | |
| --- | --- | --- | --- | --- |
| | HP EX487 | D525MW w/ WD Black HD | D525MW w/ WD Green HD | QNAP TS-259+ Pro |
| 1gb WTV file SENDING | 11 secs | 10 secs | 10 secs | 8 secs |
| 1gb WTV file RECEIVING | 16 secs | 15 seconds | 19 secs | 15 secs |
| 5gb WTV file SENDING | 61 secs | 65 secs (~92MB/s) | 72 secs (~77MB/s) | 53 secs (113MB/s) |
| 5gb WTV file RECEIVING | 2 min 5 secs | 72 secs | 1 min 38 secs (~54MB/s) | 64 secs |
| 15GB MKV file SENDING | 3 min 14 secs | 3 mins 7 secs (~82MB/s) | 3 min 28 secs (~75MB/s) | 3 min 2 secs (85MB/s) |
| 15GB MKV file RECEIVING | 5 min 48 secs | 3 minutes 18 secs (~73MB/s) | 4 min 18 sec (~64MB/s) | 3 min 29 secs (77MB/s) |

As one would expect from a dedicated NAS box, the QNAP TS-259 Pro+meets or beats on every test, really shining on the larger file sizes. I was especially impressed with my 5GB WTV file transfer which was consistently above a 110MB/s transfer rate.

CONCLUSION

The QNAP TS-259 Pro+ is a legitimate small business storage server solution. Whether or not it fits in your own environment will depend on your needs and how much flexibility you will want. QNAP has designed an extremely feature-rich yet easy to follow interface around their NAS hardware and the equipment works exactly as I had expected. However, that being said, at a selling price of approximately $600 dollars, it's a fairly hefty investment if you are not planning on using the additional features. Definitely part of that price tag is due to the very powerful operating system providing such features like VMWare and virtual disk drives, just to name a few. These are not the most common features and unless you host your own website will probably go unused. Even so, the device is a perfectly capable NAS box with a super easy setup. If you have been debating between Windows Home Server or other storage solutions, NAS boxes are still around and as powerful as ever. There are pros and cons to each solution, but outside of price and the limit of only 2 internal drives, I had a hard time finding fault with the TS-259 Pro+.

Pros:

Feature packed
Very fast network transfer
Extremely low powered
SMART fan is very quiet

Cons:

Price
Only 2 internal drive bays
Not tool-less installation

Thanks to QNAP for providing the unit for review, and special thanks to HD-Stor Inc for providing the Western Digital Black hard drives used for testing.