Intel D525MW Mini-ITX Motherboard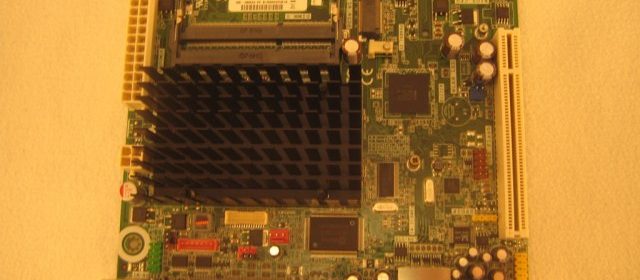 In the past few years, Intel has really taken some steps in dominating the low power, small form factor board market. Today we have the Intel D525MW mini-ITX motherboard in our labs for review. The board is small, low powered and does not have a single fan on it. Don't confuse this for a Clarkdale or Sandy Bridge system however, the D525MW is a dual-core Atom board so it's not as much designed for playback of HD content as it is for a less visible activity – like serving that content to a HTPC or streamer. Let's see if this board can compete in a cramped (no pun intended) SFF market and be a viable solution for your home server or NAS needs.
SPECIFICATIONS
Let's start out by going through the detailed specs information on the Intel D525MW motherboard.
First here's what Intel's marketing folks have to say about it:
Introducing the Intel Desktop Board D525MW-an innovative and affordable desktop solution featuring the Intel Atom processor D525 for entry-level desktop PCs. The Intel Desktop Board D525MW represents a fundamental shift in system design-small, yet powerful enough to enable a big Internet experience for all users. This new-generation board delivers a low-power, cost-optimized platform solution for basic computing. The revolutionary two-chip layout enables lower power consumption and improved graphics performance for a better user experience.
The Intel Desktop Board D525MW, built with the Intel NM10 Express Chipset, features the new integrated 1.8 GHz Intel Atom processor D525, and Intel Graphics Media Accelerator 3150- with an improved graphics core. This board provides additional flexibility and upgradability for the entry-level desktop PC usage model with two single-channel SODIMM connectors for DDR3 1066 / 800 MHz memory support (4 GB max), delivering even greater performance and power efficiency. The Intel Desktop Board D525MW provides enhanced features such as 10/100/1000 Mb/s integrated LAN, and additional wireless options via the PCI Express* Mini Card, wireless card, WiMAX* card, or third-party HD video decoder card. Integrated six-channel Intel High Definition Audio2, S/PDIF header, and legacy features, including two serial ports and one parallel port, support emerging market needs. The Intel Desktop Board D525MW also features the mini-ITX form factor. Backward-compatible with ATX and microATX, this form factor allows you to build green and energy-efficient solutions. This board powers simple, affordable, and Internet-centric computer designs in a compact 170mm x 170mm size, allowing designers the ultimate in small chassis flexibility.
Features and configurations
Form factor

Mini-ITX/microATX compatible (170mm X 170mm)

BIOS ID string

MWPNT10N.86A

Processor

Intel® Atom™ processor D525

Memory

Single channel DDR3 with two slots for 1066/800 MHz memory support
Support for up to 4 GB maximum of system memory

Chipset

Audio

Intel® High Definition Audio2 subsystem in the following configuration:

Six channel Intel® High Definition Audio
Front panel mic/headphone header (2×5)

LAN support

Integrated 10/100/1000 network connection (via Realtek NIC)

Peripheral interfaces

Up to eight USB 2.0 ports (4 external ports, 2 via headers, 1 USB for PCI Express* Mini Card & 1 USB for flash card/SSD)
Two Serial ATA 3.0 Gb/s ports
PS/2 ports (Keyboard and Mouse)
One Serial Header and One Serial Port
One Parallel Port

Expansion capabilities

One PCI Conventional bus connector
One PCI Express* Mini Card

Video

For LAD/BLKD525MWV:

Warranty

3-year warranty
Standard Warranty Replacement (SWR)
Some items to note from the above, the board includes a completely passive heatsink for its D525 Dual-core 1.8GHz Atom processor. That's always welcome in a small solution system. There is a VGA on-board as well, which makes setup a breeze and also serves as a reminder that as this is NOT an HTPC board you'll want to connect it to an HDTV. Lastly, the inclusion of SO-DIMM memory–and DDR3 flavor at that. Patriot Memory was kind enough to provide a 2GB DDR3 SO-DIMM for use in this testing, so many thanks to them. Be prepared if you're looking at this system as this particular type of RAM is not as inexpensive as previous generations and desktop RAM.
The usage of this smaller RAM allowed Intel to save some space on the board and fit in a mini PCI Express slot, where you could potentially install a wireless card or other device. The inclusion of a standard PCI slot was as odd as the parallel port included. So if you were thinking of using this box as a SageTV WHS server, be prepared for that–there are still plenty of tuners you could use, but it was a bit odd to not see even an x1 PCI-e slot on the board.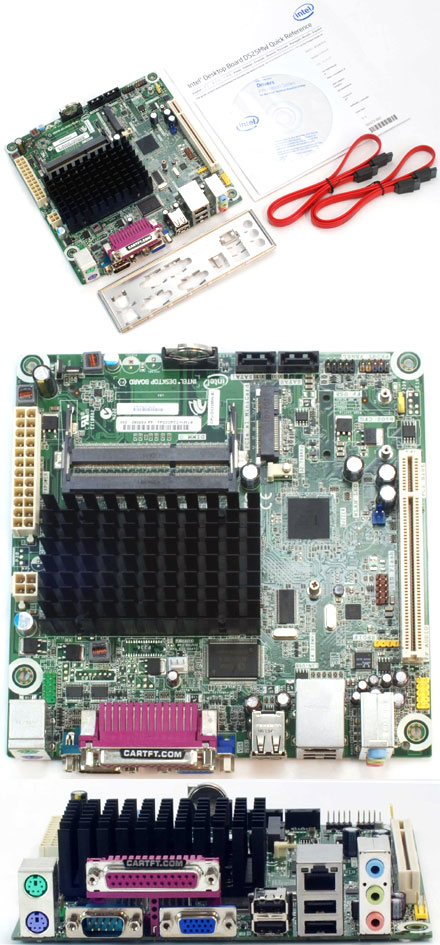 Performance and Usage
For this review, I decided to focus the motherboard as a Windows Home Server solution. While the motherboard is more than capable of being a low powered web browsing and moderate activity machine, I don't think that's why anyone comes to MissingRemote J. And as the Home Server is a vital part of your home theater PC setup, it seems pretty justified.
I decided to install Windows Home Server with Power Pack 3 onto the system. As mentioned before, I utilized 2GB of DDR3 SO-DIMM memory from Patriot Memory. For hard drives, I used Western Digital drives courtesy of HD-Stor, Inc and WD–specifically the super fast Black hard drives, and then also used the Green AV drives which are focused on video distribution.
Please note: I did install Microsoft Vail Windows Home Server to the system, but I had too many issues with the network drivers. For whatever the reason, I was suffering from bad network transfer speeds so I did not feel it fair to include Beta software in regards to a hardware review. That being said, outside of transfer performance the rest of the system was very snappy on the 64-bit Vail operating system.
Windows Home Server with PP3 was a breeze to install on the D525MW and performance felt very comparable to the HP EX487 server, which has only 4GB of memory. As expected, the in-box network drivers were not found, but a quick trip to Intel's website solved that issue and then I was off and running.
The best way I could think to test the board's capabilities was to do some file transfers. Since the D525MW is built off the new NM10 chipset, one could better notice the difference that makes with network transfer speeds.
| | | | |
| --- | --- | --- | --- |
| | HP EX487 | D525MW w/ WD Black HD | D525MW w/ WD Green HD |
| 1gb WTV file SENDING | 11 secs | 10 secs | 10 secs |
| 1gb WTV file RECEIVING | 16 secs | 15 seconds | 19 secs |
| 5gb WTV file SENDING | 61 secs | 65 secs (~92MB/s) | 72 secs (~77MB/s) |
| 5gb WTV file RECEIVING | 2 min 5 secs | 72 secs | 1 min 38 secs (~54MB/s) |
| 15GB MKV file SENDING | 3 min 14 secs | 3 mins 7 secs (~82MB/s) | 3 min 28 secs (~75MB/s) |
| 15GB MKV file RECEIVING | 5 min 48 secs | 3 minutes 18 secs (~73MB/s) | 4 min 18 sec (~64MB/s |
Nothing really to run home and report about. Transfers were very similar to what we saw from the HP EX487's older Intel-based motherboard, and some of the disparities could be attributed to the network equipment or other unpredictable variables.
In addition to the network testing I wanted to establish a standard method for testing the overall system performance. I don't normally pay much attention to artificial benchmarks, however they do provide a good baseline to grade hardware differences themselves. While I've seen that both Vail and WHS perform quite well thanks to the dual-core Atom processor, I decided to use Passmark's PerformanceTest v7 to see how this board competes with my current WHS solution–the HP EX487 Windows Home Server box which includes a legitimate Dual-Core Intel Celeron 2.0 GHz CPU.
| | | |
| --- | --- | --- |
| | HP EX487 | D525MW |
| CPU Mark | 1573.3 | 719.5 |
| Memory Mark | 607.6 | 283.7 |
| Disk Mark | 447.4 | 870 |
Based on the technical specifications of the systems, the above is pretty much what I expected. The Atom's dual core was no match for the HP's Celeron chip and while benchmark wise was twice as fast, it definitely did not feel twice as slow. Just a reminder for why we always need to take benchmarks with a grain of salt since they do not always translate to obvious performance gains.
I'm am a bit confused with the memory scores but I am hoping that this is due to the HP system having 4GB of DDR2 RAM versus the D525MW only having 2GB of DDR3. I don't believe SO-DIMM memory should be that much slower than desktop RAM, especially given the new DDR3 and its performance benefits. Again as I mentioned, the system was fairly speedy so I would not be too concerned.
Where the D525 crushed the HP system was in the disk area. Read and writes within the system were much faster on the D525MW than the HP EX487 system. Clearly this is part of the benefit of the new NM10 Express chipset being used by Intel.
And here are the power consumption numbers. Again for the basis of comparison, I'm using the HP EX487 to compare the two.
| | | |
| --- | --- | --- |
| System | Idle (Watts) | Active Data (Watts) |
| HP EX485 – 1 Drive | 44 | 50 |
| HP EX487 – 2 Drives | 55 | 60 |
| HP EX487 – 3 Drives | 65 | 70 |
| HP EX487 – 4 Drives | 76 | 81 |
| | 27.5 | 32 |
| Intel D525MW – 2 Drives (WD Black) | 32.7 | 35. |
Again as expected by the specs, the system is much more power friendly than the stronger HP WHS systems, since this is really where the Atom chips stand out.
CONCLUSION
At the time of this writing, Amazon has the Intel D525MW motherboard for a very affordable $80. Keep in mind that $80 is for both the motherboard as well as the integrated Atom processor and heatsink. Intel has priced this board very competitively and in addition to its low price, it is also a very capable platform to build your own Home Server or other storage device.
The dual core Intel Atom 1.8Ghz processor is more than capable to handle networking and browser based tasks, and the Mini-ITX platform allows for a very small system design. One of the limitations of the board's layout however is only two SATA ports, so unless you want to add a PCI SATA card, you will be limited by that. This is a bit disappointing but given that 2 terabyte hard drives have dropped under $100 that should provide sufficient storage for an entry level file server
Outside of that, the rest of the board is right on par for its price and performance range. The passive heatsink is a welcome addition and allows the D525MW to be multi-used.
Pros:
Low priced
Passive heatsink
Low power consumption
Cons:
SO-DIMM
Only two SATA ports
Thanks to Intel for providing the review sample, and special thanks to Patriot Memory and HD-Stor Inc for providing the RAM and hard drives used for this review.