HDPLEX H10.ODD Fanless Chassis

The H10.ODD is a microATX fanless HTPC-centric chassis brought to use by HDPLEX Inc. If the name HDPLEX (no relation to OSX Media Center Plex) sounds familiar, it should. We helped spread the word a little over a year ago HD Plex Announces Fanless, Heatpipe-cooled All-Aluminum HTPC Enclosures. I was curious then and jumped at the opportunity to review one of the first H10.ODD made available.
In the words of HDPLEX CEO Larry Liu, "We [HDPLEX] set out to create a family of products that look good when combined with high-end A/V equipment, are silent and affordable". High end and affordable are not words this editor has commonly seen used together and I was intrigued to see whether they succeeded.
The Unboxing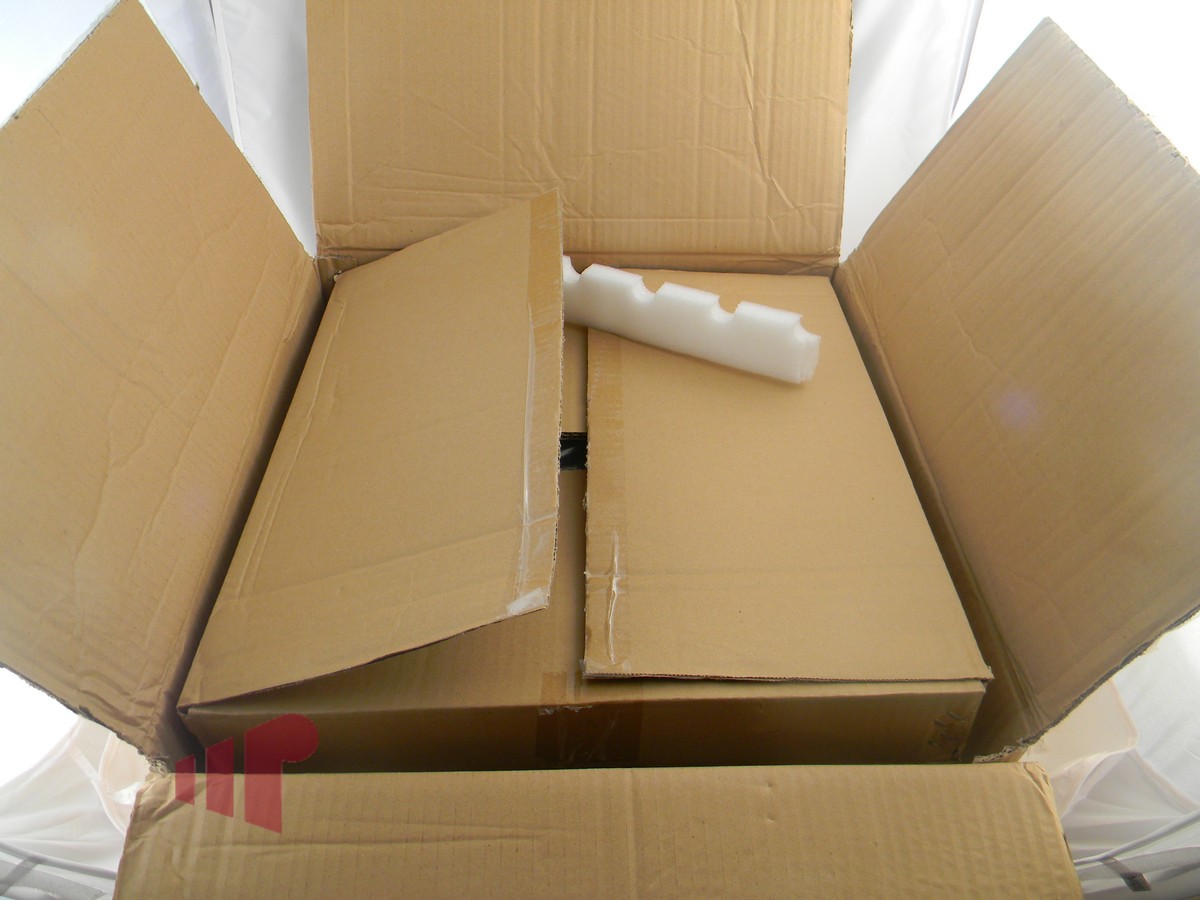 The unboxing was a little scary. The box arrived in very poor condition and very little padding inside. The second photo shows that the packaging was double boxed with some foam. No real damage to the chassis, however several of the screws were loosened. The chassis is manufactured overseas so a little wear and vibration on the heavy box is expected during international travel but I raised my concern with HDPLEX and was pleased with the response. The review unit I received was part of a limited first batch that was shipped back and forth during testing. The retail packaging will have foam on both sides of the chassis to protect it from potentially damaging vibration.
The H10.ODD comes in two color variations: 1- silver faceplate with a black body; 2- black faceplate with a box body. The review unit was a black faceplate model that went well with my rack equipment.
Included with the H10.ODD Chassis
HDPLEX Heat Sink System with 6 Heat Pipes For LGA775/LGA1156/AM2/AM3 (Long or Short). You will need to pick either the short or long kit depending on your build.

Arctic Silver Céramique Thermal Paste 22g

Power Cord x 1 (US/UK/EU version depends on shipping destination)

M3*12mm Installation Screws x 12 (for HDD)

Internal Mount Kit (including screws) for 150W Adapter x 1

Optical Driver Install Kit (ODD rack x4 and M3*6mm Screws x8)

M3*6mm Installation Screws x 8 (for Motherboard)

Hexagon Screwdriver x 1
Optional components available from HDPLEX
* Included with the review unit
150W AC\DC Fanless Adapter *

150W DC-ATX Converter *

PicoPSU-160-XT DC-ATX Converter from mini-box.com

80W Fanless Open Frame PSU

Internal IR receiver with MCE Remote Control *

PCI Flexible Riser (Left Angle) *

PCIEX16 2U Riser (Left Angle)

PCIEX16 Flexible Riser (Left Angle) *
Overview
The H10.ODD is a heat sink style case, the entire chassis acts as an extended heat sink dissipating heat from the CPU. The increased surface area from the aluminum fins on the chassis allows the CPU to stay cool without the use of a traditional CPU fan.
Specifications
Material
6063T Aluminum
Total Dimensions
(W x H x L)
460mm x 68mm x 506 mm
This includes the faceplate, enclosure and feet
Weight
12 lbs
Max CPU TDP
The chassis is designed for CPU with TDP below 75W
Motherboard
mini-ITX, microATX
Front Panel
IR receiver hole, center mounted optical drive tray with aluminum faceplate and eject button
Rear Panel
Standard ATX size reserved, vents, PCI\PCI-E slot
Internal 5.25″ Drive Bay
Traying loading 5.25″ optical drive
Hard Drive Bays
2.5" HHD x 1 (possibly two with an adapter)
3.5" HHD x1
Interior Available Space
Optical Drive, 2.5″ HHD,3.5″ HHD, AC/DC converter, IR Kit and PCI-E card via optional riser card
Warranty
1 year limited
When purchasing a passive chassis it is very important to research motherboard and CPU compatibility. Not all motherboards are compatible based on the CPU layout and additional components blocking the heat pipe path. You will also need to determine what length heat sink pipes are compatible. HDPLEX has tested various microATX and mini-ITX boards and is maintaining a list of compatible and incompatible models via their compatibility page. At the time of this review a total of 9 motherboards were listed as compatible:
Intel LGA775 socket
Zotac mini-ITX 9300 motherboard
Intel G41 mini-ITX motherboard
ASUS P5N7A microATX motherboard
Gigabyte E7AUM microATX motherboard
Intel LGA1156 socket
MSI H55M-E33 microATX motherboard
Zotac H55 mini-ITX motherboard
Gigabyte GA-H55-USB3 microATX motherboard
ASUS ASUS P7H55-M Intel H55 HDMI Micro ATX Intel Motherboard
AM2/AM3 socket
Gigabyte MA-785GM-US2H microATX motherboard
Unless you are planning on moving an existing HTPC into the H10.ODD, I highly recommend waiting to see what Intel LGA1155 socket (aka Sandy Bridge) motherboards are compatible.
I was disappointed to see the Intel DH57JG listed as NOT compatible since it is currently my mini-ITX board of choice. If time permits I would like to see if a pipe bender will allow me to use the DH57JG.
Install
Here are the specifications for the system assembled in the case:
| | |
| --- | --- |
| Motherboard: | MSI H55M-E33 microATX \ Gigabyte 785GM-US2H microATX * |
| CPU: | Intel Core i3-530 \ AMD Phenom II X3 705e Heka 2.5GHz * |
| RAM: | G.SKILL DDR3-1333 2GB \CORSAIR DDR2-800 2GB * |
| Optical Drive: | LG GGC-H20L |
| OS/Data Storage: | G.SKILL PHOENIX PRO 60GB |
| Media Storage: | Samsung HD502HI 500GB |
| PCI-E: | Ceton InfiniTV4 \ EVGA NVIDIA GT 430 * |
* Items swapped during testing
The install was fairly simple but took almost an hour and a half start to finish. This is considerably longer than my typical builds due to the number of items that needed mounting. Between the heat pipes, heat pipe brackets, IR kit, power supply brackets and power switch there were a lot of screws, time consuming yet simple.
HDPLEX provides a very detailed installation manual online via HDPLEX Fanless Computer Case Installation Guide. Make sure to read the Full Guide PDF as well as it includes more detailed instructions. Due to the detail provided in the install guide and the length I do not feel it is beneficial to reproduce the steps here. There are a few areas I would like to mention though.
The Heatsink
The heat sink has a mirror polish finish to ensure maximum thermal conductivity, when handling take extra care to keep it clean and scratch free.
When installing the heat sink you may need to bend the mounting bracket slightly to accommodate for variations in motherboard layout.
Installing PCI-E Cards
&nsp;
The gallery above shows the Ceton InfiniTV4 installed in the PCI-E slot. A couple items worth mentioning:
A riser card is required in order to use an optional PCI\PCI-E card. The 2U riser card offers the best support for the card but if in doubt purchase a flex riser card.

All full height PCI\PCI-E cards should have a notch near the screw hole; this is required to properly secure the card in the H10.ODD. I've seen some retail cards without it.

I initially perceived the gap above the PCI-E bracket as a design flaw. It is not; the gap ensures potentially large HDMI and Display Port connectors will fit properly.

The Ceton InfiniTV4 and the EVGA NVIDIA GT 430 have a PCI-E adapter bracket with a rounded side, presumably for stability. This caused the custom mounting bracket to not sit flush with the PCI-E bracket tip. This is not an issue but something to be aware of since it makes it more difficult to install without completely unscrewing the mounting bracket.
Hard Drives
There are anti vibration cushions provided with the chassis for both potential hard drives. It is a pet peeve of mine when chassis over ~$150 do not include anti vibration cushions or screws.
Optical Drive
Slot loading and slim optical disk drives are not currently supported. While I do prefer the look of a slim slot loading drive I don't consider this a major factor. Like hard drives above, the optical drive utilizes anti vibration cushions to help isolation drive noise and vibrations. When watching a Blu-ray movie the optical drive was faintly audible when paused but otherwise inaudible.
Thermal Performance
Intel Core i3-530 w/ Intel HD Graphics
CPU
Ambient
Heat Sink *
Exterior Chassis *
Energy Consumption (W)
Idle
31 °C
33 °C
32 °C
30 °C
29.5 W
Full Load
Prime 95 running for an hour
61 °C
68 °C
57 °C
52 °C
78.5 W
During Blu-ray Playback
38 °C
37 °C
39 °C
35 °C
48 W
The temperatures show the H10.ODD is more than adequate for typical HTPC usage. Even at full load under Prime 95 I would feel comfortable with 70 °C – 60 °C temperatures. With older LGA775 CPUs I expect the ambient temperatures to increase but remain well within normal operating conditions.
Intel Core i3-530 w/ EVGA GT 430
CPU
Ambient
Heat Sink *
Exterior Chassis *
GT 430
Energy Consumption (W)
Idle
31 °C
32 °C
32 °C
30 °C
35 °C
29.5 W
Full Load
Prime 95 running for an hour
61 °C
68 °C
57 °C
52 °C
38 °C
78.5 W
During Blu-ray Playback
38 °C
38 °C
39 °C
35 °C
37 °C
48 W
As you can see, there was little to no temperature change when using the GT 430. There was a slight increase in the fan speed, most likely to accommodate for the horizontal position over the microATX board when used with the riser card.
Intel Core i3-530 w/ Ceton InfiniTV4
CPU
Ambient
Heat Sink *
Exterior Chassis *
InfiniTV4
Energy Consumption (W)
Idle
31 °C
35 °C
32 °C
30 °C
64 °C
29.5 W
Full Load
Prime 95 running for an hour
61 °C
68 °C
57 °C
52 °C
68 °C
78.5 W
During Blu-ray Playback
38 °C
37 °C
39 °C
35 °C
64 °C
48 W
Note: All temperatures taken while recording four channels simultaneously.
The temperatures on the InfiniTV4 are 8 – 10 °C higher than in my Moneual MonCaso 320B but still within operating conditions and almost identical to when I had the InfiniTV4 in an Atom 1U server. This is where I would have liked to add a 40mm or 92mm fan to have some air circulating within the case. To really test the reliability of the InfiniTV4 when in the H10.ODD, I substituted the H10.ODD as my primary family HTPC for two weeks. We had a single failed recording in that time period.
Aesthetics
Everyone has a different opinion on what is visually appealing and what goes well with their existing components so I will be blunt, I found the H10.ODD very appealing. It has the highest aesthetic value of any HTPC chassis I have seen in person. I put a high value on aesthetics when it comes to HTPCs, a good case will easily outlast the internal components. The minimalist faceplate is my ideal front. There are no USB ports, no oversized pointless volume knob and no VFD\LCD. Even the Power On\Off Switch and Power LED are removed from their traditional location on the faceplate and are instead located on the top of the chassis. The Power LED is a simple blue light barely visible through a small hole. The anti-reflective powder coating against the 6063T aluminum has a nice even finish, is attractive and hides finger prints very well. The downside to the powder coating is that it shows scratches—be careful when screwing in the lid to ensure you do not scratch the lid.
The vents located on the top lid (shown above), below the PCI-E slot (show below) on the rear panel and on the bottom of the chassis are the only vents on the chassis. Typically I would expect more vents on a passive case.
I would have liked to see optional mounting holes on the top lid for 40mm and 92mm fans. While it does take away some of the fun and beauty of a fanless chassis I can see myself adding a quiet 40mm fan above the voltage regulator on a more powerful Sandy Bridge board if needed.
For the rack obsessed such as myself, the H10.ODD is the standard rack width and goes very well with high-end A\V rack equipment but due to its weight and fins is not rack mountable. It does however look very good on a rack shelf. Combined with a rack shelf the H10.ODD utilizes 2U of rack space.
Accessories
Microsoft\Philips Compatible IR Receiver
Fairly standard. No drivers required and you are able to utilize triple tap on the remote within Windows Media Center. A nice feature not available on all IR Receivers is the ability to turn the computer on from complete power off (S5). I don't turn my HTPC off and do know many HTPC enthusiasts that do but if you happen to lose power for an extended amount of time, it is nice being able to turn it on via the remote control. Well worth the extra cost to complete the CE experience.
Remote Control
Again, fairly standard. It has all the buttons you would expect from a Windows Media Center centric remote. A little light so feels cheap but I like the form factor and simplicity. The big negative is that it does NOT have any IR learning features for controlling your TV or AVR. An interesting feature is the ability to reprogram any button on the remote on four separate profiles. I would personally rather have IR learning but combined with a HDMI-CEC USB device it could offer a simple way to map buttons to HDMI-CEC commands. For the price it is a great backup remote or bedroom remote.
Flex Riser Card
The flex riser card is only needed if you plan to utilize the PCI\PCI-E slot. Not much to say about it other than they work and are very well priced.
Availability
The H10.ODD will be available in approximately 10-14 days directly from HDPLEX's website, www.hd-plex.com, for $258.00. The price is in the upper end for a HTPC chassis but considerably lower than many comparable fanless chassis I've used before.
For those that attended #HoustonWinMeet, the H10.ODD and H5.S were both on display.
Conclusion
Pros:
Fanless, near silent.

Cools well for a passive system, high quality heat sink.

Minimalist aesthetics and faceplate design. As I mentioned, some will consider the lack of VFD\ LCD a con but I love the simple design.

Well designed with noise cancellation in mind to reduce vibration from hard drives and optical drive.

Mirror polish finish on the heatsink helps ensure maximum thermal conductivity

Compatible with Intel Sandy Bridge LGA1155 architecture.

Powder finish reduces finger prints visibility.

Enough room to fit a full length PCI-E card.

Optional internal Microsoft compatible IR receiver, cheap and works well.

IR Receiver can turn the computer on from power off (S5).

Great price for quality and fanless design.
Cons:
Completely fanless, certain motherboards require active cooling for the voltage regulator. This may be a concern after prolonged usage.

Only a single PCI-E bracket available

Not a standard rack height, slightly taller than 1U, closer to 1.5U. Not really a con but for those of us who are rack-mount obsessed (OCD) a slight annoyance but quickly forgotten.

Powder finish while aesthetically pleasing is prone to showing scratches

Currently unknown whether new AMD Fusion APUs will be compatible

Wasn't available a year ago when I had a good tax return
Overall, I believe HDPLEX has accomplished their goals and can highly recommend the H10.ODD. For what it is worth, after reviewing the H10.ODD I plan to purchase one myself to replace my Moneual MonCaso 320B as my primary HTPC in the near future.
Special thanks to HDPLEX Inc. for the H10.ODD sample.
A long overdue photo of the H10.ODD in a rack. It fits in there very nicely.