Veebeam HD – Wireless HDMI From your PC to TV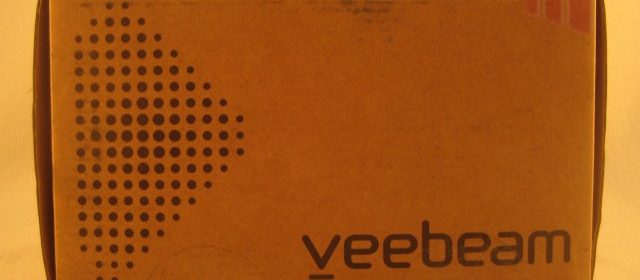 In the past year, we've seen a number of different wireless streaming devices intended to help bridge the gap between the distance between users and the television. Unlike recent products like the Boxee Box and GoogleTV, which are intended to connect directly to your television full-time, wireless USB streaming devices such as the Veebeam HD try a different route opting to leverage your existing computer from anywhere in the room to stream content to the big screen. This is a great product in theory but can it mesh with how users currently use and expect their home theater PCs to behave?
VIDEO REVIEW
Since a lot of what I'm speaking about is easier to understand visually, I have prepared a short 6-minute video covering some of the activity from this review.

SPECIFICATIONS
Before we breakdown the intended usage, let's take a look at the specs according to Veebeam's website.
Video/Audio/USB output
Composite A/V
HDMI
Digital Audio/TOSLink
Two (2) USB Ports
Screen/input resolution
1280 x 1024 – Desktop
1280 x 1024 – Photo, Video
Max output resolution
480i – NTSC/PAL
1080p – HDMI
A/V containers
If you can play it on your PC, you can play it on Veebeam.
Capable of supporting: AVI, MKV (Matroska), MOV/M4V (Quicktime), MP4, ASF/WMV (Microsoft), MPG (MPEG2-PS/TS), Flash, AVCHD.
Video decoders
If you can play it on your PC, you can play it on Veebeam.
Capable of supporting: H.264/AVC, MPEG4 (part 2)/Xvid, WMV (VC-1), MPEG-2 , VP6/7/8, Theora
Audio decoders
If you can play it on your PC, you can play it on Veebeam.
MP3 (MPEG1 Layer 3), AAC, AAC+, Dolby Digital/AC-3 (downmix), LPCM (AIFF, WAV), WMA, DTS (downmix), FLAC
Photo formats
Screencast | JPEG, BMP, GIF, TIFF
Power
110-120VAC (60Hz) or 220-240VAC (50Hz) 10W at 12VDC (20W max)
Wireless
Ultra-Wideband @>150Mbps constant rate
DRM
None
Systems requirements
2.2 GHz or greater Intel Core 2 Duo or Intel i3, i5, and i7
2 MB cache memory
2 MB RAM
Mac OS X (10.5, 10.6), Windows 7 and Windows Vista
Protocols Used
DLNA, UPnP and Wireless USB Compatible
Footprint
120mm x 120mm x 80mm
Warranty
Details
I bolded specifically "If it plays on your PC, it plays on Veebeam" as it will become a major sticking point later in the review. Furthermore, note the fairly hefty system requirements–not necessarily cutting edge, but considering one could throw together a very low powered but video accelerated system to power everything, it is something to keep in mind.
I did a bit of research in order to uncover some further details about the HDMI spec which is supported:
The Veebeam HDMI port supports HDMI v1.2 (with select support for some v1.3 features). The audio supported on the HDMI is:
– LPCM
– 2 channels
– 32KHz, 44.1KHz or 48KHz
– 16, 20 or 24 bit
Therefore, be aware that you will automatically be sacrificing surround sound, which severely limits the potential of using the Veebeam HD as a full-time home theater setup–I don't believe this was their intention, but again worth noting.
And last but not least is the price tag. Although there are often promotions, at the time of publication the MSRP of the Veebeam HD is $139 plus shipping. When placed next to the $300 GoogleTV box, this is a very attractive point; however when compared to the sub-$100 Roku and AppleTV devices, things get much trickier.
SETUP/HARDWARE
Arriving in a fairly discreet brown box with the Veebeam logo on it, the unit comes with everything you would need (pictured below): Quickstart guide, power adapter, Veebeam HD receiver unit, USB dongle, HDMI and composite RCA cables. One thing to note, the HDMI cable is fairly rugged and thick, with an orange braiding on it. While I can't technically comment on the diefference in quality, it's suffice to say that it is more expensive than most generic HDMI cables included with hardware, and a welcome sight when opening the package.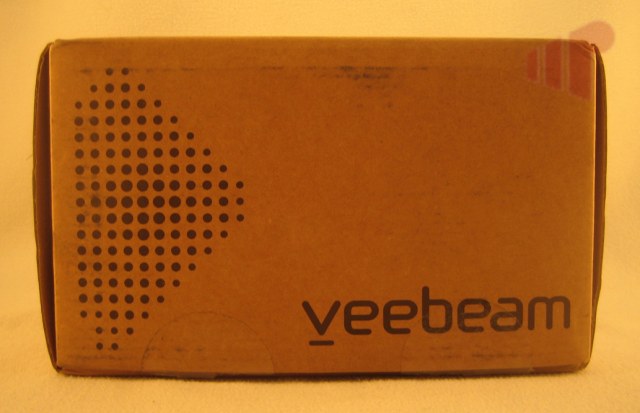 On the rear of the unit you have your standard audio and video connections–optical S/PDIF, composite video and audio, HDMI and two USB ports. Why two USB ports you might ask? For now they are solely used for pairing new USB dongles, but Veebeam has hinted that in the future they may be enabled to support external storage devices.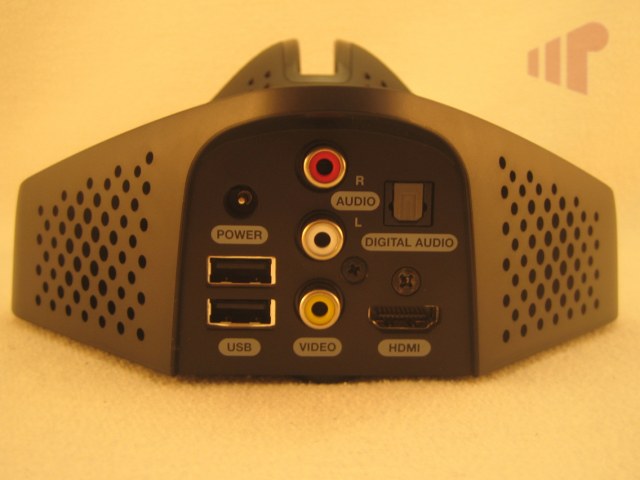 The setup is remarkably simple as you might expect. There are really just two components to the Veebeam HD set–the receiver and the USB dongle. The receiver is an oddly shaped box which connects to an outlet, and then you can connect to your television via HDMI or other supported connection. The USB dongle connects to a Windows or Mac system and then communicates via Wireless USB to broadcast the signal from the system to the TV without any cables. Please note however that this does limit the range of the device to approximately 20' depending on your environment.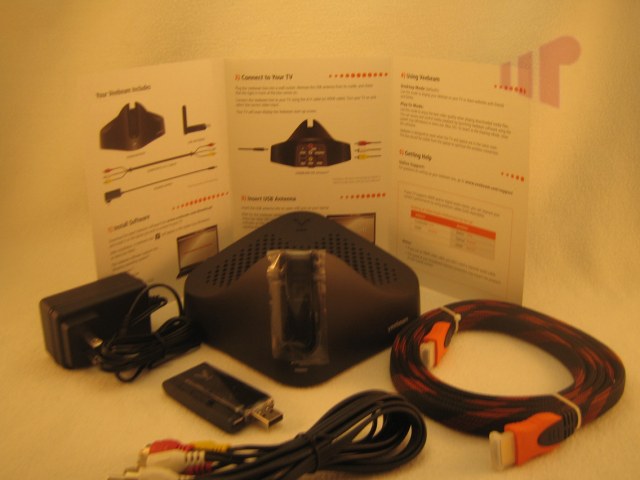 Once the receiver is connected to a TV, all you will need to do is install the Veebeam software and the USB dongle will be detected automatically by the base unit. Something to remember on setup, the USB dongle is somewhat wide and may interfere with existing USB ports depending the amount of space available.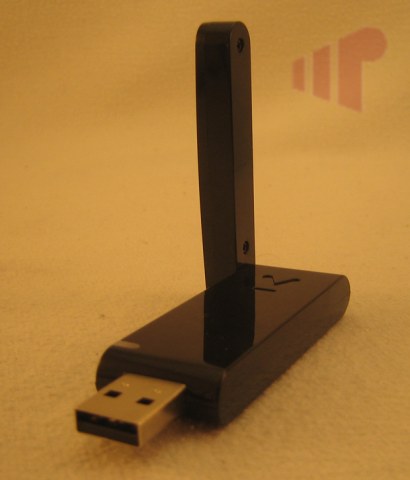 The slot in the front of the Veebeam HD is for the dongle to reside when not in use. There's no charging necessary as it's powered via USB, but it is a convenient location for you not to lose the dongle. The unit detects whether the dongle is inserted using a light signal–when the dongle is inserted and blocks the light, the unit powers off. Also note, that when you have the dongle back in the cradle it powers down the unit to a standby power draw of 0 watts. This instant-on feature is great to see. The wattage draw with the unit ON ranged from 4.5-4.9 watts, a more than acceptable number given that your TV's standby mode probably draws more power. Here's the breakdown of all power testing:
| | | |
| --- | --- | --- |
| | Veebeam HD | |
| Powered Off (Dongle in Cradle) | 0 watts | |
| Power On (Not playing/screencasting) | 4.3 watts | |
| Playing Video File via Veebeam Player | 5.0 watts | |
| Screencast mode | 4.7 watts | |
You will notice the odd shape and size of the receiver from the pictures. The unit is passively cooled, so there may be some airflow purposes to the design, or possibly similar to the Boxee Box the folks at Veebeam wanted to attract some attention, which it succeeds with–for better or worse. I would have loved the unit to be as small as possible in order to be tucked away out of site, but that's just my personal preference.
In reviewing items like this, it's important to understand how it all works. To help in doing so, let's take a look at the innards of the Veebeam HD to see what's powering this little guy, and more so, if there's a purpose for the odd shape and design.
Opening the Veebeam HD receiver was not easy as the small screws were on there tight, but we were not discouraged. Once we cracked it open, one can see there's really not much inside as there's a lot of space. While I'm sure part of this is due to providing some extra room for airflow, judging that there's not a heatsink on the chips, I would assume that this was not a concern and made solely for design/appearance. Again, if you love the design, this is a good thing, but if you prefer to have these types of devices tucked away or mounted somewhere, you're out of luck. Design and space aside, you can see the wireless USB mini-PCI adapter connected, and then the connections for the backpanel I/O ports. It's all neat, tidy and rather simple.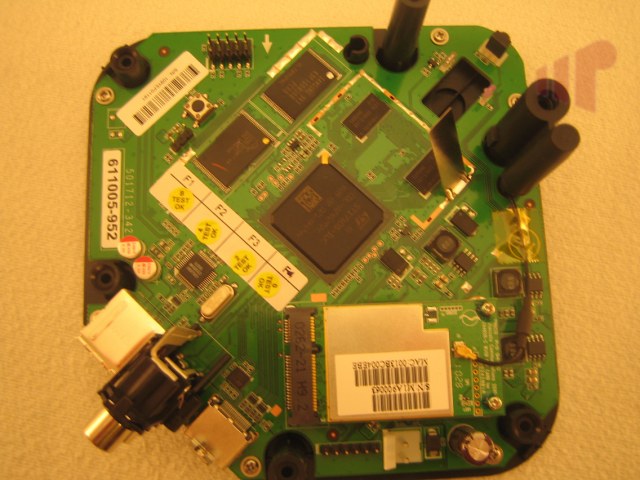 The biggest chip on the board is also the most important–STMicroelectronics, STI7105-IUC–which is a low cost HD decoder. Per its specifications page, this is capable of the following:
Advanced high definition video decoding (H264/VC-1/MPEG2)
Advanced standard definition video decoding (H264/VC-1/MPEG2/AVS)
Advanced multi-channel audio decoding (MPEG 1, 2, MP3, DD/DD+, AAC/AAC+, WMA9/WMA9pro)
Linux, Windows CE and OS21 compatible ST40 applications CPU (450 MHz)
32-bit DDR1/DDR2 compatible local memory interface
Multi-stream, DVR capable transport stream processing
Extensive connectivity (dual USB hosts, e-SATA, ethernet MAC/MII/RMII, MPX, and PCI)
Advance security and DRM support including SVP, MS-DRM and DTCP-IP
DVD data decryption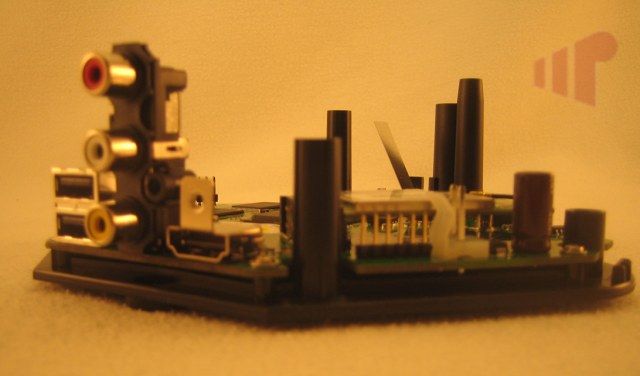 Not too shabby features for the chipset, especially when you consider that it's doing the work 100% passively cooled without even a heatsink. You'll notice no support for HD audio streams, which we will expand further upon in our testing.
USAGE | TESTING
There are two methods of using the Veebeam HD device–one is called Screencasting and the other is the Veebeam player–each has its benefits and disadvantages. First, the Screencasting mode, which is essentially clone mode for those familiar with dual monitors; whatever you see on your computer screen is displayed identically on the television. This is both a good and bad thing. It's good in in the sense that it's very easy to understand how it works, but bad in that it renders your computer essentially as an HTPC and you are unable to use it for other tasks unless you want them shown on screen. The other issue with this feature is a 3 second delay from when something occurs on your system to when it's shown on your TV–this might not seem like a big deal but since the Veebeam HD is using your system's controller (it does not include a remote) and makes controlling it very difficult–not to mention that the mouse cursor does not extend to the cloned TV making it virtually impossible to control solely by viewing the TV. Resolution wise, Veebeam HD mimics whatever resolution your computer is set to–there is absolutely no scaling done, so if you are connecting to a 1080p TV but have your system at 1024×768, be prepared for some black vertical bars on the sides. Note also, that the software is limited to 30 frames per second, so the picture will not be as sharp as with 720p60 or 1080p60 which are 60fps. This was noticeable and made text rather hard to discern.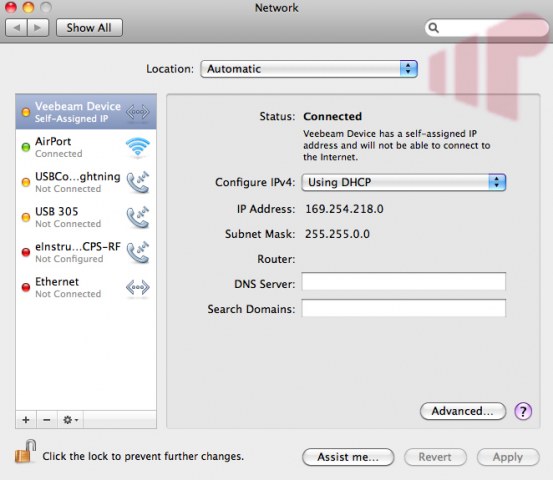 I wish I could say that that was the extent of my issues with Screencasting mode of the Veebeam HD, but videophiles will not be pleased. I tested the unit on three platforms: the Intel Clarkdale Core-i5 system with 3.33Ghz CPU and 4gb of DDR3 memory and Windows 7 x64, a Macbook 2.26 Core 2 Duo with 4gb DDR3 memory and OSX 10.6.4, and then an ASUS whitebook laptop with a 2.0 Core 2 Duo and 4gb of DDR2 memory. Only that last ASUS is below the minimum system requirements, but my experiences were identical across all platforms and operating systems. During many of the tests, I paid close attention to the CPU usage, and honestly rarely saw a spike in performance to even hint that the issues were (or could be) hardware based–the Intel system for example, while streaming 1080p video content, only utilized approximately 5-10% CPU, peaking out at 22%.
Veebeam markets the device as "If it plays on your PC, it can play on your TV." My problem with a marketing slogan like that is, your average consumer won't read the specific filetypes supported list. So if Consumer Joe pops in a Blu-ray in his laptop and loads it up to the Veebeam, how disappointed do you think they would be when it won't play on his TV? Or how about the user who thinks it would be a great idea to use Windows Media Center, only to find that when you launch it full screen in Screencasting mode, the Veebeam HD loses connection. Either of these are understandable given the complexities of HDMI and copy protection schemes (which hopefully Veebeam can resolve at least the MCE issue), but the biggest problem I had was just with overall playback.
When Screencasting at both 1080p and 720p resolutions I experienced a consistent judder of the image no matter the content–from 1080p video to lower quality YouTube streams. Not a significant amount as the video was still viewable, but anyone with a very large screen and attention to detail would not be satisfied. I was told this experience is not normal, however after testing 3 different systems I'm not so sure. I also experienced some scan lines during certain higher quality videos (basically a horizontal line across the middle of the screen)–I have not seen this since the original Intel DG45ID platform's original drivers which had many HDMI issues initially, but eventually this was resolved via driver updates. I'm hoping Veebeam will be able to resolve these as well and will update when and if that time comes.
I am pleased to say that the Veebeam player experience is significantly better all around. The limitations on playback are much greater however and very much depends on the codecs installed on your system to playback. The player is a small window where you can drag individual files or folders to. Once inserted, you will see a timer depending on your system hardware, then the file is processed and later the Player decides if it is capable of playing the file or not. The benefit of this mode is that you are able to playback video files and minimize the player and still be able to use the system for any other activity, without interrupting playback. Also, unlike Screencasting mode, I did not experience any issue with stutter, judder or scan lines during playback of supported filetypes. The playlist mode is very simple as it plays files in the order they are listed. As expected, the number of filetypes supported with the player is more limited than in Screencasting mode as the player does need to process the file using the codecs on your system. The main disadvantage of using the Player mode versus the Screencasting is that you cannot play web-enabled video sources such as YouTube.
Please be prepared in both options however, if you have any video files with surround sound audio, the Veebeam HD will not process the surround sound, but it did in most cases convert down to two channel audio at least. To give you a better idea of the breadth of formats able to be handled by both Screencasting and Veebeam Player modes, I tested a wealth of media files and have prepared this little chart to help you understand what is and is not supported:
| | | |
| --- | --- | --- |
| | Screencasting | Veebeam Player |
| Arcsoft (any content) | X | X |
| Windows 7 Media Center (Full Screen) | X | X |
| XVid/Divx | Y | Y |
| 1080p MKV (VC-1/PCM 2 channel) | Y | Y |
| 1080p WMV-HD (VC1/WMA3 2ch) | Y | Y |
| 1080p MOV (AVC/AAC 2 channel) | Y | Y |
| 1080p MP4 (AVC/AAC 2 ch) | Y | No Audio |
| 1080p MP4 (AVC/AAC) | Y | Y |
| 1080p M2TS (VC1/AC3) | X | X |
| 1080p WMV-HD (WMV3/WMA3 6ch) | Y* | Y* |
| WTV | No Audio | X |
| DVR-MS | No Audio | X |
| DVD ISO | Y | X |
| DVD VOB | Y | Y |
| 720p MKV (H.264 AVC/DTS 6ch) | Y* | Y* |
| 1080p MKV (H.264 AVC/DTS-MA 6ch) | Stutters | Pixelated Video |
| 720p MKV (H.264 AVC/AC-3 6ch) | Y* | Y* |
| 720p AVI (Xvid/AC-3 6ch) | Y* | Y* |
| 720p MP4 (AVC/AAC 6ch) | Y* | No Audio |
| 720p MKV (WMV AVC/AC-3 2ch) | Y | Y |
*Note in all the above tests, only 2 channel PCM audio was passed through the Veebeam to the Onkyo AVR
The last note for usage testing of the Veebeam HD was with the range of the Wireless USB which was rather impressive. According to the Wireless USB FAQ it should support 33 feet of distance. Unfortunately my apartment prevents me from testing such distances, but I was able to go approximately 20 feet without any issues. This was pretty good as it would allow you to use a system in another room to transmit to your television, with one condition–no doors! As soon as I closed the door the signal was instantly cut. A bit of a disappointment, but if you have to have this setup you could probably live with this solution as opposed to running a long HDMI cable.
FINAL THOUGHTS
One question you might be asking is: Why would I want the Veebeam HD instead of something like an AppleTV or Roku device? I'm afraid the answer is not a simple one as it completely depends on what your needs and expectations are. For version 1, it does an admirable job at what it's attempting. If you often have the need to play YouTube or other browser-based videos–say from Hulu–on your television, then the Veebeam HD is a good alternative to a dedicated HTPC or GoogleTV system. However, if you utilize just a number of web sources or strictly locally stored videos then the benefit over devices like a Roku/AppleTV is much less.
The control issue is I think what hurts the Veebeam HD more than anything–without an included remote control or pointer device, and with the mouse being invisible on the television, it literally forces you to HAVE to use the laptop or system even if you only wanted to extend it. And with so many laptops today now including an HDMI port, some may prefer to just connect a long HDMI cable to it and then not be constrained by the limitations of the Veebeam HD.
I love the idea of the Veebeam HD, I really do. But until they can expand their overall support of filetypes (remember they advertise "if it plays on your PC it can play on Veebeam"), and leverage the power of your system such as utilizing "extend desktop" mode where you could still have the use of your laptop while viewing web videos, then its available uses are fairly small and make justifying the $140 price tag difficult.
PROS:
Wireless USB is more than capapble of 1080p
Good range
No internet content can be blocked (such as Hulu on GoogleTV)
CONS:
Costs more than Roku/AppleTV extender devices
No extend desktop mode
Some filetype/application limitations
Video quality issues in Screencast mode
Down-converts surround sound into 2-channel LPCM
Thanks to Veebeam for providing the review unit.