ArcSoft TotalMedia Theatre 5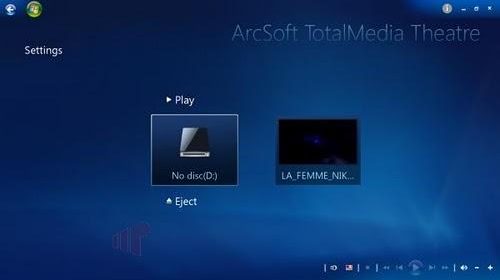 Introduction
It is not that often that we get a chance to take an early look at the next generation of Blu-ray (BD) playback software for the home theater PC (HTPC) so when ArcSoft offered us the chance to review TotalMedia Theatre 5 (TMT5) we could not say no, even though the timeline was very aggressive. To help account for that, and the general difficultly of adequately testing all the different platforms, we are doing this review as a collaboration between the editors at MissingRemote. What makes this approach especially interesting is that we all have a different mix of software and hardware in our home theaters and they are split evenly when it comes to the players of choice between the earlier version of TMT and Cyberlink's PowerDVD 10 (PDVD).
Breaking it down, the home theater environments tested included two HDMI 1.4 3D-capable plasma displays, two HDMI 1.3 LCD/plasma displays, two HDMI 1.3 enabled audio video receiver (AVR), a discrete 5.1 analog enabled AVR and stereo output via the display's built in speakers. Additionally, we tested as many graphics processing units (GPU) as we could to ensure that we would covered the majority of the user community.
Tested GPUs
ATI 3650
ATI 4650
Intel GMA4500HD
Intel GMA4500MHD
Intel Clarkdale i3-530/540
Intel Clarkdale i5-670
NVIDIA GT 220
NVIDIA GT 240
NVIDIA GT 430
NVIDIA GTS 450
Experience
Compared to TMT3 and PDVD10 the overall user experience found in TMT5 is a welcome improvement both in the standalone player and even more notably in the Windows 7 Media Center integrated version. Before taking a more detailed look at the different experiences I would like to highlight one thing that [unlike some other BD players – <cough> PDVD] ArcSoft does correctly from the end-user's perspective.
I know it is a small thing, but after going through the effort of setting my AutoPlay handlers it is really nice that after installing TMT5 it does not need to be done again.
Standalone:
The standalone user interface is much improved; providing a slick menu system with subtle animations that utilize a translucent overlay on the main screen and a reasonably functional "media manager" interface. The media manager is still pretty rough though as it does not support adding folders (each media item must be added individually) or advanced metadata like fanart. Of course none of that matters if the BD experience is sub-par.
Fortunately we can report that BD playback is excellent (including frame sequential 3D with a supported NVIDIA GPU), and the frameless video surface TMT5 uses for video playback looks great and gives the application a slight edge in picture quality versus the competition. Unfortunately, it does not reach feature parity with the ease of use a dedicated hardware player can provide, missing two critical features — automatic refresh rate and channel configuration matching.
Media Center:
When it comes to BD playback in a Windows 7 Media Center (7MC) environment, the platform requires a third-party player such as TMT5. While the BD players have improved over the years in their attempts at providing a more integrated playback experience, none have ever provided what could be considered a native experience. TMT5 has attempted to rectify the situation and has largely succeeded.
We found it difficult to describe the level of 7MC integration provided with TMT5 in words, so the video below was created to let you experience it with us.
The experience could still use some work however, most notably for those who use analog audio output (see the table below) with PDVD providing wider protected audio path (PAP) coverage, and also because settings for both applications are not shared and need to be toggled in each player respectively.
| | | |
| --- | --- | --- |
| PAP Audio Support | TMT5 | PDVD10 |
| Intel i3/i5/i7 | x | x |
| NVIDIA 4xx | x | x |
| AMD 5xxx | x | x |
| Auzentech X-Fi HomeTheater HD | | x *Exclusive |
| Asus Xonar HDAV 1.3 | x *Exclusive | |
| Realtek ALC889 | | x |
| Realtek ALC885 | | x |
| Realtek ALC892 | | x |
| Realtek ALC670 | | x |
| Realtek ALC669 | | x |
| VIA EnvyHD Vinyl VT1818S | | x |
| VIA EnvyHD Vinyl VT1828S | | x |
| VIA EnvyHD Vinyl VT2020 | | x |
File/Format Support
We generally only use TMT5 for BD playback, but it does support a wide variety of file containers besides BD and DVD, find the full list below.
| | |
| --- | --- |
| File Type | Extension |
| MPEG-4 AVC | 264, H264, 26L, JVT, JSV, AVC, MOV, MVC, M4V |
| 3GP | 3GP, 3G2 |
| Windows Media | ASF, WM, WMA, WMV |
| Video for Windows | AVI |
| Video CD | DAT |
| DV Recorded | DV |
| Windows Media Center Recorded | DVR-MS, WTV |
| Flash Video | FLV |
| MPEG-1 Video | M1V |
| MPEG-2 Transport Stream | M2TS, M2T, MTS |
| MPEG-2 Video | M2V, M2P |
| MPEG-4 Audio | M4A |
| JVC MPEG-2 | TOD, MOD |
| Quicktime Movie | MOV, QT |
| MPEG-1 Audio Layer-2 | MP2 |
| MPEG-1 Audio Layer-3 | MP3 |
| MPEG-4 Video | MP4, DIV, DIVX |
| MPEG Video | MPG, MPEG, MPE, MPA, MPV |
| VC1 Elementary Stream | VC1 |
| DVD Video Object | VOB |
| Video Recordable | VRO |
| Microsoft Waveform Audio | WAV |
| MPEG-2 Recorded TV | TS, TP, TRP, TTS |
| AAC Audio | AAC |
| OGG | OGG |
| FLAC Audio | FLAC, FLA |
| APE Audio | APE |
| 3D Image | JPG, BMP, PNG, GIF, PSD, TIF, MPO, JPS, |
| Shorten Audio | SHN |
| TTA Audio | TTA |
| Wavepack Audio | WV |
| AMR Audio | AM |
Unfortunately, the list doesn't tell the whole story so it is important to note that there are some feature gaps between the different file types so we have listed some of the more noteworthy items:
DVR-MS plays, but can't navigate at all
WTV plays but no audio is decoded.
HD DVD will play but HD audio does not bitstream, it is decoded and sent as PCM
BDMV playback works by choosing "index.bdmv" from the rip, it will not play if the BDMV folder is selected
External SRT subtitles are supported
Internal SRT subtitles are not supported
Doesn't decode FLAC (tested from MKV)
No internal PGS (BD subtitles) support for M2TS or MKV file playback
M2TS will only play the first audio track by decoding to PCM; even lossy audio tracks
Seems to only decode core from MKV with DTS-HD
Ignoring any legal issues (which are quite possible), it is disturbing that feature support – most notably PGS and HD bit streaming – from non-BD containers demonstrate such a large difference especially because ArcSoft nailed the BD experience so well. If they are serious about owning the HTPC media aggregation and playback space TMT5 needs to do a better job of providing at least parity with what the FOSS (free open source software) is providing with projects like MPC-HC.
Conclusion
Unfortunately we did not have the time to thoroughly test all of the features in great depth (we hope to fix that shortly :)), so we focused primarly on the BD playback experience and quality. Based on what we have seen, ArcSoft's TMT5 has not only provided a worthy successor to TMT3, but also taken the lead in HTPC Blu-ray playback. That said, while analog PAP support lags other solutions and PC players do not have feature parity with dedicated hardware devices there is still work to do to improve the experience.
Pro:
Excellent BD picture quality
Class leading 7MC integration
HDMI 1.4 – 3D BD fully supported
Refined and functional UI
HD DVD and BDMV support
Con
No automatic resolution matching
Analog PAP coverage
As with any pre-release software, Arcsoft is still working on some stability issues with certain hardware configurations
Thanks to Aaron Ledger, Michael Welter and Mike Garcen for all the help.
You can purchase TotalMedia Theatre 5 directly from ArcSoft.
Related Articles