MissingRemote Re-Launch Contest Giveaway #2 – Patriot Box Office (PBO Core)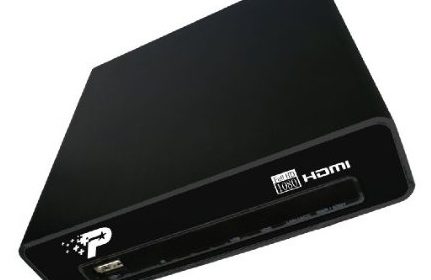 This contest has Ended! Thanks everyone for participating!!!
Hopefully everyone is enjoying the new site design as much as we are, as well as our first prize yesterday of Arcsoft's Total Media Theatre. That contest has ended, but worry not we have LOTS of PRIZES still available!!
Today's prize is a fantastic media streamer courtesy of Patriot Memory, the Patriot Box Office HD player. We reviewed this little guy earlier this year and found it to be a very solid and capable player with an MSRP of $99–read below for instructions on how to win!
And in case you missed it, Patriot has continued to innovate since our review! The product has been renamed to the PBO Core and it includes a wealth of new features via their new firmware.
Patriot Memory, a global pioneer in high-performance memory, NAND flash, storage and enthusiast computer products, today announced a refresh of their High-Definition media player product line. The Patriot Box Office has undergone a series of changes adding improved functionality, an enhanced user interface, new product packaging and a new product name. Box Office is now named PBO Core: a name inspired by the legions of devoted fans and active forum participants who often discuss the product under the name "PBO", short for Patriot Box Office.

PBO Core has an enhanced User Interface which is more visually pleasing, while also proving to be easier to use and navigate. Functionality has been enhanced with the addition of Internet Media Services (IMS), greater compatibility with HDTV's, ability to play data from external optical USB devices and album artwork during audio playback. The addition of IMS provides a variety of streaming and internet enabled services such as video RSS feeds, streaming podcasts, online photo albums, live stock info, weather, news and more! The latest firmware which provides these features and improved user interface is available now and is backwards compatible with all Patriot Box Office media players on the market.
HOW TO ENTER
To be eligible to win the Patriot Box Office HD (PBO Core) simply respond to this post with an answer to the following: What video format do you store your movies?.
For this prize, we'll once again allow additional entries via Facebook and Twitter (if your twitter/Facebook name doesn't match your MissingRemote username, make sure you mention your it in each submission below).
For Twitter:

Follow us at Twitter @MissingRemote
Tweet the video format you store your movies in
Include the following hashtag #MRPatriot
AND include the following URL http://bit.ly/mrpbo1

For Facebook:

Visit our Facebook Fan Page and click the Like button
And reply to the Patriot Box Office contest status with the video format you store your movies in.
Good luck everyone 🙂
RULES/TERMS
As mentioned above, each user is eligible for up to 3 entries into this contest. Every prize will have its own prize definitions, so make sure to check the rules!
Entries will be accepted from 12:01AM PDT on Wednesday, November 17, 2010 through 11:59PM PDT on Thursday, November 18, 2010. Winner will be selected by November 21, 2010.
This contest is unfortunately only available to US residents in one of the 50 states. Sorry to our international readers, but we are looking into expanding our prize packages in the future.
You are only allowed to enter using each method once. Multiple entries will disqualify you.
Must be a registered user to be eligible to win (remember, if you are entering additional entries when applicable via Twitter/Facebook you must mention your MissingRemote username in that entry)
Editors and staff, and associated family of staff are not eligible to win
Each prize may have its own rules for eligibility established by Product Sponsors, please read the directions carefully
Users may reply to a thread as many times as desired, but only one post will be counted towards the drawing
Winners will be notified via e-mail, as well as posted in a news post on the home page of MissingRemote.com; Failure to respond within 72 hours will result in a forfeit of prize and the prize will be re-drawn
Most prizes will be shipped to winners via either USPS Priority Mail or Fedex Ground and tracking numbers will be provided. It is the recipient's responsibility to coordinate receipt of item.
Some prizes will be shipped to winners directly from Product Sponsor–tracking will still be provided to those as well
Prize packages are in excellent condition and have not been used outside of for review purposes and are delivered in AS-IS condition
Any attempt to circumvent contest rules will cause ineligibility for user