VidaBox CubeCase Review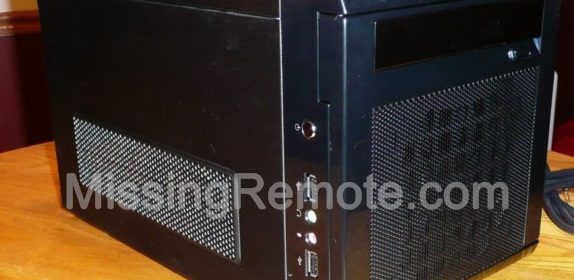 VidaBox CubeCase Review

Over the years I've tried a variety of computer cases for HTPC use. In the beginning the craze for HTPC cases were small, make it small, so cube cases were the craze, allowing for full height cards in the most compact spaces possible. Eventually HTPC cases moved onto incorporating the A/V style, with low profiles and custom expansion slot adapters. In some cases low profile, small form factors just don't cut it. That is where the mini cube comes into play. Recently Vida Box has introduced a new line of cases, The VidaBox CubeCase. The Vida Box CubeCase is a Mini-Itx cube case server chassis/Media Center case. Vida Box is known for their premium HTPC parts, media server platforms, and complete digital entertainment and control solutions. We will see if this new case holds up to their brand and how it fits into their product line.
Hardware Overview
Detailed Specifications
---
Model: CubeCase (Black Only)
Construction Material: Plastic Front Face, Aluminum Sides and Shell, All Steel Chassis
Motherboard Form Factor: Mini-ITX Compatible Only
PSU Support: SFX (Included) 300 Watt 20-Pin ATX
PCI/AGP Card Support: 1 – Full Height / Full Size
Drive Bays: External (1) Full Sized 5.25" Bay
(2) Field Serviceable 3.5" HDD Bays (Sata support only)
Internal (1) 3.5" HDD Bay
Expansion Slots: 1 (Full Sized)
Left Side I/O: USB 2.0 x 2
Microphone Input
Headphone Output
Cooling System: (1) 120mm Front Intake Fan
(1) 80mm Rear Fan
(1) 50mm PSU exhaust fan
Net Weight: 9lbs., 14.5 ounces (4.5kg) Net
Dimensions: 7.8"(W) x 8.3"(H) x 13.5" (D)
200mm(W) x 210mm(H) x 340mm(D)
---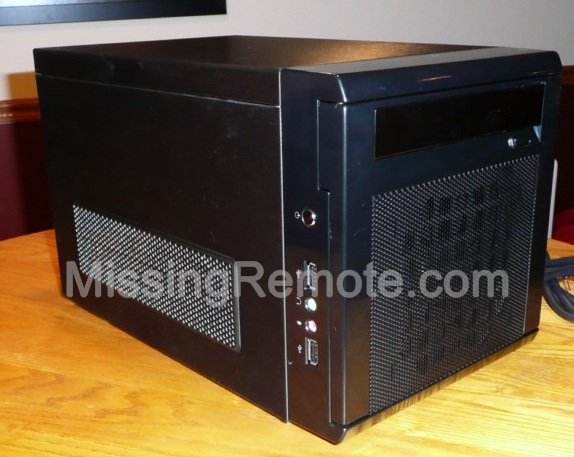 Case Impressions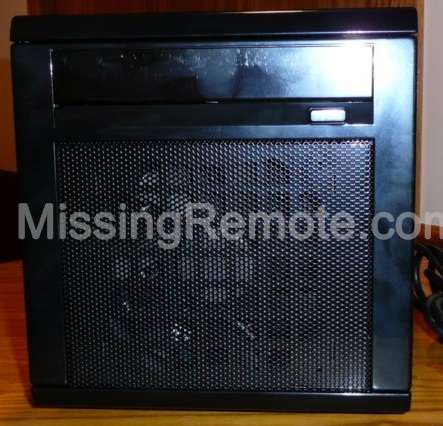 Front View of the Case, large mesh screen with the 120mm fan built into the door
allows for great airflow to keep your data drives cool.
The case comes with plenty of cooling, with one 120mm fan attached to the front door of the case, that provides direct cool air pulling through the front of the case directly onto the two main field-serviceable storage-bay trays, keeps your drives cool under load. A second fan, 80mm, is located in the rear of the case pulling out the hot air from within the case itself.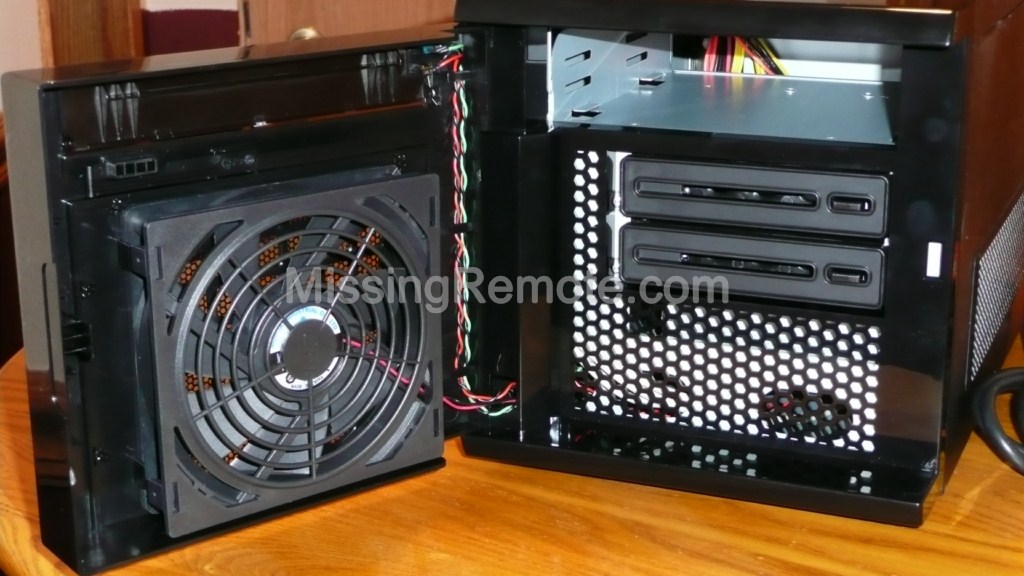 View with the Front door open. You can see the 120mm Fan, and two field serviceable drive bays along with the 5.25" Optical drive bay. The only thing I would have like to have seen is some sort of fan filter/dust collector behind the fan.
The case itself is constructed of steel, with the exterior of the case constructed in aluminum. The over all fit and finish of the case is pretty standard for a cube case, which I like, it doesn't stick out, isn't gaudy or ugly by any means. It is simple in design and some times simplicity is what gets the job done.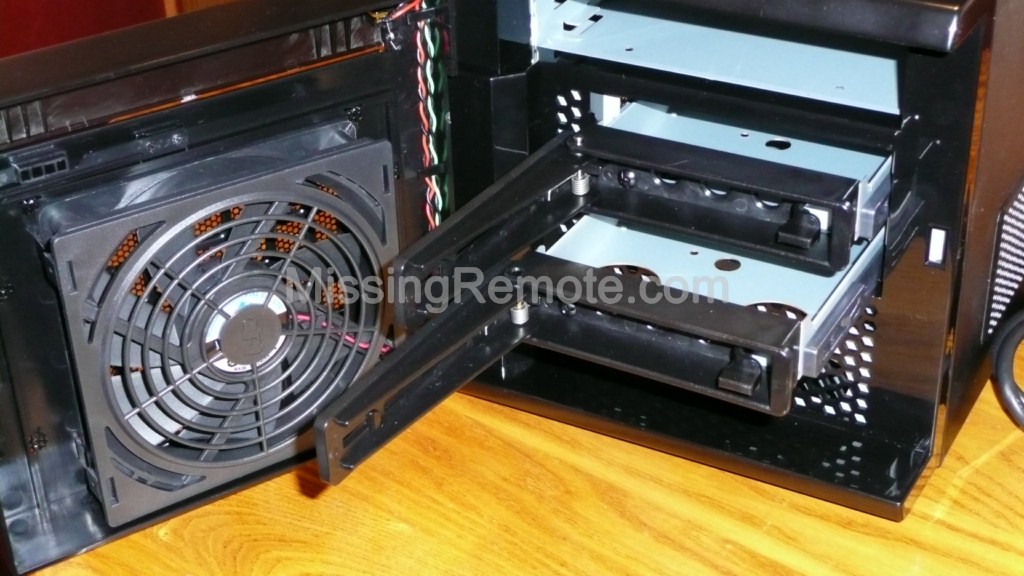 The beauty of this case is it allows you to run a full sized optical drive, no need for one off laptop sized optical drive just for a server chassis. Another view of the field serviceable hard drive bays. What is nice about these drive bays is that they are built in with Sata ports in the chassis. All you need to do is screw in the hard dive to the tray and slide it in, no messing with plugging in wires or anything like that. Perfect for WHS use, power down, plug in your new hard drive, and power back on. Just plain simple.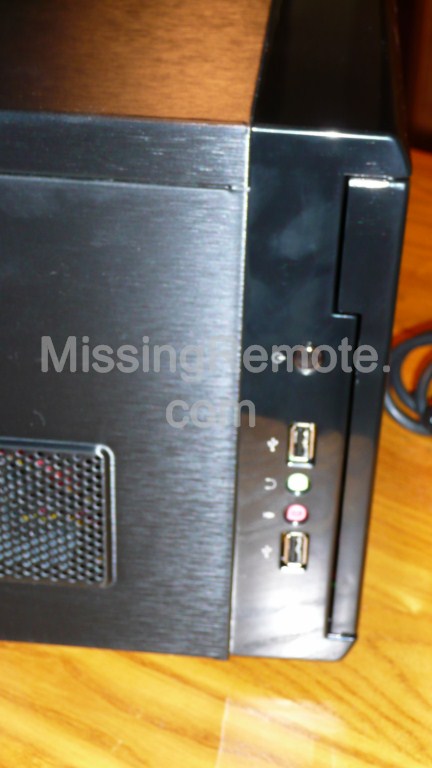 Though most will not find a need or use for it,
the case comes with built in USB and audio ports accessible from the front of the case.
It is a nice to have if you ever find a need to have USB ports on the front of your case.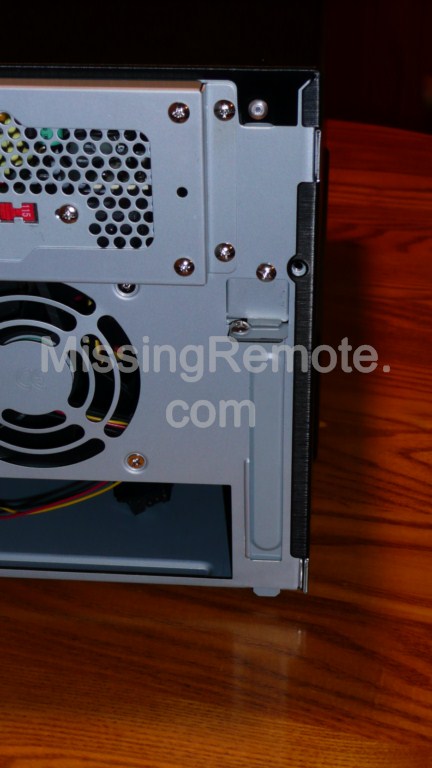 On the side of the case you will find a single expansion slot, with most Mini-Itx cases
you will find either a PCI x1 or x16 slot. If you were building a
SFF HTPC, you could easily add a ceton tuner to your system
and have a high capacity 4 tuner DVR.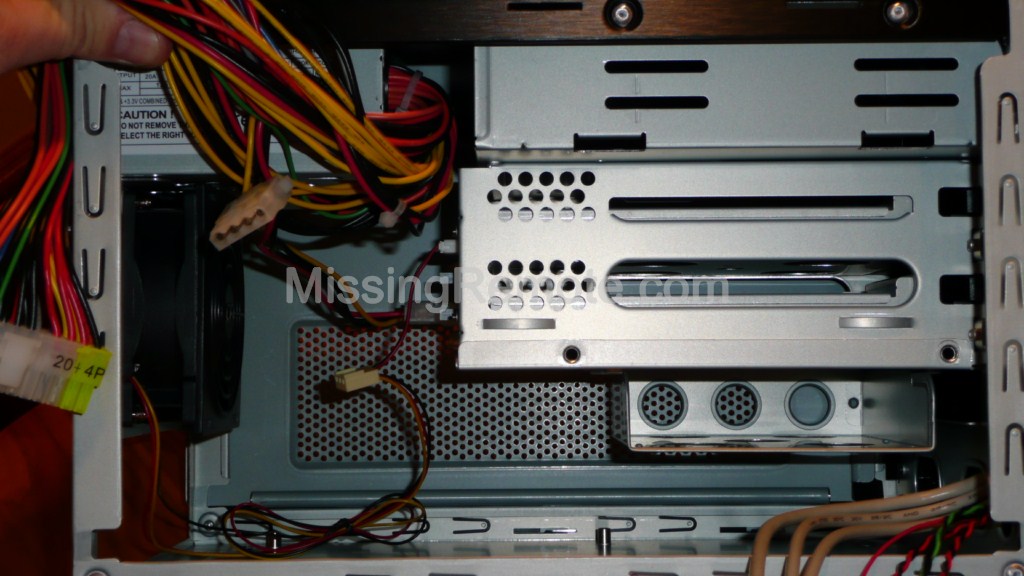 Side view of inside of the CubeCase
Along with the two field-serviceable 3.5" HDD bays, you will find a single 3.5" hard drive bay, most likely used for the operating system drive, while the two field-serviceable bays to be used for your data storage needs.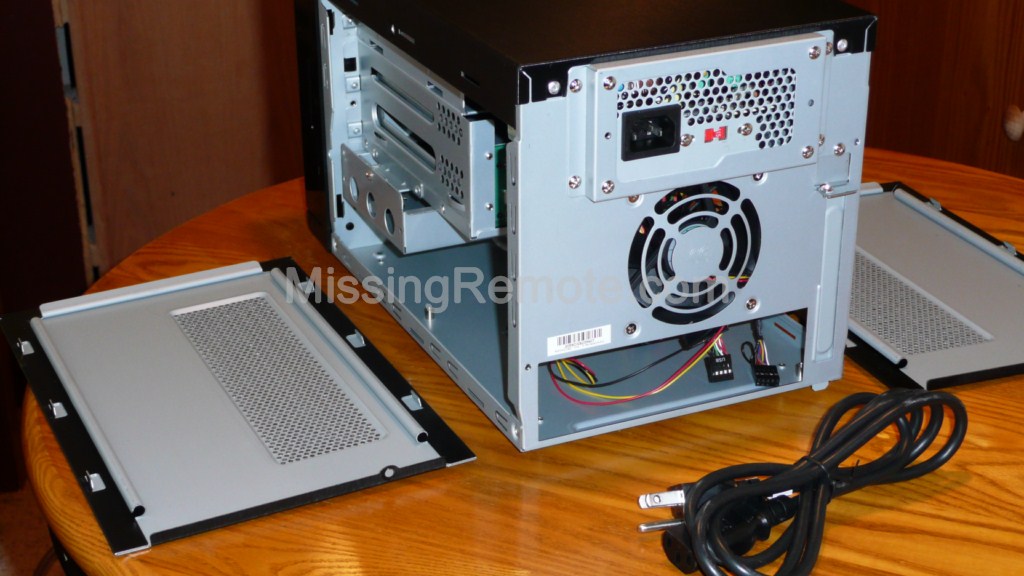 Breakout view of the case. Both sides of the case are accessible which makes working on it a breeze.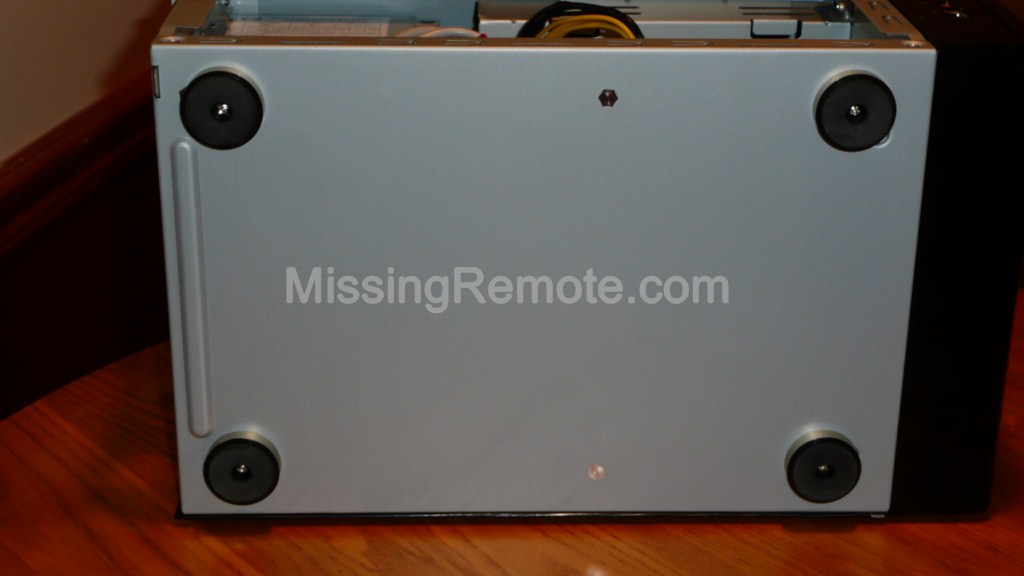 Nice solid rubber feet on the case, won't scratch up your furniture or rack.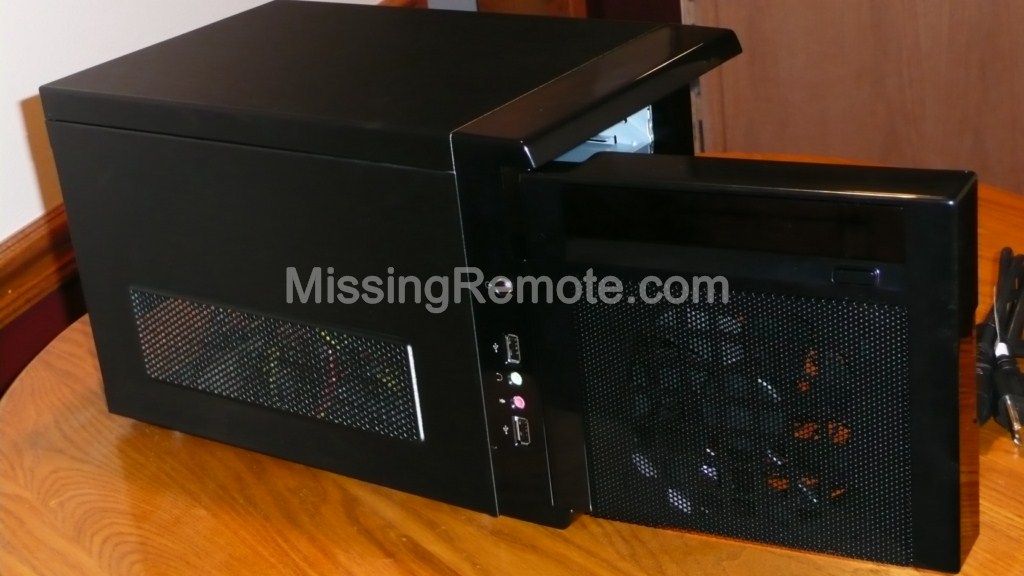 Over all a nice looking, small form factor mini storage unit.
Hardware Install
The Vida Box Cube case accepts only Mini-Itix motherboards.While this might be a down fall for some, with the recent growth in Atom based platforms and the HTPC media market it is relatively easy to find a Mini-Itx motherboard of your liking. The great thing about mini-itx systems is that they are low power, and low cost. With this case, it would be relatively easy to build a low cost WHS box.
Hardware specifications used in test setup:
---
Motherboard: Zotac GF9300-G-E GeForce 9300-ITX WiFi Mini ITX motherboard
CPU: Intel E5400 dual core CPU
RAM: 2 x 1Gig Corsair DDR2 1066 ram
Hard Drives: OS: Western Digital 1.5TB 5400rpm Green Drive
Data: Western Digital 1TB 5400rpm Green Drive AV Edition
Optical Drive: Lite-on BD sata
---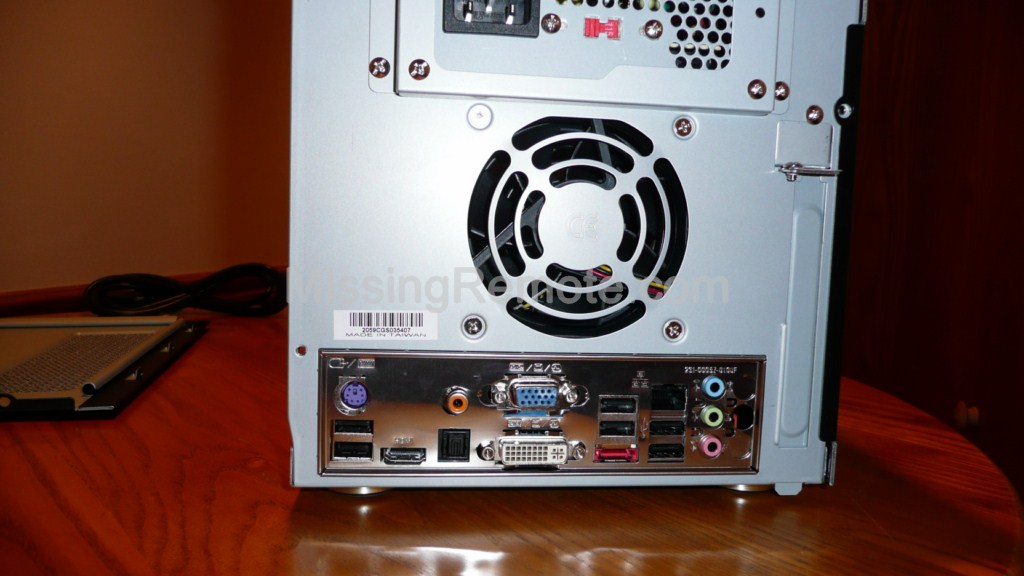 Rear Panel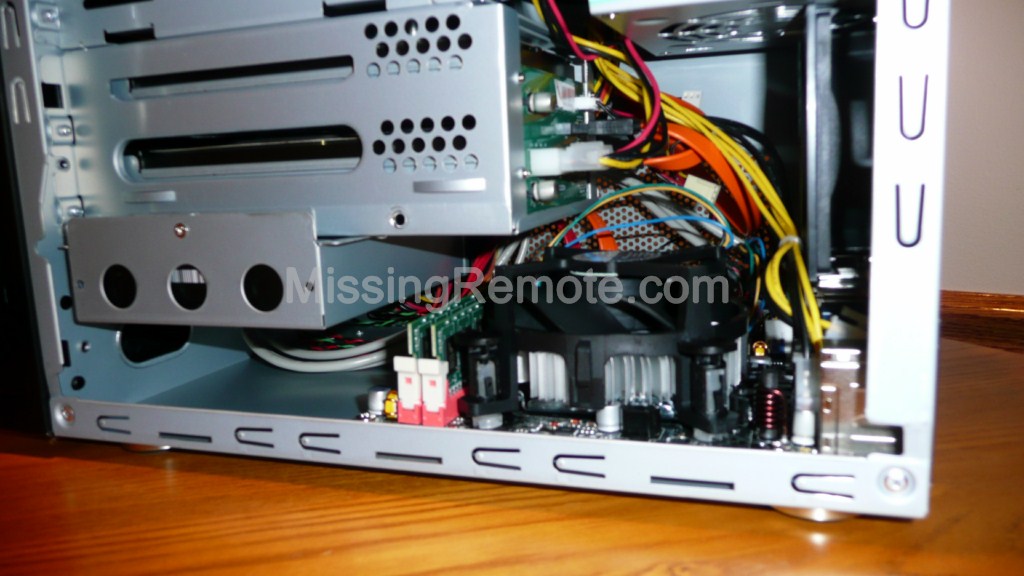 As you can see with the Zotac board in place you still have enough clearance for stock Intel heat sink fan.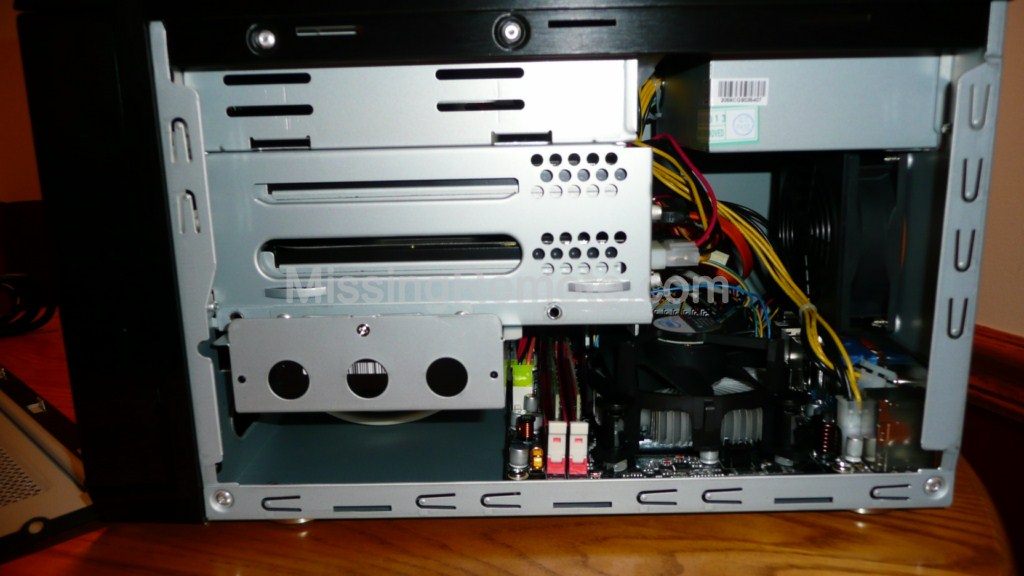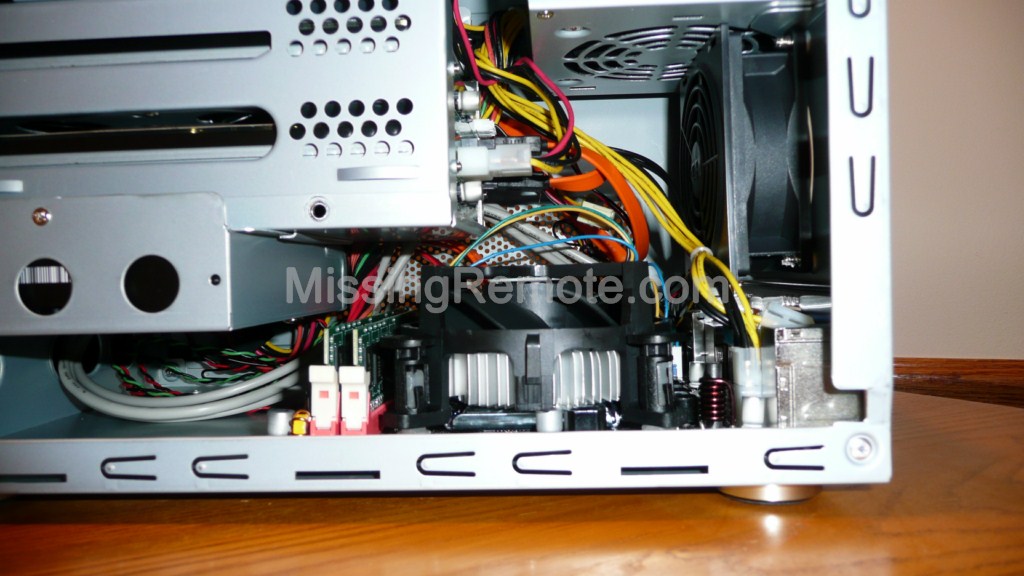 Another Side view. The only issue I have, but is pretty standard with SFF cases is wiring. I am sure to keep costs low they used a standard PSU. What I would have liked to see is a more customized power supply that only had what was needed or a modular PSU so you didn't have to have the extra power cable inside of the case.
The install was as straight forward as any other computer install that I have done. Follow the directions as provided and I was up and running, installing WHS Vail in no time at all. The fit and finish of this case is as good as you can expect from a company like VidaBox.
Conclusion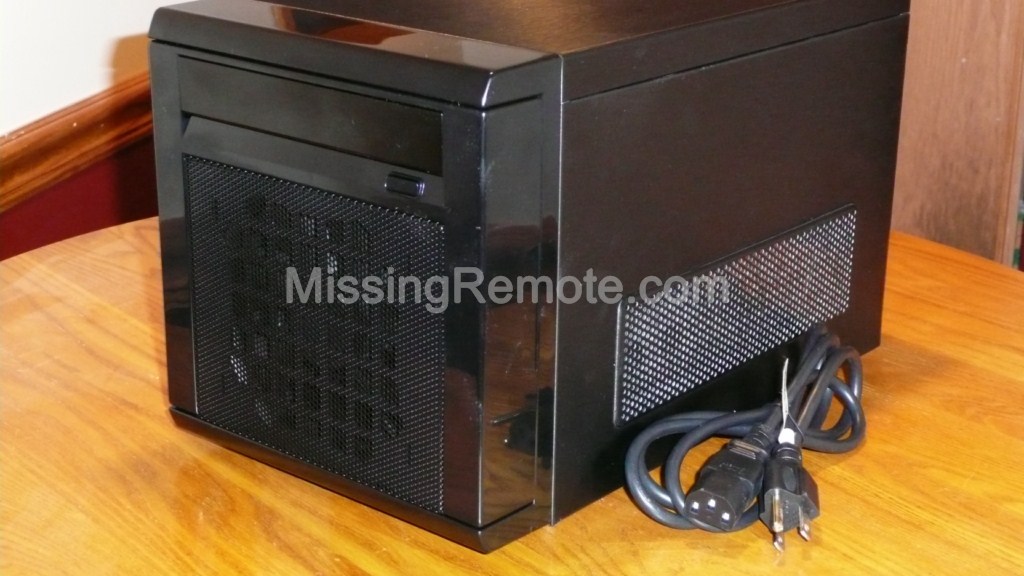 Overall this is a great little case, perfect for those who want a small footprint, low price WHS box (note this is just the case only, so it still requires Motherboard, CPU, and RAM) that would fit most people and their media storage needs. The case it well built, well thought out, and looks great, again simplicity in the looks department gets high marks in my book.
VidaBox has definitely hit a home run with this case. Whether you decide to use this for a WHS setup or a in your AV rack HTPC build this case would easily fit your needs and then some. Most people these days want a case with tons of storage space and this case definitely do not lack in that department. The build quality is right where you would expect it, and has exactly the features an enthusiast would ever need.
The Vidabox CubeCase is now available online at the VidaBoxOnline Store
Pros:
Great simple look
Form factor
Plenty of hard drive space
Price
Excellent customer service
Build Quality
Aluminum construction
Cons:
Extra power connectors get in the way
Lack of a fan filter
Special thanks to VidaBox for providing the review sample and to those of you who are reading this review VidaBox has provided, for a limited time, our MissingRemote readers with a $5 off coupon code. Head over to www.vidabox.com and during check out use the coupon code "CubeCase-MR"