Logitech diNovo Mini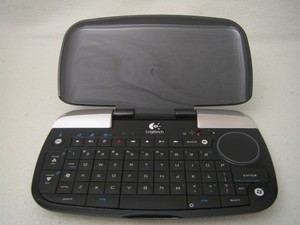 Logitech diNovo Mini

Over the years, many have tried with little success to introduce a wireless keyboard into the living room home theater environment. Logitech has a number of wireless keyboards, but the diNovo Mini is the first introduced which brings about a small form factor along with a convenient array of hot media buttons to integrate seamlessly into any entertainment center without being a sore spot for the eyes. In a field that has failed many times before, Logitech bravely takes on the experience in a way never tried before.
I have previously reviewed
and used Logitech's diNovo Edge keyboard and mouse combination device,
which while being a good keyboard just did not mesh with my living room
experience for regular usage–in other words, it was simply too big!
Shortly after the release of the Edge, Logitech unveiled the diNovo
Mini–a revolutionary keyboard the size of a compact in a clamshell
design. To be fair to you readers, I will be comparing this Mini not only to it's big brother Edge, but also to the slew of other HTPC-designed keyboards available today.
To get started, let's look at the product specs and descriptions from Logitech so we can get a full idea of all it has to offer:
PRODUCT DESCRIPTION:
Enjoy total control of your PC entertainment from your sofa.
Palm-sized, cordless mini-keyboard fits in your hand and gives you
optimal control and access of the PC entertainment you love, including
browsing the Internet, watching TV, listening to music and playing PC
games. Dedicated Windows Media Center controls optimize launch and
navigation of Microsoft's popular entertainment platform. Integrated,
dual-purpose ClickPad enhances control and access with innovative
technology that can be used as a touch pad and a directional pad.
Rechargeable Li-ion batteries give you up to one month of battery life.
Bluetooth wireless technology provides long-range wireless control from
up to 10 m (30 ft). Backlighting makes text entry effortless, even in
low light.
Specifications
System Requirements
PC with Windows® XP or Windows Vista®
USB Port
This product is compatible with PLAYSTATION®3
Technical Specifications
25 mm (.98-inch) dual-purpose ClickPad. Works as a touch pad and a 4-way directional pad
Thumb-operated keypad design
63 backlighted keys
Backlighting for two modes—orange for touch-pad mode, green for media-center remote mode
Ambient light sensor measures current available light and turns off backlight, if necessary, to conserve power
Troy gloss silver with midnight black design
Dedicated Windows Media® Center button
Range: up to 10 m (33 feet)
Connectivity
Bluetooth® 2.0 wireless technology
Point-to-point technology pre-paired with DiNovo Mini keyboard. (Does not act as a hub.)
Power and Battery
30 days (battery life)
Full-charge: Takes about 4 hours.
Fast-charge: Takes about 10 minutes for 1 day of use
950 mAH lithium-ion battery
Package Contents
Logitech® diNovo Mini™
USB Mini-receiver
Power adapter
CD with software, comfort guidelines and help center
User's guide
Cleaning cloth
3-year limited hardware warranty
Full product support
A pretty full slew of features–my personal favorite being the rechargeable battery since I can never remember to buy new ones! Keep in mind though, lifespan on normal batteries is fairly long, so we shouldn't give them too much credit for that one. The built in battery does however allow for the super slim design. Onto the unwrapping for further inspection!
Unwrapping and Installation
If you recall the excitement I had with the original Edge, it was much greater for the Mini simply due to it's small stature but my enormous aspirations for it. Since my first HTPC, I have always had a keyboard in the living room, but never one I would show proudly. Before even getting to the product, Logitech does a great job of instilling pride in it's product owners with some glossy and fancy packaging and presentation.
| | |
| --- | --- |
| | |
| Outer box glossy packaging | First experience |
The box is very retail friendly and would stand out on any store shelf like Best Buy. Even when first opening the box, everything is tightly packaged but you can tell that thought went into every piece, from the plastic on the pieces to the origami-configured documentation packaging. All something you would expect from a $140 keyboard, but nice to see nonetheless.
Unboxing the unit is equally a pleasure. It's always difficult conveying just how cool or small a device is, so I tried to use some reference point items like the quarter for thickness, and the Harmony remote for length. If the pictures don't show it, let me just relay the message–this thing is SMALL! Not exactly the palm of your hand (maybe Shaquille O'Neal's) but still a comfortable and light fit.
| | |
| --- | --- |
| | |
| The rear of the Mini–Simple and clean! | All the package contents–From Top left clockwise: Documentation, CD, Battery, USB Bluetooth dongle, Charger, Cleaning cloth and the Mini keyboard. |
Nothing fancy on the back of the unit, and pretty typical Logitech contents within the packaging. As with the diNovo Edge, a cleaning cloth is included, a nice feature but I honestly can't remember ever actually using it. The driver CD was obsolete as there were already MUCH newer drivers available online. Tiny USB receiver is included and the power cord/plug is it's own separate entity.
Finally let's take a closer look at the unit itself. The picture cannot convey just how much fun this thing is to use. The lights illuminate orange when you are using it in standard keyboard and mouse mode, and green when in the arrow mode–and only the buttons supported are lit, nice touch. Add to this that the lights appear instantly when you open the lid, and this thing is wonderful.
The software installation of the SetPoint software was very
straightforward, just like last time. And if you have used a Logitech keyboard set recently, I'd imagine the software is the same. As you can see, version 4.70 is the latest on the website, where as 4.24 was included with the package.
After the installation, there is a bit of tweaking and customizing that can be done–but not too much to scare off new users. The basics are there for mouse controls, such as enabling mouse trails, speed, acceleration, etc. There is a bit more uniqueness with the keyboard portion, which most interestingly allows you to configure 3 hot keys. Yes, only 3, but still I found 3 to be sufficient for most needs. I configured my main Media Player button to launch Media Center, and then the "My Home" button to launch Boxee (my current obsession). The "Sleep" button I wasn't that interested with, but it's there for those that use it.
Lastly, there is a battery monitor as well. More as just a convenience I would imagine, since using this in an HTPC environment means rarely relying on any 2′ interfaces–but maybe that's what this keyboard will allow me to do from now on.
Using the Keyboard
USING THE KEYBOARD:
From the second I started using it, I instantly thought the diNovo Mini is the PERFECT companion to BoxeeTV. While BoxeeTV *can* be run perfectly well from a remote as simple as AppleTV's (with 6 buttons), you quickly realize that it would be even MORE powerful if you utilized a keyboard. With the combination of arrow and keyboard features, one could quickly and easily navigate the Boxee menu, and then use the keyboard to search for items instead of using the dreaded on-screen keyboard.
For Media Center, the needs are much more of a general HTPC-nature. My Harmony remote is perfectly capable of the majority of tasks as searching and using on-screen keyboards is not a normal occurrence. One of the downsides to HTPC's of course though, is the need for maintenance and upgrading. Ask any MissingRemote.com member, and I bet you they have some sort of keyboard hidden somewhere in their living room–under the coffee table, behind the sofa, even maybe still tethered by a USB cable on top of the HTPC! I will still keep the Mini under my coffee table, but in addition to taking up less space, it simply looks better than the near full size nMedia keyboard I previously had there.
It took a bit of time to become comfortable with where the buttons are and the various Fn-function controls available, but the illumination makes the task moot as you can always see what you're doing. I should note for those concerned, the backlight is subtle–enough to see but not blinding or annoying, and does turn off quickly after use. As the keyboard dongle is bluetooth-based, there is great range from across the room and there is no need to point it anywhere like that old dreadful IR keyboard from Microsoft.
The touchpad works similarly to those of laptops except there is no double tap–instead it actually clicks down to equal OK. For the most part, I found life easier just using it with my right hand and clicking OK with my left hand. I would not recommend this keyboard if you prefer to control it with one hand, but I can't think of any keyboard which would do a better job.
One minor annoyance I had is in regards to the battery icon which shows as half full. This i not a mistake, but merely that battery icon changes color when the battery is low. Not a deal breaker at all, but for $140, I would have loved to see a battery status similar to that in Harmony remotes.
CONCLUSION:
Over the course of my last 10 years in and around the home theater PC market, I have used virtually every imaginable keyboard–from the gyration sets, to the pointing stick, trackball, touchpad and more. None have ever come close to the ease of use and convenience which Logitech has finally brought to the table. To be honest, I don't think the competition is close at all.
Even if the size remained, but maybe the touchpad controls were finicky (let's say as bad as Microsoft's MCE Keyboard from a few years ago), I would still be able to forgive it based on the innovative design and size. BUT, that's not the case! The touchpad is wonderfully simple to use and seems to have improved over the Edge keyboard I previously tested.
When it comes time to purchase a wireless keyboard for your home theater, I don't think there will be any question any more as to which is the best–the Mini takes that prize–instead the only question will be "Can I afford $140 on a wireless keyboard?" If you use the keyboard very rarely (say only when your HTPC crashes), then it makes it more difficult to justify. However, if browsing the web or you constantly find yourself reaching for that big wireless keyboard, then you better start saving your pennies and save some headaches and buy the Logitech diNovo Mini.
Pros:
Unbelievably tiny and sexy design
Complete QWERTY keys included
Improved Touchpad from the EDGE
Arrow mode & Keyboard/Mouse modes with different illumination
High WAF (Wife Acceptance Factor)
Rechargable Battery
Cons:
EXPENSIVE!!! $140 MSRP, and TOUGH to find discounted anywhere!
No Right Click button? – EDIT 4/6: It's holding down FN+Left Click, simple!!
No battery monitor from keyboard