Life With A Plugin: SecondRun.tv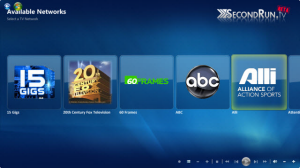 This program is very much in beta, as such rather than review it I will give you a preview of where it is at development. No episode # for this go around.
In it's simplest form, SecondRun provides a 10′ UI for the Hulu.com TV portal website. This plugin is the biggest development to come out of the Media Center community in quite some time. As a group, Media Center enthusiasts are used to jumping through hoops to get content on our programs as there is little outside development for the various Media Center platforms.
Is it a Boxee killer?
First off you can see, that it only provides an interface for the top Hulu.com networks such as NBC, ABC, Fox and other networks. For starting off development, this is a good place to start and should cover the needs of 90% of the users out there. The interface is absolutely gorgeous with effective use of fan art and thumbnails and posters. Navigation and UI are tops and look forward to seeing how the plugin progresses.
| | |
| --- | --- |
| | |
| Networks Screen | ABC shows |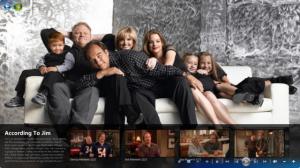 +1 For the great use of fan art
If you play on the video above, you know that the application appears
to embed the actual web page that the video is played on. This approach
uses an embedded video player that is not native to Media Center. As of
now, you have no control over the video. The Hulu.com videos are
resized to fullscreen after the video starts playing but this feature
has not made it into some of the other embedded players such as
cbs.com. You have to breakout the keyboard for additional functionality.
To some, this is a mortal Media Center sin. To others, such as myself,
I have come to know this as being part of owning a Media Center setup.
So why do they embed the website as opposed to Boxee who directly
scrapes the flash streaming files? The author simply wishes to respect
Hulu.com's ability to embed ads and keep the flash file as intended. I
can agree with that, though it may make impede progress for extender
development and native integrations.
| | |
| --- | --- |
| | |
| CBS.com embeded page | Hulu.com |
Use on extenders is buggy at best. It is currently a no go. As you
can see by the video and does install and work fine on Windows 7.
This is a very good start to getting Hulu.com content on our TVs. It is usable but expect some issues as the developer works through the
development process to a stable version. Remember! It is a beta plugin.
Don't get your undies in a not if it doesn't work right. I encourage
everyone who uses it to donate a few bucks (or lots of bucks) to the
dev.
I'll forgo the usual rating until development is a little further along.
Product Vitals:
Website: Secondrun.tv
Creator: Yaggs
Price: Free! (Donate if you can)