D-Link DSM-330 DivX Connected Extender

DivX made its name as the first truly popular way to pirat…err….watch compressed movies over your computer. It caused tons of hassles for those of us who had built lower powered HTPC's, only to have lip sync or stuttering problems as our poor left over 400MHz CPU's could not handle it. My how times have changed… DivX is arguably the defacto video compression codec used around the world. For those unaware, DivX compresses a video file into a much smaller file (think what MP3 is to those huge WAV files).
The D-Link DivX DSM-330 is the first hardware venture from the company as they try to join the constantly growing number of set top box devices aiming to hold a place on your entertainment shelf. The idea is simple–deliver not just your DivX video content, but most multimedia content, from your loud media server wirelessly (or wired) to this low powered, silent and small device connected in your home theater. So how does it fare against the more well known and established Windows Media Center Extenders hitting the market with a similar price tag? This $250 device clearly has it's work cut out for DivX, so let's see how it does!
Specifications
Technical Specifications
Here are the technical specifications from D-Link for the device. Some interesting things that stand out are a SCART connector (international customers are definitely in mind here) and only 802.11g support, no 802.11n, which would be better for handling high bitrate/HD resolution files. Other than that, this device seems to have a connection for just about everything… not bad for being as thin as it is.
Standards
•
HDMI
•
IEEE 802.11g
•
IEEE 802.3/3u
•
TCP/IP
•
HTTP
Video Outputs
•
HDMI
•
Component
•
Composite
•
S-Video
•
SCART
Audio Outputs
•
RCA
•
S/PDIF
•
Optical
Antenna
•
Type: 2.4 GHz Swivel-type
•
Frequency: 2.4 to 2.5 GHz
•
Impedance: 50 Ohms
•
Gain: 2dBi
Supported Video Formats
•
DivX, including DivX VOD files
•
Xvid with MP3 or PCM
•
WMV9 (transcoded on PC)
Supported Audio Formats
•
MP3 (up to 360 kbps)
•
WMA (transcoded on PC)
•
M3U, M3U8 and PLS

Supported Image Formats
•
JPEG (grayscale, RGB & YCbCy only)
•
JPEG 2000
•
BMP (non-compressed)
Network
•
Wireless: 802.11b/g
•
Ethernet
•
DHCP or static IP address
Wireless Security
•
WPA (TKIP/AES)
•
WPA2 (TKIP/AES)
•
WEP (up to 128 bit)
Power Input
•
12VDC/1A
Dimensions
•
10.25 x 6.38 x 1.38 in
Weight
•
1.3 lb
Temperature
•
Operating: 32°F to 113°F (0ºC to 45ºC)
•
Storage: -13°F to 131°F (-25ºC to 55ºC)
Humidity
•
10% to 95% Non-Condensing
Certifications
•
FCC Class B
•
CE
•
C-Tick
•
CSA International
•
DivX Connected
Warranty
•
1 Year Limited
Minimum System Requirements
•
1.6 GHz processor
•
Windows Vista® or Windows® XP
•
60 MB HDD space
•
512 MB system RAM
•
OpenGL-enabled video card
•
Wired or wireless network
Recommended System Requirements
•
2.6 GHz processor
•
Windows Vista® or Windows® XP
•
60 MB HDD space
•
1 GB system RAM
•
Hardware-accelerated OpenGL-enabled video card
•
Wired or 802.11g network (Wired recommended)
Installation
Installation & Setup
Setting up the DSM-330 was a breeze. Clearly D-Link has learned some lessons over the years, getting the device up and running was a snap. You simply install the software from the included CD (I'd recommend downloading the latest version since they appear to be updating often), go through the basic confirmations of setting up which directories to be included for sharing, and voila.
When you power on the DSM-330 you are instantly taken to the configuration steps, prompting questions regarding which server to connect to, resolution, display and such. Assuming you have installed the software on your PC, setup for the actual device is a piece of cake.
Or so I thought. I had the unfortunate event of having an issue with the display of the device. On a 32" LCD HDTV from Westinghouse the picture on screen for the main menu was cut off 25% from the right side. Once playing a movie it would fill the screen, but I could not figure out how to fix it on the main screen. I tried on another 32" LCD HDTV, tried via HDMI, Component (SCART), but still no joy. I eventually resolved the issue myself by uninstalling it from my secondary concurrent session (where I do my normal installations and file management) and reinstalling it under the main MCE session itself. Apparently the display drawn on the DSM-330 is rendered by the CPU (ala MCE Extenders), so something funky was happening.
Display issues aside, everything else worked great, easily, on the first try. Movies launched quickly as well as directories showing up. There are shortcut buttons on the remote for easy access to where you want to go.
Look and Feel
Hardware Design, Look & Feel
They say a zebra can't change its' stripes, and a leopard can't shed its' spots. Along that same note, you wouldn't really expect D-Link — a company who for years has made the most computer-generic-looking devices — to go too exotic with the design. And true to form, they didn't. The D-Link DSM-330 is as plain as you could imagine. Personally, I don't mind the look as I'm a geek. My girlfriend on the other hand would much prefer a nice shiny AppleTV.
| | |
| --- | --- |
| | |
| Nice looking retail box | Package Contents |
There's only one button on the front, used for power, and there's a couple of lights for wireless connectivity and LAN activity. A USB port is front facing to allow you to connect a thumbdrive or other USB-device which contains media. On the rear is a plethora of ports, including HDMI, S/DIF Coaxial and Toslink, and even a SCART connector, just to name a few. Attach the included antenna to the rear connector to access wireless routers.
| | |
| --- | --- |
| | |
| Front view of the DSM-330 | Rear angle of the device |
The remote doesn't surprise either, being as plain-looking as its receiving device. 45 buttons are crammed on a small, plastic remote, which doesn't scream high-quality. The layout is well thought of, with the arrow keys right in the center of the device, and the volume and page buttons easily within reach as well. There are shortcut buttons as well to go to Music, Photos, Video, Online…and even…a Stage 6button. As some may recall, Stage6 was the failed online video community portal which was permanently shut down in February of this year. The shortcut button jumps you instead to the now-called Services section.
Down side, the remote is not a universal remote (ala the HP MediaSmart Connect Extender). That means that it cannot control your TV's power button. Fortunately however, the volume is controlled by the device, so you CAN adjust the volume without any programming (something you CANNOT do with the HP Extender).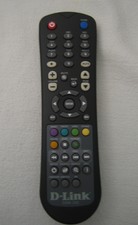 Basic Looking Remote
Plugins and Themes
Plug-Ins & Themes
So by now you're probably asking yourself how this device differs from the plethora of other "Media Extenders" on the market, besides being from DivX? The answer lies in their Plug-ins offering, or should I say, the community. That's because all the plugins available for the DSM-330 are created by DivX community members themselves. If that reminds you of how Meedio found success, it's because, well, it's the same model. Meedio thrived due to the overwhelming amount of developers that were motivated to design plugins for free, and essentially DivX is doing the same. Of course this much reliance on the community for such a crucial piece of the puzzle can make or break things. If the community embraces the platform and device and designs some wonderful plugins, then this device can go above and beyond where other extenders have failed. However, if the plugins are cheap or unreliable, then it will tarnish the reputation of the device, and possibly its future.
| | |
| --- | --- |
| | |
| Skinable Themes | YouTube Featured Videos Plugin |
Considering that the DSM-330 has not even been released in the US yet, I was pleasantly surprised already at the number of plugins available. You can find a full list of the Plugins available over at DivX Labs, but the ones I was drawn to–being the geek that I am–was the DL.TV, HD Trailers and Revision 3, just to name a few. To me, having all those Online Videos available seamlessly via a remote was a great idea. For some reason, I could not get even a decent download speed for most of these, so streaming was not a pleasant experience with constant stuttering and buffering–and this is with Comcast high speed Internet with downloads of over 600kb/s. Quite disappointing. Even when it did work, there wasn't a single time where there was not some sort of buffering issue. Add the initial delay it takes for the videos to begin, and you're left with a very awkward period of silence. In this day and age where even "slow" Internet connections can stream videos via their browser without hitches, I was unimpressed with the performance. Blame it on the community for their plugins or the device itself, but it's clear this section needs some optimizations. I hope they can make the needed optimizations, because the idea is a keeper.
| | |
| --- | --- |
| | |
| For the Star Wars fans | Not my favorite theme…makes me dizzy |
In addition to the Plug-Ins, there's also a section called Services which look oddly similar to that of the Plug-ins page. My guess is that these were designed by the DivX team itself, versus the community, and are included out of the box. I can't say I found much usefulness for any of these however, with offerings such as Funspot (which did not work at all), Frederator, Indy Mogul and Pulp Secret. If you haven't heard of any of those…neither have I, nor would I recommend them after enduring them. One creative Service offered is the "Ambient Extras," which is more gimmick than anything, but some might enjoy having a video of a fish tank or fireplace, going on their LCD in their bedroom for some…well, ambiance. Overall, with all the options in the plug-ins, I did not find myself returning to the Services often.
| | |
| --- | --- |
| | |
| Some very well done Plugins… | Some more useful than beautiful |
The final customization option comes in the form of themes, allowing you to skin the appearance of the Connect interface. While initially, the majority of the designed themes are commercially driven–created by content designers to promote a game or movie–hopefully in time this will grow along with the plug-ins. If DivX can get even 10% of the quality and offerings which Meedio and SageTV, then the device will be a success and hopefully have a loyal following to keep it alive. If it flounders like the failed DivX Stage6 initiative…then there probably won't be a 2nd revision.
| | |
| --- | --- |
| | |
| List of Services (basically DivX Plugins) | User-contributed Plug-ins |
Performance
Overall Performance & Usability
I was surprised to see the system resources that the DivX DSM-330 host application utilized: chewing up over 20MB just upon launch, and easily reaching over 80MB when the device is connected. After a couple plugins are used the device shoots up to over 150MB!! That's an awful lot of memory required for a hardware-based media extender, and one that required power cycling the device more often than it should. I should note that this is a Version 1.0 hardware/software, so hopefully it will improve over time, but right now it definitely needs some optimizations. I'm not sure if the Plugin stuttering I experienced was due to the Connected server software stalling or just poorly designed plugins…but when even music tracks from Live.Fm are stuttering, we have a serious problem.
Memory usage aside, the performance was more than adequate. With a boot up time of less than 20 seconds, I was able to access my content without being annoyed by the wait. Navigating through the interface was simple and straight forward, although there is certainly a lag between when you press a button on the remote, and when the screen updates. There's no Picture-in-picture, or background viewing, like I've become accustomed with the Media Center interfaces, but I was pleased that the device continued playing music as I browsed my photo collection.
| | |
| --- | --- |
| | |
| Simple Photos | Equally basic Music |
While music and photos are nice and simple to use, they're also a given in practically any device — even those digital picture frames can do it nowadays. And although included, the lack of any sort of playlist or queuing functionality is pretty inexcusable. If you are used to being able just play your whole library, then you are out of luck with this box. You can only "Play All" with individual albums…which means if you have a cleanly sorted music collection, then you can only play one album at a time.
That being said however, I would have to believe that the majority of people interested in the DSM-330 are interested in video playback — after all that is how DivX made their reputation. Due to that fact I had higher expectations for the video browser interface, which does not seem to offer much difference from that of the Music and Photos. Not to say it's terrible or unusable, but just…basic. Using the Connect Server software, you configure the folders you wish to monitor and they show up in the Videos section — rather promptly I might add, without having to reboot the device.
Video structure identical to Music and Photos
Easy to use fast forwarding
Playback of video files was a snap, and videos started instantly. Prior to playback, you have a confirmation screen which shows the length of the video, resolution and genre. In addition to that, the fast forward feature is one I've craved for for years from other devices: you can move through the video file at 8x, 20x, 60x and even 300x speed both forward and backward, making it very easy to get to whatever point in the movie you care to go to. Additionally, there IS a resume feature (YES!!) which allows you to continue a video from wherever you left off. Subtitles are also supported, and you can turn them on or off from the remote, as well as select a language if your video track has more then one. I also found that the picture quality on movies was better than on the MCE Extenders I have tested. Not sure why, but it seemed to have a sharper and clearer image.
Thumbnail Videos view
Resume Video playback
My main disappointment with the Video gallery is in the lack of movie features included. The interface is really designed just for any sort of videos, and the most you get is a thumbnail of the video. From what I can tell, the image used in the thumb is randomly generated from a random spot in the film…a nice touch indeed. If, however, you are a fan of MyMovies or any other movie database, then you will be seriously disappointed with the device. There's no Movie browser, and no ability to view a cover art or any sort of movie tags or information. What that means is if you don't know what a file is by the thumbnail or title then you're out of luck.
Final Words
Final Words
Overall, the device lives up to what it advertises. Unfortunately, that doesn't put it in an easy spot with an MSRP of over $250! (though with rebates you can find one for around $180-200). For that type of money I would expect a better overall experience, especially in the Videos section, where this device is supposed to thrive, it felt a bit bland. The plugins and themes contributed by the community are fantastic, but that reliance is a concern where my testing found unreliable and lackluster performance.
I really, really wanted to love the device, if only for the ability to easily watch Diggnation from my sofa, but having to pause and re-buffer playback got so bad that it literally had my girlfriend begging to go back to my Media Center system. As the software matures –both for the memory hungry DivX Connect Server Software as well as the plugins– and hardware continues to evolve, hopefully the next revison(s) will be a much smoother experience.
As a stand-alone network DivX video playback device I think it succeeds as a version 1.0, but at $250 there's a wealth of other devices available which are more refined and most importantly — less expensive!
Pros:
Small and Silent design
Sharper video quality than MCE Extenders
Community driven plugins and themes readily available
Great playback support and features for DivX and a handful of other common formats
Quick boot up
Package includes remote and variety of cables
Super low power draw (5 watts max, 3 watts idle)
Cons:
No 802.11n support
Unattractive design of unit and remote
No Universal Functions on Remote
Very Limited Music controls
No 1080p Support
No DVD/Blu-ray drive
Expensive!! ($250+)
No movie gallery interface
Memory intensive server-side software
Limited Filetype Support Out the Box (Note: You can follow this blog to modify the device for additional formats)
Thanks to DivX, Inc. for providing the unit for evaluation, and thanks for reading!