Life With a Plugin, Episode 8: EmuCenter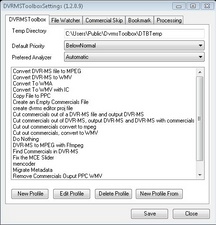 In case you missed the first article of the series explaining, here's a little explanation. Life With a Plugin is Mike's brain child, however I will be contributing from time to time. Today I will be looking at EMUCenter. This plugin, designed as a front end for ROMS, has potential to add alot of entertainment to your HTPC setup. Especially for classic gaming fans.
Overview
EMUCenter is designed to be a front-end for ROMS for various emulators.
DVR-MS Toolbox is designed to be a comprehensive, one-stop solution to a multitude of tasks you could ever dream of doing with your DVR-MS files. For newcomers, DVR-MS is the file format Microsoft uses for it's recorded TV files. It's basically just a special file format for MPEG-2 files with a "wrapper" containing special program data (TV show name, actors, runtime, year, etc)…think of it like metadata for your TV shows. I must add one caveat, and that is that this program WILL NOT WORK if you are a CableCard user. It's sad, tragic, and a fact of life in a copy-protected world. However, if you use NTSC, ATSC, Clear QAM, DVB, or anything else, you should be fine!
There is a lot to cover with this plugin especially, but I'll invest the space in the most popular features: Automatic Commercial Skip & Automatic File conversion. The goal is simple, use the small application to monitor your TV files, and run the desired utility as you need it (or just have it always run its task). Feel like never having to watch a commercial again, use that profile to automatically scan shows as they record & mark where the commercial files. Note, that there's a method of this which actually doesn't touch the recording, so you don't have to worry about missing part of the show if it accidentally mis-marks it (which doesn't happen often). The beauty of this, is you can turn the feature on & off from within Media Center.
The file conversion is a bit more intense but very customizable. There's a number of file formats, from MPEG to WMV, and you can set the plugin to automatically convert your shows after they record. If you're familiar with the feature of "ShowSqueeze" from Snapstream, it's very similar in that it runs in the background & replaces the originals. This is an ideal feature if you're limited on storage space & don't mind taking the time & resources to compress your shows.
| | |
| --- | --- |
| | |
| Select one of MANY Profiles | Choose a folder to monitor & process |
Above & Beyond
DVR-MS Toolbox has continuously evolved, and with the assistance of other developers, have really gotten the commercial skip down to a low resource science. Previously, users had to pay for the commercial ShowAnalyzer if they wanted to have live commercial detecting (meaning you would only need to wait 15 minutes before the commercials would begin to mark), but recently the free commercial skip analyzer now can do it as well, and it's free!
In addition to continuing development (which trust me, is critical to the success long-term of any plugin), DVR-MS Toolbox has continued to listen to their users. Similar to the request of MyMovies users demanding Multi-Zone solutions, DVR-MS Toolbox now plays much nicer with remote storage locations, which is CRITICAL seeing as Media Center limits your abilities to record locally. Think of it this way, with this application, you can have multiple Media Centers around the house, but be able to have a single massive storage solution with all the converted shows that you can then stream from. Pretty neat huh 🙂
Falling Short?
The only shortcoming I've ever seen with DVR-MS Toolbox, is the intimdation factor. The fact remains that this plugin is ridiculously powerful, and even I was once intimidated by its UI. There's no doubt that others have felt similarly, enough to the point where someone actually developed another plugin with just the commercial skip feature to make life easier for newbie users. If the UI could be simplified a bit, or maybe via a wizard, I think it would help the learning curve. I've often thought how great it would be to have an MCML frontend where I could tweak the simple stuff from my sofa & remote.
| | |
| --- | --- |
| | |
| Set exactly how you want to avoid commercials. | Select the profile to have run |
Grade: Approved for Everyday Use
This is such an amazing plugin, that I actually hesitated going back from CableCard just so I could continue using it. Having to use 30 second skip is something I never used to dread, but after life with DVR-MS Toolbox, you will too. In addition to the commercial skipping, there's just so many great things you can do with your DVR-MS files to maximize space/quality, that it makes it a no brainer. And did I mention it's 100% Free?
Product Vitals
Website: Babgvant.com
Creator: Andy VT
Price: Free!