Hauppauge HVR950

Hauppauge HVR950 ATSC/NTSC Hybrid Review

You've
probably heard by now that in 2009, broadcast tv will all be changing
over to digital TV transition. Because of this, any TVs, DVRs, etc.
made from this point forward must also include an ATSC tuner. For the
HTPC world this means that any PC TV tuner made from this point forward
must have an ATSC tuner. Today I have the HVR950 ATSC/NTSC hybrid tuner
from Hauppauge for review. Let's find out how it compares to the
competition.
Overview
If you've been around the HTPC arena for any length of time, you've surely heard of a company by the name of Hauppauge. Building on the success of the PVR-x50 family that can be used with pretty much any PVR application written, Hauppauge has taken a leap into the HD tuner market. Today's review will be focusing on their first foray into HDTV tuners with the HVR950. The HVR950 has been around for a little while now, but it still has it's niche in the HTPC market. The HVR950 is a USB 2.0 tuner that can be used on a laptop or a PC. It is capable of receiving both analog and HDTV signals, although not both at the same time. The HVR950 is based on the EM2880 chipset from Empia.
With the proper drivers loaded, this tuner can be used in either Windows or Linux. I have personally tested this tuner with WinTV2000 (packaged with the tuner) and WinTV v6 (downloadable) as well as Windows MCE and Mythtv running on Fedora Core 6. Instructions for getting it working under Linux can be found here.
The sample that I received from Hauppauge is an evaluation unit, which included the optional A/V input cable set. Also included in the package are:
HVR950 USB 2.0 tuner
USB extension cable
Portable antenna
CD with drivers and online manual
Quick installation guide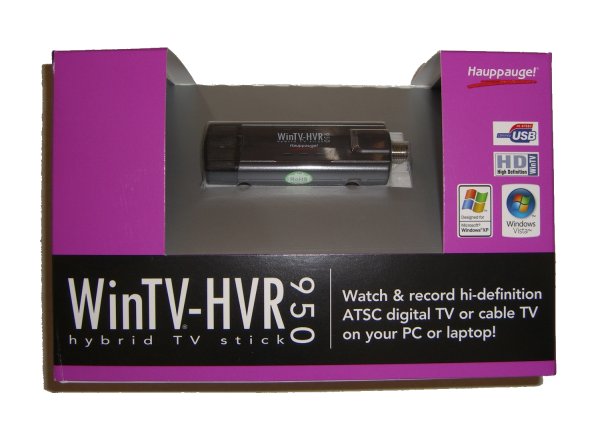 HVR950 packaging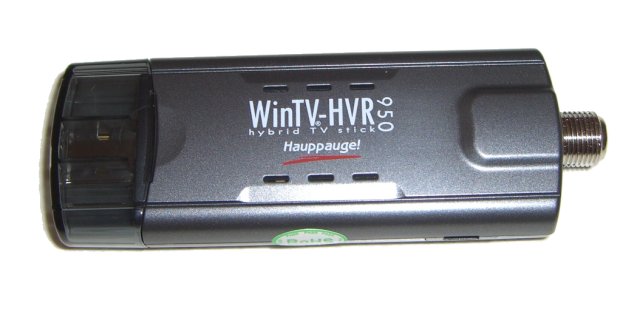 HVR950 tuner
Since the HVR950 is USB based, it is an external tuner and does not take up a PCI or PCIe slot inside your computer, which is nice if you have run out of available slots. With the included USB extension cable, you don't have to worry about blocking an adjacent USB port either. Not only does the tuner include a port for the optional A/V cables, but it also includes an IR receiver that works with the optional remote that can be purchased with the A/V cable. While the remote was not included with the sample that I received, it happens to be the same remote that I received with my PVR-350, so I can say that the IR receiver works very well in WinTV. I did not have much chance to try it with Windows MCE but I do believe it should work there, and I could not get it detected under Linux. Perhaps with a little more time.
Analog Testing — S-video
Analog Testing
EDITORS NOTE: To see the details of how we test the analog tuner please read the staff blog on the subject titled Analog TV Tuners — How We Test.
s-video
| | |
| --- | --- |
| Piccadilly Circus Billboard | |
| HVR950 | HVR-1600 |
| | |
| | |
| --- | --- |
| 7 Ire Color Bars | |
| HVR950 | HVR-1600 |
| | |
| | |
| --- | --- |
| Gray Bars | |
| HVR950 | HVR-1600 |
| | |
| | |
| --- | --- |
| Resolution Chart | |
| HVR950 | HVR-1600 |
| | |
Analog Testing — Composite video
Composite Video
| | |
| --- | --- |
| Piccadilly Circus Billboard | |
| HVR950 | HVR-1600 |
| | |
| | |
| --- | --- |
| 7 Ire Color Bars | |
| HVR950 | HVR-1600 |
| | |
| | |
| --- | --- |
| Gray Bars | |
| HVR950 | HVR-1600 |
| | |
| | |
| --- | --- |
| Resolution Chart | |
| HVR950 | HVR-1600 |
| | |
Digital TV Testing
Digital TV Testing
With digital TV either you have enough signal to receive a picture or you don't. Digital results in a clear picture (depending on the source of course), no analog noise is introduced. However you don't have much of any room for fudging signal strength. Going below a certain signal strength means that there isn't enough data being received without interruption for the ATSC error correction to keep up and the picture stutters.

The HVR950 worked surprisingly well with the included portable
antenna. This antenna is rated for up to 10 miles from the broadcasting towers. However, I was still able to pull in a pretty
strong signal on most channels even though I'm about 25 miles away if I
had the antenna in a good location. This is not to say that the stream
came through without flaw, but I was surprised to see any picture at
all at that distance. I cannot say what the exact signal strength that I received was however.
Once transitioned to a rooftop antenna, all of the stations in my area came in without any problems at all.
Conclusion
Final Thoughts

The HVR950 is a very good tuner for anyone that needs something portable. Analog quality is very good, although it is software encoded and not hardware encoded, meaning that your CPU is doing most of the footwork. Digital quality is surprisingly good with the included antenna. It is also supported by most major PVR applications. Hauppauge even includes a small hack, called the MCE software encoder, allowing this tuner to be used in MCE with no other analog tuners.
My only major gripe with this tuner is actually with the packaged software. For some reason, the WinTV software had trouble rendering HD on certain channels. The aspect ratio would be incorrect and the remainder of the original aspect ratio would be filled in with garbage. The same channels would render fine in other applications.
The only other thing I would like to note is that this tuner is a hybrid so it is not capable of tuning analog and digital channels simultaneously.
Overall, I would recommend this tuner to anyone looking for something portable that is capable of receiving both analog and HDTV. But I would be prepared to fine another PVR application to use it with.
I would like to thank Hauppauge for sending this sample for review.