Mini-Review: Monoprice High Quality Speaker Banana Plugs – Solder Type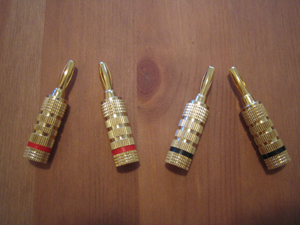 Monoprice High Quality Speaker Banana Plugs – Solder Type

Haven't you always thought banana plugs were the coolest thing ever? I know I have….they just weren't $10/pair cool. That's where Monoprice comes in. They have some very solid banana plugs for less than $2/pair, with prices getting even cheaper if you order multiple pairs at once. Despite being solder type plugs they work just fine as rear entry screw on.
So let's take a quick look at these banana plugs. They may just be the perfect thing to tidy up that mess behind your reciever and they'll definitely make all the futzing around with wiring you do a lot easier. One of my least favorite things is being contorted into some odd sort of fetal postition wrapped around my AV rack and trying to screw down speaker wire. These little guys should make that a thing of the past.
Here's the official specs:
24k Gold plated
Accepts 12-18 AWG(gauge) wire
Rear cable entry
Color coded
| | |
| --- | --- |
| | |
| Here they are. I ordered 2 pairs just to give them a whirl before deciding if I wantd to trim all my speaker wire with them. As you can see the plugs are clearly marked Red and Black to make identification of each wire easy. | A look from another angle. The plugs are quite long with the total length being about an inch and a half. The construction is very sturdy as they are solid metal except for the small plastic colored ring. The head to toe 24k gold plating is a very nice finish for them. |
| | |
| To connect the wire unscrew the bottom as seen in the picture. Slide the wire through the bottom portion (with colored ring). Hold the speaker wire so that the bare wire sticks through and the plastic covered part is in the sleeve. Then spread the bare wire apart a little bit. Then all you need to do is screw the top down on to it while holding the wire in place from the bottom. They seem to work better with thicker wire. You can add a drop of solder from the top by removing the prong if you want a super firm connection. | Here's the shot of banana plugs connected and plugged in on the back of my reciever….I guess I'll have to get a whole bunch more as they worked out just great. They sit very firmly in their sockets, but are still easily inserted and removed. I detected no noticeable difference in sound, as the case should be. Remember: Try to avoid wire that's too skinny…but you should have been doing that already, right? |
For the price, it's tough to beat this deal on banana plugs. Taking a look at comparable banana plugs it's hard to tell any difference. I'd suggest giving them a whirl yourself if you don't have any for your system. Outfitting a 5 speaker system (10 pairs of plugs) with banana plugs on both ends of each speaker wire will only run you $15.60 + shipping. That's less then 2 pairs of plugs most anywhere else. The price to performance ratio of these plugs just can't be beat. While being so bold as to put High Quality in the name of the item may be a little odd, they live up to their name and I know I'll be ordering a bunch more.