Epson announces Home Cinema 1450, projector for bright environments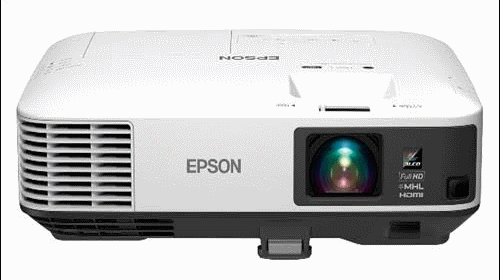 Projectors are awesome. There really isn't a better way to get that massive movie screen. But, unless you have rigid light control you are very liimited in where you can take advantage of all that goodness. Epson is claiming to have that sorted, or at least more so, with their new Home Cinema 1450 – which is specifically designed for brighter environments, and at $1500 (SRP) it won't break the bank either.
Full PR after the click.
Epson Presents New Ultra-Bright Home Cinema 1450 3LCD Projector for Big-Screen Entertaining

Full HD Projector Offers Versatile and Bright Performance for Immersive Sports Games, Streaming and Video Games with Friends

LONG BEACH, Calif. – April 6, 2017 – Epson, the number-one projector manufacturer in the world, today introduced the Home Cinema 1450 projector, an ultra-bright 3LCD projector designed to deliver immersive, Full HD 1080p entertainment. Offering up to 3x Higher Color Brightness1 than competitive models, as well as featuring 4,200 lumens of color brightness and 4,200 lumens of white brightness2, the Home Cinema 1450 projector delivers immersive, vivid images even in well-lit rooms.

"Bright Epson Home Cinema projectors take relaxing at home with friends to the next level – from watching life-size athletes take on rivals to playing the latest console game," said Rodrigo Catalan, senior product manager, Projectors, Epson America. "The Home Cinema 1450 delivers an ultra-brilliant image, even in the living room with the lights on. Just plug the Home Cinema 1450 into a streaming or gaming device to transform it into a massive, vivid display for hours of entertainment."

The Home Cinema 1450 was designed to deliver a versatile and bright high-quality viewing experience with 1080p widescreen performance, simultaneous, side-by-side image display from different sources for fun and easy content sharing, and a host of connectivity options, allowing viewers to enjoy the latest in entertainment together with bright, immersive images virtually in any room the next time you host.

The Home Cinema 1450 projector offers easy-to-use setup tools and a built-in 16 W speaker to turn sports, games, movies, and popular streaming content into life-like, big-screen events. Various connectivity options are provided to enjoying and interact with favorite content, including cable/satellite boxes, gaming consoles, Chromecast™, Roku®, Amazon Fire™ TV, and Apple TV® with 2x HDMI® and MHL®3 ports.

More About the Home Cinema 1450:

The Home Cinema 1450 projector offers a wide spectrum of features for an easy, yet high-quality home viewing experience, including:

Up to 3x Higher Color Brightness1, and Reliable Performance – 3LCD, 3-chip technology
High Color Brightness and White Brightness – Featuring 4,200 lumens of color brightness and 4,200 lumens of white brightness2 for more accurate, vivid color and bright images in well-lit rooms
Sharp, Life-like Images – Full HD 1080p support ensures sharp, life-like images, whether throwing your own gaming tournament or a viewing party for the big game
Brilliant Entertainment Right out of the Box – Hosting get-togethers is easy with simple setup and a built-in 16 W speaker to ensure enjoyable, hassle-free home entertainment
Stream HD Shows – Supports MHL-enabled devices3, plus Chromecast, Roku and more
Watch Content from Two Inputs, Side by Side – Simultaneously displays images from two sources on a single screen4
Flexible Placement and Screen Size – Portable design for use inside or out; adjust screen size with convenient 1.6x optical zoom
Convenient Color Modes – Optimize content with four different color modes

Availability and Support

The Home Cinema 1450 ($1,499 MSRP) will be available April 17 through select retailers, e-tailers and the Epson online store. The projector comes with Epson's industry leading service and support, including toll-free access to Epson's PrivateLine® priority technical support, a two-year limited warranty (90 days on lamps), and free next-day exchange with Extra CareSM Home Service.

The Home Cinema 1450 projector will be on display and demoed at the Pepcom! DigitalFocus Spring Showcase on April 6, 2017 in New York City.

About Epson

Epson is a global technology leader dedicated to connecting people, things and information with its original efficient, compact and precision technologies. With a lineup that ranges from inkjet printers and digital printing systems to 3LCD projectors, smart glasses, sensing systems and industrial robots, the company is focused on driving innovations and exceeding customer expectations in inkjet, visual communications, wearables and robotics.

Led by the Japan-based Seiko Epson Corporation, the Epson Group comprises more than 72,000 employees in 93 companies around the world, and is proud of its contributions to the communities in which it operates and its ongoing efforts to reduce environmental impacts.

Epson America, Inc., based in Long Beach, Calif., is Epson's regional headquarters for the U.S., Canada, and Latin America. To learn more about Epson, please visit: epson.com. You may also connect with Epson America on Facebook (facebook.com/Epson), Twitter (twitter.com/EpsonAmerica), YouTube (youtube.com/EpsonAmerica), and Instagram (instagram.com/EpsonAmerica).

# # #

1 Color brightness (color light output) in brightest mode, measured by a third-party lab in accordance with IDMS 15.4. Color brightness will vary depending on usage conditions. Top-selling Epson 3LCD projectors versus top-selling 1-chip DLP projectors based on PMA Research sales data for Dec. 2015 through Nov. 2016.

s2 Color brightness (color light output) and white brightness (white light output) will vary depending on usage conditions. Color light output measured in accordance with IDMS 15.4; white light output measured in accordance with ISO 21118.

3 Includes one Mobile High-Definition Link® (MHL) HDMI port.

4 Consult your user manual for input combinations.




EPSON is a registered trademark, EPSON Exceed Your Vision is a registered logomark and Better Products for a Better Future is a trademark of Seiko Epson Corporation. Apple TV is a trademark of Apple Inc., registered in the U.S. and other countries. Chromecast is a trademark of Google Inc. All other product and brand names are trademarks and/or registered trademarks of t