TweakTown Reviews Areca Technology ARC-1883i Eight-Port 12Gb/s SAS RAID Adapter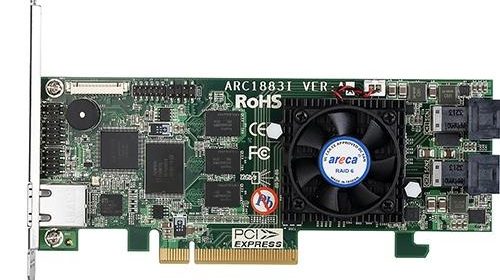 I must admit, that I've never heard of Areca before so it was interesting to see what their entry level solution was capable of. It is probably a bit expensive for most home users, but if you're planning to roll-your-own ultimate NAS it could fit the bill.
With the launch of third-generation SAS products, Areca is now offering a full lineup of 12G SAS adapters including the 1883ix-12/16/24 along with the 1883LP, 1883x and the solution we are testing today the ARC 1883i. The 1883i is a dual SFF-8643 RAID controller featuring 2GB of onboard DRAM with a 1.2GHz dual-core RoC.

This solution along with each of the third-generation adapters from Areca are capable of supporting up to 256 12 Gb/s SAS SSD/HDD using the ARC 8028 Expander. As this unit sits it is capable of driving up to eight 12 Gb/s SAS or SATA hard drives along with SSDs if you are so inclined.