D-Link AV2 2000 PowerLine Kit Now Available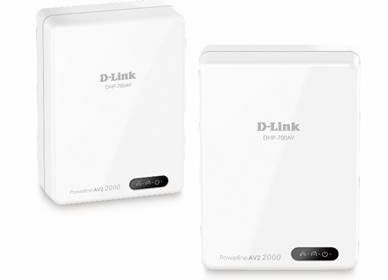 As convenient as wireless networking is, there are some situations where it either doesn't work or isn't the most efficient mechanism to bring networking support into a remote location of the home. PowerLine devices generally fill this void quite nicely, but haven't done a great job of keeping up with what is possible with modern 802.11AC. With the announcement of the DHP-701AV, D-Link aims to fix that gap with the MIMO enabled 2000Mbps (best case) capable PowerLine kit. If it can achive 1/2 that, and still bring the when-not-in-use power savings PowerLine historically has excelled at – they could have a real winner on their hands with the $130 kit.
Full PR after the click.
D-Link Now Shipping Industry's First Certified AV2 2000 PowerLine Kit with MIMO Technology

New PowerLine AV2 2000 Network Extender Kit Instantly Transforms Existing Electrical Outlets into a Powerful Wired Network

FOUNTAIN VALLEY, Calif. – April 9, 2015 – D-Link today announced the PowerLine AV2 2000 Gigabit Network Extender Kit (DHP-701AV), the industry's first-to-market PowerLine Kit with AV2 2000 MIMO technology, is now shipping. The new kit, which includes two adapters and utilizes the latest PowerLine AV2 industry-standard technology, transforms a home's existing electrical wiring into a high-speed network with speeds of up to 2000Mbps1, making it the ideal solution for high-bandwidth applications, including online gaming and 4K media streaming. Users simply connect one adapter to an existing router, plug the adapter into a wall outlet, and plug the second adapter into an outlet2 wherever an internet connection is needed to instantly bring high-speed wired connectivity to that hard-to-reach area.

"As connected devices continue to make their way into every room in the home, it's more important than ever to have a reliable network that reaches even the farthest corners," said Daniel Kelley, vice president of marketing, D-Link Systems, Inc. "PowerLine technology offers a simple, affordable and discrete solution by transforming every electrical outlet in the home into a potential network connection."

Designed to be simple to install, the plug-and-play PowerLine Extender Kit features push button secure setup to connect to your existing network with no configuration required. The DHP-701AV also utilizes the latest in AV2 Multiple Input Multiple Output (MIMO) technology, allowing users to transfer larger files with ease and enjoy uninterrupted 4K media streaming and online gaming. The addition of MIMO technology allows the adapters to utilize the fastest two wires in a typical three-wire (live, neutral and ground) installation, delivering expanded home network coverage.

More About the DHP-701AV

The DHP-701AV kit includes two DHP-700AV PowerLine AV2 2000 Gigabit Adapters (one for connecting to your home network and the other for connecting a device to the network) offering a host of benefits:

PowerLine AV2 technology: speeds of up to 2000Mpbs1
MIMO technology: provides significantly enhanced coverage; particularly for previously hard-to-reach outlets
Plug-and-Play installation: push button network setup – no software required
Scalability: easily extend a wired network by adding up to 16 adapters in total
Power saving mode: reduces power consumption by up to 85 percent3
Compatible: backward compatible with HomePlug AV and AV+ adapters

Availability and Pricing

PowerLine AV2 2000 Gigabit Network Extender Kit (DHP-701AV) is now available in the United States for $129.99 on dlinkshop.com and throughout D-Link's vast network of retail and etail partners. More information is available online at us.dlink.com/dhp-701av.

About D-Link

D-Link is the global leader in connectivity for home, small business, mid- to large-sized enterprise environments, and service providers. An award-winning designer, developer, and manufacturer, D-Link implements and supports unified network solutions that integrate capabilities in switching, wireless, broadband, storage, IP Surveillance, and cloud-based network management. For more information visit us.dlink.com, or connect with D-Link on Facebook (http://www.facebook.com/dlink) and Twitter (www.twitter.com/dlink) or D-Link's blog (http://blog.dlink.com).

# # #

D-Link and the D-Link logo are trademarks or registered trademarks of D-Link Corporation or its subsidiaries. All other third-party marks mentioned herein may be trademarks of their respective owners. Copyright © 2015 D-Link. All Rights Reserved.

1 Maximum throughputs based on theoretical transmission PHY rate. Actual data throughput will vary. Network conditions and environmental factors, including volume of traffic and network overhead, may lower actual data throughput rate. Interference from devices that emit electrical noise, such as vacuum cleaners and hair dryers, may adversely affect the performance of the product. This product may interfere with devices such as lighting systems that have a dimmer switch, short wave radios, or other PowerLine devices that do not follow the HomePlug PowerLine Alliance Standard.

2 Power outlets and electrical wiring must all be part of the same electrical system. Certain electrical conditions in your home, such as wiring conditions and configuration may affect the performance of this product. A minimum of two PowerLine devices are required to create a network. Connecting this product to a power strip with a surge protector may adversely affect the performance of this product. For best results, plug adapter directly into a power outlet.

3 The device will enter power saving mode when no traffic is detected for a period of 5 minutes. Power consumption in power saving mode is up to 85% lower than for normal consumption.

All references to speed are for comparison purposes only. Product specification, size and shape are subject to change without notice, and actual product appearance may differ from that depicted.