Intel NUC Kit NUC5i5RYK Mini PC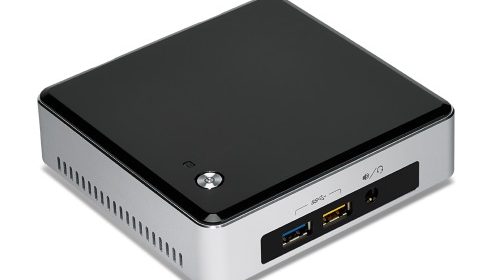 When it comes to sleek small form factor (SFF) home theater PCs (HTPC) Intel pretty much perfected it with their Haswell based NUC systems–offering an excellent media experience in a chassis with built-in IR, the potential to add HDMI-CEC, and optional hard disk drive (HDD) all from a quiet, low power system. Seeking to build on this success they recently released the Intel NUC5i5RYK and NUC5i5RYH (2.5" hard drive support) mini-HTPC kits based around a Broadwell Intel Core i5-5250U with HD 6000 graphics. We've heard a lot about Intel's focus on increasing graphics performance and lowering power consumption with the new CPU, so it will be interesting to thoroughly test the system and see if it can deliver on its $390 price tag and be a worthy successor to the last-generation NUC.
Device
I must admit that it was a bit disappointing when the Intel NUC5i5RYK kit's box didn't play the familiar Intel jingle after opening, but only because I had expected it (honestly, that $ better spent elsewhere). Otherwise it was all good things as the layers were pealed back to expose the NUC and its accessories including: VESA mounting plate and complete power supply solution – which is fantastic because it includes adapters for EVERYWHERE. Perfect if you will be traveling with your NUC.
Like the previous D5420WYK Haswell based NUC we get a complete consumer infrared (CIR) solution supporting the popular RC6 IR protocol (what Windows Media Center uses) with discrete power on/off commands able to wake from standby (S3)/hibernate (S4)/soft-off (S5) states. It also includes four USB 3.0 (two front / two back), with one charging compatible (i.e. it provides power even when the NUC is off), mini-Display Port, mini-HDMI, Gigabit Ethernet, and integrated Dual-band 2×2 802.11AC + Bluetooth 4.0. Overall, the NUC5i5RYK's appearance builds on the clean materials and design presented previously with key improvements in the power/hard drive LED (perfect light levels, and it can be turned off when the NUC is in standby), removable top (which allows for customization and potential 3rd party expansion), and most important for HTPC use – very low heat sink and fan (HSF) noise levels (the buzz is gone).
Inside we mostly find an updated version of the Haswell model. 1.35V DDR3L 1600/1333 memory is still a requirement, but the mini-PCIe slots have been swapped for a M.2 2242/2260/2280 port and a soldered down Intel AC-7265 802.11AC + Bluetooth 4.0 solution. The front panel header is still 2.0mm pitch, but the USB 2.0 and SATA power headers have moved to unique 1.25mm connectors that I have not been able to find adapters for. I expect that both will probably be included with any 3rd party accessories and cases when they ship, so hopefully this is not a mainstream concern.
I did put in the effort to map (red = ground, orange = 5V) and test the SATA power using a multimeter and some breadboard wires, so even if you can't find the necessary harness fabrication is relatively straightforward.
Unfortunately, the hardware news is not entirely positive– with the Custom Solutions Header (CSH) (aka. HTPC Header), which exposed HDMI-CEC to adapters like the one from Pulse-Eight, getting the axe in the NUC5i5RYK. Oddly enough, the points are present on the underside of the board; Intel just didn't attach a header to them. That being said, since it appears to follow the pinout of the NUC5i5MYBE, which doesn't expose HDMI-CEC, and the 3.3V Vsby pin was dead (5V worked fine) there is not much point for HTPC application. Volts measured per-pin are indicated on the pin-out above.
UPDATE: June 26, 2015
Pulse-Eight contacted me to let me know that pin stub 3 actually does expose HDMI-CEC, and now that they offer a 5V capable model you should be able to get HDMI-CEC working after-all. Well, assuming you're comfortable taking a soldering iron to your NUC5i5RYK — I've scheduled mine for surgery this weekend :).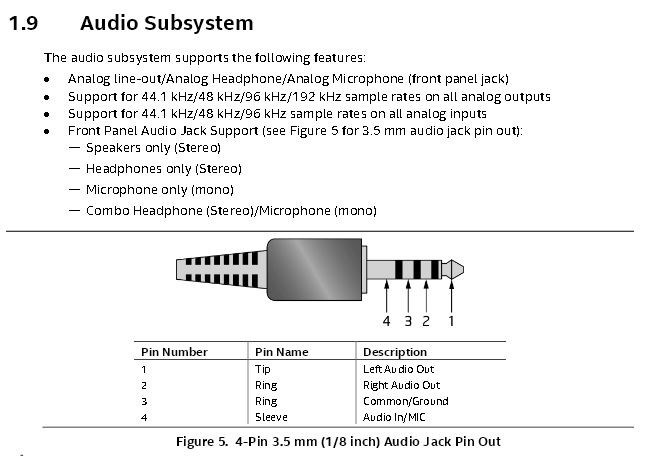 While reading through the product specification I noticed that the audio jack on the front of the NUC5i5RYK should support combo headphones (e.g. mobile mic+headphone), but I wasn't able to make it work with any of the sets handy here so it is unclear if this is an issue with my collection, the drivers, or something with the NUC5i5RYK itself.
System
Specifcations
| | |
| --- | --- |
| Chassis Dimensions: | 115 mm x 111 mm x 32.7 mm |
| Board Dimensions: | 101.6mm x 101.6mm |
| IPG: | Soldered-down Intel Core i5-5250U |
| Supported Memory: | 2x 204-pin DDR3L 1600/1333 MHz 1.35v – 16GB Maximum |
| Network: | Intel I218V Gigabit Ethernet Controller |
| Video: | 1x Mini HDMI 1.4a1x Mini DisplayPort 1.2 |
| Audio: | Eight channel audio via Mini HDMI 1.4a and Mini DisplayPort 1.2Intel HD Audio via front panel audio jack (mic/headphone/speaker) |
| External: | 4x USB 3.0 (1x Front charging/1x Front/2x Rear)1x Mini HDMI 1.4a1x Mini DisplayPort 1.21x 10/100/1000 LAN1x Kensington Tether1x Analog Audio |
| Internal: | 1x 6.0Gbps SATA1x 1.25 pitch SATA power1x dual-port 1.25 pitch USB 2.01x 2.0 pitch Front Panel1x Complete CIR Solution1x Intel Dual Band 802.11AC Wireless-AC 7265 + Bluetooth (Soldered-down)1x NFC connector |
| Expansion: | 1x M2 2242, 2260, and 2280 key type M (PCIe x1/2/4 & SATA) modules |
Configuration
| | |
| --- | --- |
| CPU: | Intel Core i5-5250U: 1.6-2.6GHz 15W TDP |
| GPU: | Intel HD 6000: 300MHz-950MHz |
| HSF: | Included Intel NUC HSF |
| Motherboard: | Intel NUC Board NUC515RYB |
| RAM: | Kingston HyperX Impact 8GB (2x4GB) DDR3L 1600MHz |
| Storage: | Intel 530 SSDMCEAW180A4 360GB M.2 SATA SSDSamsung XP941 MZ-HPU256T 256GB M.2 PCIe x4 SSDSamsung HM250HI 250GB 5400RPM HDD |
| PSU: | Included 65W |
| OS: | Windows 8.1 Ultimate 64-bit |
| AVR: | Denon AVR-X2000 / Onkyo TX-NR525 |
| Display: | ASUS VE248Q / Samsung PS51F5500 |
There were no surprises in the BIOS, it was classic Intel. Plenty of options are provided to toggle GPU RAM, enable features and hardware, and one of my favorites – the ability to control how the power LED operates in standby.
Use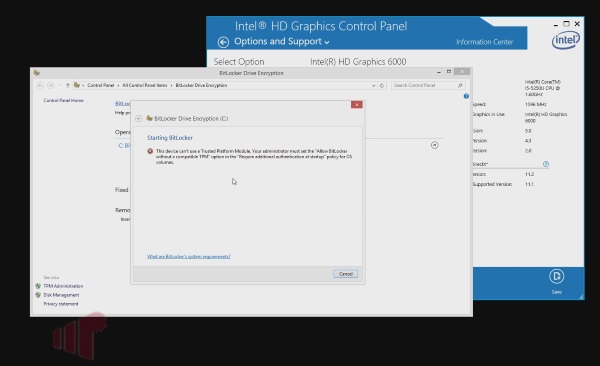 A functional CSH wasn't the only hardware that went missing between this generation and the last. Intel has also nixed the TPM, so BitLocker is off limits in the NUC5i5RYK. It is disappointing that this feature was removed, but it's easy to speculate around why it would be removed from the consumer SKU (there are also enterprise SKUs). Aside from this, the system functioned effortlessly in Windows 8.1 64-bit. It was stable, quiet (not buzzy like the D54250WYK can be at times), and fast enough in day-to-day use that I never felt that it was a compromise in the way that low-power systems sometime can be. Most interestingly, the performance of the Samsung PCIe M.2 SSD was incredible. In a simple file copy test it achieved 784 MB/s compared to the SATA M.2 device's 274 MB/s.
To dig into the actual system performance a series of tests were run to ascertain where the NUC5i5RYK stacks up against similar systems. Please note that in each of the tests reported below the SATA M.2 SSD was installed to ensure a more consistent comparison, and even though the PCIe SSD is ridiculously fast, it is also significantly more expensive so the SATA drive is a more likely real-world scenario for HTPC use.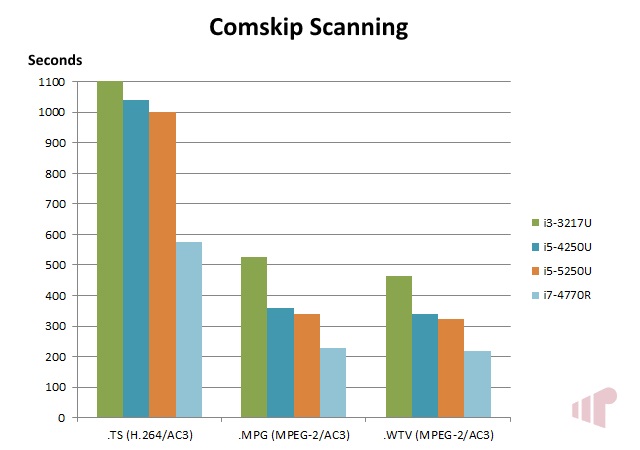 Looking first at the results with Comskip, a popular commercial scanning utility, we can see the NUC5i5RYK's Broadwell Intel Core i5-5250U is marginally (~5%) faster than the similarly spec'd Haswell Intel Core i5-4240U (both have a max frequency of 2.6 GHz) across all three of the test files, but is handily trounced by the significantly higher clocked (3.2-3.9GHz) desktop oriented Haswell Intel Core i7-4770R. This is a good test of single-core, and general system performance because Comskip is lightly threaded and there is a significant amount if I/O involved.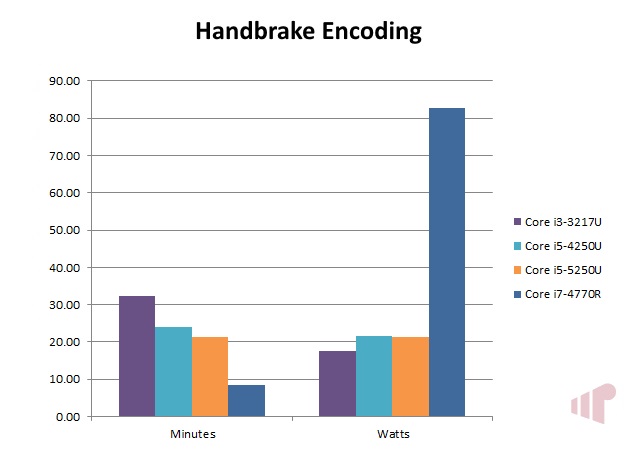 Focusing now on real-world multi-threaded performance, Handbrake was used to transcode a 30 minute 480i h.264 file. Here again we can see the same general trend with the Intel Core i5-5250U quicker than the Intel Core i5-4250U, and slower than the Intel Core i7-4770R. This time however, the performance delta between the two mobile CPUs is ~11%, which combined with a slight (~1%) drop in power consumption indicates that alongside the generational improvements in CPU performance the Broadwell system is better able to manage heat, and can therefore reduce the amount of thermal throttling as multiple cores are driven. With the end result equaling more performance from a quieter, lower power system when under load.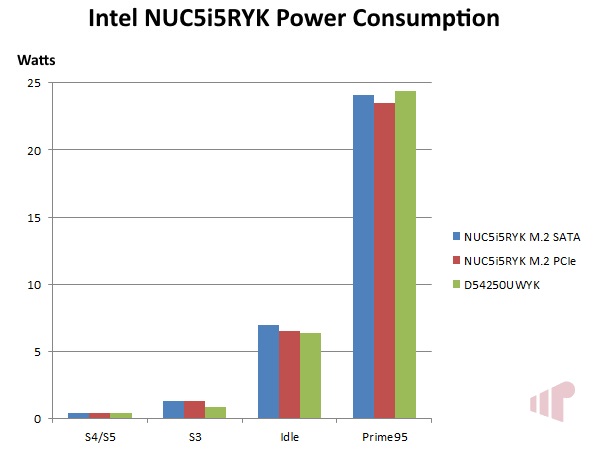 Interestingly, the NUC5i5RYK only exhibited lower power consumption than the D54250WYK when being used. With the built-in wireless chip disabled (saving ~0.8W when the system is on), both the standby (S3) and idle numbers (while still quite good for a "desktop" HTPC) were higher from the NUC5i5RYK. Having removed the possibility that it was a difference in power supply efficiency, I don't have a good explanation for this. It is just curious given the reported efforts to reduce usage in both of these areas that the results realized in testing would contradict it.
Intel Quick Sync performance is another place where curious results were observed Broadwell v. Haswell in one case. Performance was generally better, especially at 1080i where a 27% increase was measured, but 480i was 15% slower.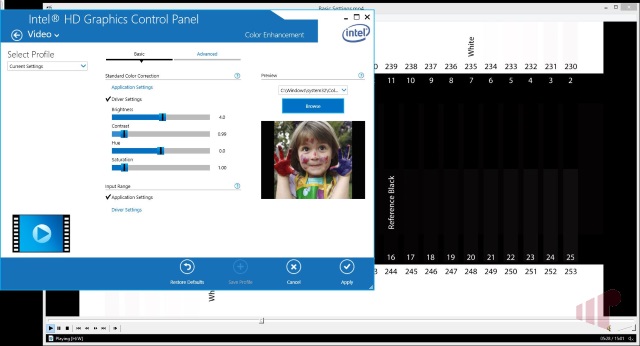 Historically Intel has generally done well with providing users the right video levels out of the box, and this continues to be true with the NUC5i5RYK's Intel HD 6000 GPU. For those looking for a bit more control over brightness and contrast, the ability to tweak both values is still available and when overridden enables blacker-than-black (0-16) and whiter-than-white (235-255) to pass through – making it straightforward to ensure that you see what you ought to see. The driver still prefers RGB, but the option to enable YCbCr is available. I do not recommend flipping this toggle however, as results were inconsistent in this mode – hopefully just due to the early state of the drivers. Fortunately this was the only issue noted with the Intel GPU drivers during testing, and no issues were found on the audio side. The Dolby Digital Plus (DD+) Microsoft Windows 8 Modern (aka Metro) Netflix issue remains fixed, and every format that should bit stream (DD, DTS, DTS-MA, Dolby TrueHD) did so. Blu-ray and Blu-ray 3D also functioned as expected.
Having fixed refresh rate accuracy in the last iteration of the Intel Core platform, I expected to see the same near-perfect results with the Broadwell based NUC5i5RYK – and I did. Several samples have been provided above that reflect this.
While I am very pleased with the media performance of the Intel NUC5i5RYK, I must admit that I was expecting a bit more when it comes to madVR where the HD6000 GPU's functional capability remained roughly the same as the HD 5000. For example, where the Intel HD 5000 maxed out at Lanczos 3 + Anti-Ringing (AR), now Lanczos 4 + AR is possible with the Intel HD6000, but the next step up in complexity, Jinc, and of course NNEDI3 are still beyond reach. Unfortunately I was not able to measure actual utilization (GPU-Z does not seem to have been updated to work with Broadwell), so I don't know how close it is to the limits or have numbers to back up the observations made while testing madVR, so some screenshots demonstrating the limits have been provided.
Alongside the long offered hardware accelerated (HWA) decoding support for MPEG2 and AVC (H.264) Broadwell GPUs adds support for VP8, VP9, and HEVC. I am not aware of a DXVA2 filter that supports VP8/VP9 yet so they were untested. HEVC (H.265) support is via a hybrid hardware acceleration mechanism, with the parts of the CODEC which are similar to AVC handled by the GPU's ASIC and the other aspects decoded in software. In application it does work for most formats, with the NUC5i5RYK able to handle up to 4K@24p, but 4K@60p is unplayable.
The same generally excellent media consumption experience on Windows also holds true in the embedded OpenELEC implementation of Kodi, with HWA decoding and bit streaming working as they should. There is one major miss here compared to the experience in Windows – the CIR doesn't work. While it is possible to power on the box using the "Power Toggle" command, discrete "On" does not function and once the system is running IR control is MIA. This was also a problem with the D54250WYK when it shipped, so there appears to be a regression in the BIOS on this system. Unfortunately, while Intel eventually fixed this problem for the older Haswell NUC, when they did it broke support for discrete power controls–effectively stranding anyone who leverages them for remote control macros at "WY0026". Hopefully, with the NUC5i5RYK Intel can resolve the general IR problems for OpenELEC without breaking discrete power commands for Windows users.
Conclusion
The Intel NUC5i5RYK kit generally provides a welcome generational upgrade from the previous Haswell based NUC systems. It offers a more polished chassis with customization options, M.2 expansion support and built-in dual-band 802.11AC wireless + Bluetooth alongside a faster CPU/GPU for $390 (the 2.5" hard drive supporting NUC5i5RYH is also available for $390). Unfortunately the updated model is not better in every way as there is a major loss for the HTPC use case as well with the HDMI-CEC enabling CSH gone missing much harder to take advantage of. Most importantly however, Intel has continued to deliver the same excellent media consumption experience that we have come to expect from their hardware, inside an enclosure that looks great, and IR control built-in. Aside from the teething issues for OpenELEC users, it is easy to recommend the NUC5i5RYK to anyone looking to add a sleek small form factor HTPC to their A/V stack.
Pro:
Low power
Great media experience
Form factor
Integrated CIR
Flexible power supply
Intel NIC
Con:
RIP CSH

Soldering skills required to leverage CSH
CIR does not work in OpenELEC
1.2mm USB/SATA power adapters are impossible to find
Thanks to Intel for providing the review sample.