Yamaha Adds Spotify Connect to AVRs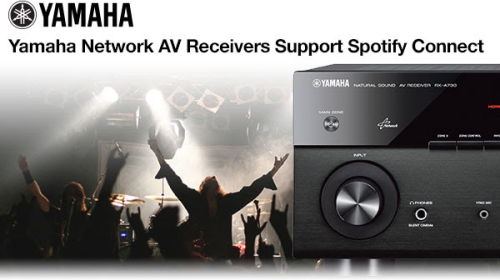 It's always great when an OEM adds value to devices in the field (instead of asking you to upgrade your hardware), so it's welcome news that Yamaha is adding support for Spotify Connect via a firmware update to select audio video receivers (AVR). I've never spent much time with the service so I can't speak to how useful it is in practice, let us know in the comments if this is a critical (or meh) feature add for you.
PR and list of supported AVR after the click.
Most recently, the release of music streaming services has changed the way consumers access music. The integration of Spotify Connect within Yamaha network AV receivers provides access to the almost endless music archive that Spotify has to offer with seamless music enjoyment. With Spotify offering superior audio sampling rates, along with Yamaha's legendary Natural Sound, you can expect to get the highest-quality audio playback.

Yamaha AV receiver owners (see complete list below) that have a Spotify Premium account can now enjoy instant access to millions of songs in high-quality on their Yamaha home entertainment system. Thanks to the Spotify Connect feature, you can play and control all this music wirelessly. Choose music on your mobile or tablet, and hear it on your brand new device.

To use Spotify Connect, download the Spotify app for a smartphone, tablet or laptop and have an active Spotify Premium account. If you own a compatible Yamaha AV receiver and would like to try a Spotify Premium account, there is a free 30 day trial available. For more details, visit spotify.com/yamaha .

Network AV receiver models that support Spotify Connect*:

CX-A5000
RX-A3030
RX-A2030
RX-A1030
RX-A830
RX-A730
RX-V775WA
RX-V675
RX-V575
RX-V475
RX-S600
HTR-4066
TSR-6750WA

*The firmware required to activate Spotify Connect is now available for download.