Kwikset Announces Updated Connected Deadbolt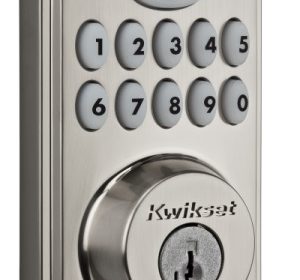 No Home Automation (HA) is really complete without connected deadbolts making it possible to manage access. Which is exactly why I have the original Kwikset Z-Wave locks in my home. Frankly, I'm a big fan and there's a lot to like about the locks, especially SmartKey which lets you re-key the locks whenever you want without involving a locksmith. There is one thing that I'm not in love with though; it doesn't have a full numeric keypad which dramatically decreases the number of possible codes. I'm sure that Kwikset heard this complaint from a few sources because they will be selling an updated version later this year which addresses it.
Unfortunately, there's no word on price yet (I did ask) so hopefully they keep it consistent with the current generation. Full PR after the click.
KWIKSET UNVEILS 2ND GENERATION SMARTCODE™

DEADBOLT LOCK WITH HOME CONNECT™ TECHNOLOGY


Features Smallest Interior Footprint of Any Lock in Its Class


            LAKE FOREST, CA – Kwikset (www.kwikset.com), the leader in residential security, introduces its 2nd Generation SmartCode™ deadbolt lock with Home Connect™ technology.  This new version of the SmartCode deadbolt brings a range of enhanced design features, and new certifications and capabilities, to Kwikset's innovative home automation security solution.

            Kwikset's 2nd Generation SmartCode deadbolt lock features a new design with best-in-class residential lock aesthetics.  This design offers a new exterior style and class-leading reduced interior size for enhanced aesthetics inside and outside the home.  With a completely redesigned quiet-drive locking system, the Kwikset 2nd Generation SmartCode deadbolt blends technology and performance in a smartly designed package that complements the aesthetics of any home.

            Said Keith Brandon, director of residential access solutions for Kwikset, "By continuously listening to our consumers' residential style preferences, we are able to deliver market-leading electronic locks that provide all of the industry-leading access control, security and convenience features, while delivering the aesthetics that today's homeowners demand.  Specifically, the smaller footprint of the new SmartCode deadbolt is a direct result of customer feedback through a variety of sources, including direct communications and focus groups."

Kwikset Introduces Smaller-Footprint Deadbolt / 2    

Other new features include:

Sleek, all-metal interior escutcheon with decorative inset
10-digit backlit pushbutton keypad
Dedicated lock button
BHMA Grade 2 Certification, ensuring top quality and durability
UL Certification with 20 minute fire rating
A Master Code option, that allows the user to prevent user codes from being added to or deleted from the lock

            Kwikset's SmartCode deadbolts and levers with Home Connect technology integrate with home security and automation systems, allowing the locks to communicate with other wireless products in the home such as security systems and home entertainment systems.   Home Connect technology delivers convenience and peace of mind to homeowners with complete remote locking and unlocking via smartphones and tablets.  When paired with most home automation systems, homeowners can receive text messages when their doors are locked or unlocked, making Home Connect perfect for working parents who want to keep track of their kids or traveling professionals who want to monitor their home security from afar.

            Other features of Kwikset's SmartCode locks with Home Connect technology include: Kwikset's patented SmartKey® re-key technology, that allows homeowners to re-key their locks in seconds without having to remove the lock from the door; BumpGuard™ technology that protects homeowners from lock bumping; the ease of one-touch programming; the ability to integrate with the widest variety of wireless security and home automation platforms in the industry; and 20 different styles and finishes.

            Kwikset's 2nd Generation SmartCode deadbolt locks with Home Connect technology will be available beginning in Q3 2013.

About Kwikset

            Kwikset (www.kwikset.com), the leader in residential security, manufactures and markets a complete line of door locks and door hardware, including door knobs, door levers, deadbolts, handlesets, pocket door hardware and electronic keyless entry locks for residential and light commercial applications. Kwikset's SmartCode™ locks with Home Connect™ technology are the industry's leading wireless, access control lock solution for the digital home.

About HHI

            Kwikset is part of Hardware and Home Improvement (HHI), a major manufacturer and supplier of residential locksets, residential builders' hardware and faucets with a portfolio of renowned brands, including Kwikset®, Weiser®, Baldwin®, National Hardware®, Stanley®, FANAL®, Pfister™ and EZSET®.  HHI is a leader in its key markets with #1 positions in U.S. residential locksets (Kwikset), Canada residential locksets (Weiser), U.S. luxury locksets (Baldwin), and U.S. builders' hardware (Stanley-National Hardware), #2 in Mexico residential hardware (Fanal), and #3 in U.S. retail plumbing (Pfister).  Headquartered in Orange County, California, HHI has a global sales force and operates manufacturing and distribution facilities in the U.S., Canada, Mexico and Asia.  HHI is a division of Spectrum Brands Holdings, Inc. (NYSE: SPB). 

About Spectrum Brands

            Spectrum Brands is a global, diversified consumer products company and a leading supplier of consumer batteries, residential locksets, residential builders' hardware and faucets, shaving and grooming products, personal care products, small household appliances, specialty pet supplies, lawn and garden and home pest control products, and personal insect repellents.  Spectrum Brands employs over 12,500 employees worldwide and sells to the top 25 global retailers with products in more than one million stores.

###