WiSA @ CES 2013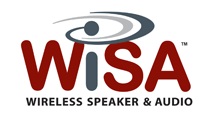 There's a lot of really cool stuff at CES, but most of it is part of the iterative, slow march towards something better and not really the big step forward that really engages the home theater geek inside. This year much of what I saw was exactly that; there were a few exceptions though with WiSA (Wireless Speaker & Audio) being one.
After peeling back the marketing, WiSA's goal is actually very simple – they are using wireless technology to replace speaker wire. Building something that offers the same level of interoperability and device agnosticism that we have come to expect from the physical transport, but with the convenience of wireless. Most importantly, having learned the lessons of early 802.11 implementations, they have created the process to ensure that this promise actually comes to fruition.
Being completely honest, when I sat down with WiSA in their suite at the Venetian Towers it was out of skepticism more than belief. Historically wireless audio prioritizes convenience over quality, and while there is definitely a place where that compromise is acceptable, for most enthusiasts (myself included) it does not extend to the home theater. That said, I was actually very impressed with the demonstration (a scene from "House of Flying Daggers") played back on a Sharp Blu-ray deck streaming to multiple Klipsch speakers; so much so that I pushed the film to the top of our Netflix queue and am looking forward to seeing how my system performs with the same content.
Operating on the U-NII band (unlicensed space between 5.1 and 5.9GHz) and utilizing Dynamic Frequency Selection (DFS) the technology behind WiSA is also interesting because it provides some insight into the strengths and potential weaknesses of the standard. Like 5GHz 802.11A/N WiSA will have a hard time penetrating building materials. This is mostly a plus because home theaters don't usually have walls running through them, but will limit its usefulness in whole home audio to smaller installations.
Being a squarish hotel suite, the room was not that challenging to correct for so it will be very interesting to hear how the standard performs in more difficult environments. In a subsequent conversation with Summit Semiconductor (a company that manufactures silicon and reference designs for WiSA) I was told that while it while it does not perform complex room correction, it will adjust for location and level with delays up to 43 milliseconds; enough for a 30'x30′ room. Obviously this will be something were independent validation is important, but is quite promising assuming that it comes in at a competitive price point.