Silicondust Certifies HDHomeRun as DLNA LiveTV Digital Media Server (DMS)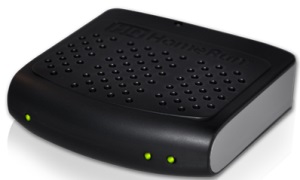 Being able to access TV content from a Silicondust HDHomeRun (HDHR) tuner over the network in a variety of applications and devices isn't a new feature, but the list will grow in a really slick way when the firmware enabling DLNA access to HDHR TV streams drops. With the PRIME model providing support for the connected media scheme your full cable lineup will be available from the Digital Cable Tuner, albeit DTCP-IP is required for Copy-Once content. Unfortunately, MPEG-2 support is required so this leaves most tablets and phones out of the party but it should be easier to build a DVR on the platform than using the current DRI method.
Interestingly the full PR (click through) indicates that this is part of a larger effort by Silicondust to provide Live TV around the house as part of "Project:Connect". More details are promised at CES; we will be making sure to stop by their booth to check it out and hopefully suss out what the long term goal is.
Silicondust USA, Inc. announces HDHomeRun DLNA Live TV Digital Media Server (DMS)

Project:Connect , Phase 1 – Access

Pleasanton, CA – December 4, 2012 – Silicondust USA, Inc., innovators of the HDHomeRun® network attached TV tuners, today announced the first DLNA Certified® live TV Digital Media Server (DMS). As phase one of Project:Connect, SiliconDust's live TV DMS brings premium cable TV to DLNA Certified® and UPnP devices in the home.

"HDHomeRun Project:Connect targets live TV access on every screen in the home," said Theodore Head, President and CEO of Silicondust USA. "Our interoperability roadmap includes leading Smart TV's, Network Connected Media Devices, Game Consoles, Smart Phones, and Tablets including iOS, Android, and Windows Mobile."

The phase 1 release will be available to new and existing HDHomeRun® Prime customers later this month via the HDHomeRun website. After installing the upgrade owners can browse the channel list and play live TV on MPEG2-capable Digital Media Player (DMP) and Digital Media Renderer (DMR) devices. Protected channels are supported on DTCP-IP capable devices such as the Sony Play Station 3.

"We are heading into an exciting TV technology year which will see TV access on a wide range of screens and form-factors" said Nick Kelsey, CTO of Silicondust USA Inc. "We are expanding our product line and will be announcing a number of live TV apps at CES".

New and existing HDHomeRun® Prime users can sign up for announcement information: http://www.silicondust.com/ext/mailinglist . Customers can submit feedback and connect with the HDHomeRun® community via the Project:Connect forum: http://www.silicondust.com/ext/forum ; on Facebook: https://www.facebook.com/hdhomerun ; or via Twitter: https://twitter.com/HDHomeRun_US .

About Silicondust USA, Inc.

Silicondust USA, Inc. is a San Francisco Bay Area based technology company that develops computer network attached digital TV devices for consumer and commercial solutions. With detailed knowledge of network platforms and extensive hardware and software engineering, Silicondust continues to introduce revolutionary designs that enable TV viewing from all displays on a home or office network. Silicondust works with OEM companies to integrate IP into custom solutions. For more information about Silicondust USA, Inc and HDHomeRun® products and solutions visit www.hdhomerun.com.

About DLNA
Members of Digital Living Network Alliance (DLNA) share a vision of an interoperable network of personal computers (PC), consumer electronics (CE), mobile devices and service providers in and beyond the home, enabling a seamless environment for sharing and growing new digital media and content services. Founded in 2003, the group established and maintains a platform of interoperability based on open and established industry standards that, when used by manufacturers will support the sharing of media through wired or wireless networks. More than 200 multi-industry companies from around the world have joined DLNA, committing the time and resources necessary to achieve their vision. DLNA's Promoter Members include: ACCESS, AT&T, AwoX, Broadcom, CableLabs, Cisco, Comcast, DIRECTV, DTS, Dolby Laboratories, Ericsson, HP, Huawei, Intel, LG, Microsoft, Motorola, Nokia, Panasonic, PROMISE Technology, Qualcomm, Samsung, Sharp, Sony, Technicolor and Verizon. Additional information about the Alliance, its participating companies and membership benefits is available at www.dlna.org.