Toshiba Unveils New Regza J7 and Z7 HDTVs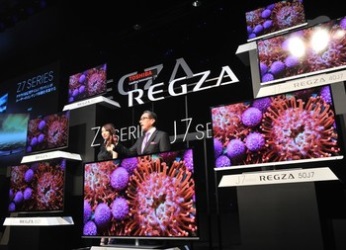 CREATEC 2012, Japan's annual electronics expo, is underway, and although CREATEC tends to cast a much wider net over the electronics and IT industry than a show like CES, it can still be a place for companies to take the wraps off the latest in consumer electronics. Toshiba took to CREATEC to show of their new Regza HDTVs, the J7 Series and the Z7 Series. The J7 Series is the more entry-level of the two lines, relatively speaking, ranging from 32″ to 65″. The higher-end Z7 Series only offers three models ranging from 42″ to 55″, but comes packed with a pseudo-DVR that automatically records up to 40 hours of content and offers up programming suggestions. I'm not sure the price difference is enough to justify a feature that fails to replace even the most basic HTPC or TiVo, but it is a differentiating feature.
The J7 Series offers 32-, 40, 50- and 65-inch options, all of which boast 1080p resolutions save for the 32-incher. Pricing starts at ¥75,000 (about $961) and tops off at ¥370,000 for the largest model. The slightly higher-end Z7 Series includes 42-, 47- and 55-inch models, with pricing ranging from ¥180,000 to ¥370,000.