Aperion Audio Announces All Wireless Intimus 4T System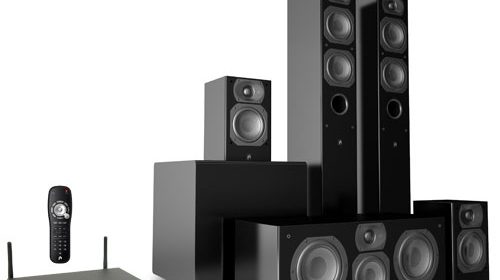 Renters, or anyone living in an older house, are painfully familiar with the problems associated with installing a proper surround sound system. There have been wireless systems around for a while, but most are targeted at the HTIB buyer and still require wired audio runs for the left, center & right main speakers – which isn't always possible. If you fall into this group, Aperion Audio just announced an all wireless 5.1 (power is required for each speaker obviously) in an AVR optional home theater kit.
Normally I'd have to check my enthusiasm for any speaker system with "wireless" and "AVR optional" in the description, but given our previous experience with the Intimus 4T, Zona and Aperion's "risk free" 30-day in home trial; if you need a flexible 5.1 system it's definitely worth a look. If you do, make sure to let us know how Summit Wireless' room correction features work out. Full PR after the click.
Aperion Audio Takes Wireless to a Whole New Level with the
Intimus® 4T Summit Wireless Home Theater Speaker System

No receiver, no speaker wires, and no confusing setup, with automatic speaker discovery and optimization Aperion Audio brings simplicity to the home theater

Portland, Ore. – August 1, 2012 – Aperion Audio, a direct-to-consumer maker of award-winning home theater speaker systems, unveils the Intimus® 4T Summit Wireless Home Theater Speaker System. For the first time in a wireless home theater system, you can enjoy a true plug and play setup with interference-free, uncompressed digital wireless audio from source to speaker. Utilizing Summit Wireless' SpeakerFinder™ and MyZone™ technology, Aperion Audio's Intimus wireless home theater system allows anyone to enjoy high-end audio without the hassle of a complicated setup or running speaker wires around a room. Now shipping, the Intimus® 4T Summit Wireless Home Theater System is available for order at AperionAudio.com with a complete 5.1 home theater system starting at $2,999.

With no A/V receiver required, it's as simple as connecting your sources to the HDMI Home Theater One transmitter, plugging in speakers to power outlets, and pressing a single button to activate the automatic system configuration. Aperion Audio uses Summit Wireless' SpeakerFinder technology to instantly determine where you placed each speaker in the room. Once initiated, the home theater components communicate by sequentially chirping their ultrasonic transducer. When one speaker chirps, the others listen to determine exactly when and where they heard the chirp and wirelessly report the results back to the transmitter. The system then calculates the angle and distance between each speaker within +/- 1 inch. SpeakerFinder takes less than 10 seconds to complete. Click here for more info and diagram: SpeakerFinder

For years, home theater consumers have wrestled with their system settings, attempting to create that perfect audio sweet spot. Unlike other systems which require a difficult multi-step setup, the Summit Wireless system will update for your viewing position at the touch of a button on the remote. By pressing the MyZone button the system instantly calibrates each speaker channel for volume level and phase delay based on the listener's location in the room. Click here for more info and a diagram: MyZone

Aperion Intimus® 4T Summit Wireless Home Theater System

Features:
• SpeakerFinder™ automatic speaker channel assignment, provides instant speaker discovery requiring no setup or extra configuration
• MyZone™ Button provides instant audio sweet spot optimization from the convenience of your remote control
• Uncompressed 24-Bit / 96 KHz wireless digital audio
• Less than 5ms end-to-end latency
• Each speaker is Bi-amped with Active Crossover and DSP
• Certified for Dolby True HD, Dolby Digital Plus and DTS-HD
• All speakers are solid wood furniture grade construction and finished in a multi-layer High-gloss Piano Black lacquer.

Aperion Intimus® 4T Summit Wireless 5.1 Home Theater System includes:
• (1) HDMI Digital Wireless Home Theater One Preamp Transmitter
• (2) Intimus® 4T Summit Wireless Powered Tower Speakers
• (1) Intimus® 5C Summit Wireless Powered Center Speaker
• (2) Intimus® 4B Summit Wireless Powered Satellite Speakers
• (1) Bravus® 8A Summit Wireless Powered Subwoofer

Additional Specs and Features can be found HERE.

Ed de la Fuente, vice president of marketing at Aperion, is excited to be the first to market with a reliable audiophile-grade wireless system. "We have had customers asking for this for a long time, and there just wasn't a reliable technology solution before Summit's. This goes way beyond eliminating speaker wires by providing superior audio fidelity and instant optimization that most people probably didn't know was possible. We're thrilled that this system recently moved from the beta stage into fully certified production."

Shipping August 1, 2012 the Intimus® 4T Summit Wireless Home Theater Speaker System is available now at www.AperionAudio.com for $2,999 (5.1 System) / $3,499 (7.1 System).

To request additional information about Aperion Audio, please contact PR Representative Brad Hobbs at (305) 374 – 4404 x119 or by e-mail at bradhobbs@maxborgesagency.com. To learn more about Aperion Audio, go to www.aperionaudio.com.

About Aperion Audio:
Based in the beautiful Pacific Northwest, Aperion Audio focuses on ensuring customers enjoy a lifetime of great sound. As a direct-to-consumer maker of award-winning audio products for home theaters, Aperion was first in the industry to offer the Totally Risk-Free In-Home Audition®. The company's primary storefront, AperionAudio.com, is a fun and informative home audio shopping destination backed by "Home Theater Gurus" who provide generous support both before and after purchase. At Aperion Audio, everyone from newbies to audiophiles can get the help they need to research and select an exceptional home theater speaker system or upgrade for their home audio environment. For more information, visit AperionAudio.com or call 888-880-8992.

About Summit Semiconductor, LLC:
Summit Semiconductor, LLC, is a successful spin-off of Focus Enhancements with over a decade of fabless semiconductor chip design and wireless system integration experience targeting the home entertainment markets. Its award-winning Summit Wireless™ technology is the leading integrated circuit solution enabling home audio systems to distribute high-definition, distortion-free audio with ease. Summit Wireless is designed to be integrated into home theater speakers, sound bars, audio/video receivers, digital television, DVD players, MP3 players, set-top boxes, and gaming systems. Summit Semiconductor is headquartered Hillsboro, OR, USA, with offices in San Jose, CA, Taiwan, Korea and Japan. For more information on Summit Semiconductor, please visit www.summitsemi.com.