Aperion Audio ARIS DLNA/Play To Speaker System – Now Shipping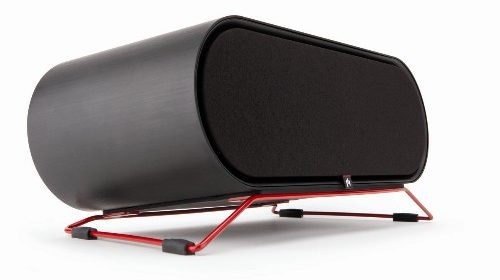 Aperion Audio announced the ARIS a few months back, and I have to admit that the idea of a 100W DLNA speaker system from a company that knows audio was very intriguing. The PR (available after the click) still doesn't note whether DRM laden files are supported (they can be with Windows 8's Play To) or what CODECs are supported out of the box, but it does mention that the device is software upgradeable, so even it it doesn't support your files now it could easily do so in the future.
Aperion Audio ARIS™, the World's First Windows® 8 Certified Compatible Speaker System, Now Shipping

The first wireless speaker for Windows ( 7 & 8 ) brings hi-fi to wi-fi, allowing effortless music playback over your home network

Portland, OR – (October 4, 2012) – Aperion Audio announces the availability of the ARIS wireless speaker for Windows ( 7 & 8 ). The first certified compatible with Windows 8 speaker system, the ARIS lets digital music lovers listen to their tunes from any room in their home. Using the Windows "Play To" feature, users can select and send music wirelessly from any Windows PC, tablet or smart phone connected to their home network. The Aperion ARIS for Windows is available now for $499 at www.AperionAudio.com.

Today, music is stored on a variety of digital devices in the home including desktops, laptops, notebook PCs, network storage drives, tablets and smart phones. ARIS connects to all of these sources of music on the home network and eliminates the need to move music files between devices or plug and unplug cables to hear specific tracks. Using Windows 7 & 8 on PCs or tablets and controller Apps on a Windows, Android, or iOS smart phone, music lovers can send music from any source on the network to an ARIS speaker located anywhere in the home.

ARIS is the first wireless speaker system for Windows, providing functionality similar to wireless speakers that work with Apple® AirPlay® or Bluetooth® technology. However, being Windows and DLNA certified, the ARIS system allows connectivity to multiple network devices, a simple 'right-click' music file playback and compatibility with a variety of playback Apps for tablets and smart phones. Aperion's 12 years of experience in designing award-winning home theater speakers, has been applied in engineering the ARIS from the ground up for natural and low-distortion reproduction of sound, even at loud volumes. The all-in-one stereo speaker system includes six internal drivers and four amplifiers that provide a total of 100 W of audio power and a maximum SPL of 105 dB. The unique extruded and black anodized aluminum enclosure measures 6.5-inches high by 14.75-inches wide. The ARIS is equipped with an adjustable and removable red steel stand for precise angling to enable optimal placement in any room.

The ARIS connects to a home network at the push of a button using Wi-Fi Protected Setup (WPS), which is built into most current wireless routers, or a simple on-board setup sequence when WPS is not available. Once on the network, the ARIS Wireless Card for Windows (included) automatically updates software over the Internet to maintain the latest networking and codec technologies. The system is also made future proof by a patent-pending capability to swap out the wireless card should hardware technology change or if the user chooses a different network infrastructure in the future. This removes the potential need to replace the complete speaker system.

ARIS Wireless Speaker for Windows: http://aris.aperionaudio.com/

Key Features of the Aperion ARIS Wireless Speaker for Windows:
• Using Microsoft Windows "Play To" feature, send music wirelessly from any Windows device on your home network
• Six internal speakers including 4 powered drivers and 2 passive radiators
• 100 W total power with three sound modes: natural, bass boost and enhanced stereo
• Easy-to-use push button connection to home network via Wi-Fi Protected Setup
• Single-piece brushed aluminum enclosure with adjustable/removable steel base
• Certified compatible with Windows® 8 and Windows® 7
• DLNA® certified

Pricing, Availability and Warranty:
The Aperion ARIS Speaker with ARIS Wireless Card for Windows is priced at $499. The one (1)-year limited warranty covers all defects in material and workmanship. For more info or to order your ARIS today please visit www.AperionAudio.com. Also available at Amazon.com, and the Audioholics Home Theater Store.


About Aperion Audio:
Based in the beautiful Pacific Northwest, Aperion Audio focuses on ensuring customers enjoy a lifetime of great sound. As a direct-to-consumer maker of award-winning audio products for home theaters, Aperion was first in the industry to offer the Totally Risk-Free In-Home Audition®. The company's primary storefront, AperionAudio.com, is a fun and informative home-audio shopping destination backed by "Home Audio Gurus," who provide generous support both before and after purchase. At Aperion Audio, everyone from newbies to audiophiles can get the help they need to research and select an exceptional home-theater speaker system or upgrade for their home audio environment. For more information, visit AperionAudio.com or call 888-880-8992.