Aperion Audio Zona Wireless Speaker System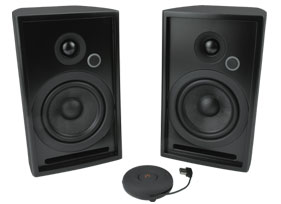 The prospect of wiring surround or multi-zone loudspeakers is often fraught with difficulty and may be a job best left to someone who can open up walls, fish speaker wire and install a wallplate with wire terminals. Instead of hiring a costly contractor or spending several hours and dollars in parts, Aperion Audio presents the Zona Wireless Speaker System which promises to lift the burden of wires from us. After our positive experience with Aperion Audio's Intimus 4T speakers, our interest in Aperion Audio's wireless solution was piqued.
The $399 Zona Wireless Speaker System are stereo speakers that can be employed in a variety of scenarios: serving as speakers sourced directly from a PC, stereo or surround speakers in a home theater or as part of a separate zoned speaker system where the installation may be in a remote room or patio.
Specifications
| | |
| --- | --- |
| Frequency Response | 55 Hz – 20 KHz |
| Impedance | N/A |
| Sensitivity | N/A |
| Recommended Power | N/A |
| Amplifier Power | Powered wireless speaker system with a 2×20 watt Class D amplifier with DSP |
| Tweeter | 1" Soft-dome silk tweeter |
| Woofer | 4.5" woven fiberglass woofer |
| Driver Configuration | 2-way |
| Enclosure Type | Ported, MDF |
| Dimensions | 9.8" H x 6" W x 6.3" D |
| Weight | 15 lbs. |
In The Box
Our review sample arrived safely in a well-protected and neatly organized package.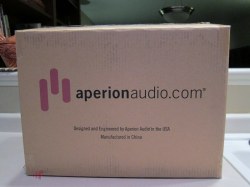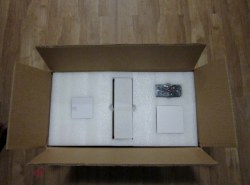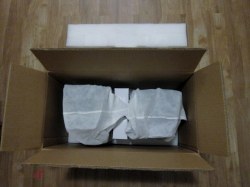 The speakers themselves come wrapped in a soft, white and protective fabric that can be useful when the speakers may be stored or transported at a future date. In the box are the following items:
Two Zona wireless speakers

Each speaker weighs about seven pounds and contains an amplifier to power the tweeter and woofer lurking behind the removable grille. The solid MDF housing is matte black and forgoes the typical wood grain for a smooth exterior. Even with the matte black finish, the speakers did pick up oil from handling – though the smooth surface lends itself to easy cleaning.

Aperion Audio eschews a square or rectangular box for a more curved appearance. Threaded inserts can be found on the back and the bottom for wall or stand mounting.


Zona wireless transmitter

The three-inch diameter 2.4GHz transmitter is powered via a USB connector and sends audio wirelessly to the Zona speakers. Power can be obtained by the included AC adapter or via a PC. Stereo audio can be delivered to the transmitter through its 3.5 mm analog jack or via the USB port when used as an audio device for a PC.

Three AC/DC power adapters, USB extension cable, 3.5 mm male to 3.5 mm male cable, 3.5 mm male to phono left/right cable, rubber feet

Aperion Audio packs in everything most users will require to get up and running immediately.

Infrared Remote control with CR2025 battery cell

If there's one item that feels a bit out of place among the Zona Wireless Speaker System, it is the infrared remote control. The coin battery-powered remote uses cheaper membrane-style buttons with a body composed of thin plastic that at least has a somewhat pleasant-feeling anti-slip coating. The membrane button plastic overlay has an unrefined appearance and feel.
Setup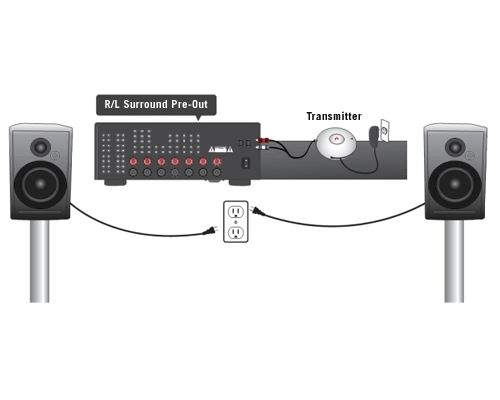 Aperion Audio has made the setup of the Zona Wireless Speaker System so simple that even technology luddites should have no problems. The first step required is to connect the wireless transmitter to the audio source which can be either a stereo analog connection or a USB connection from a PC. The analog connection will require the use of the included USB AC adapter while the USB connection to a PC will also derive power from the PC. In either case, the required cabling for most installations is included. When connecting to a Windows PC via USB, the speakers will present themselves as an audio playback device.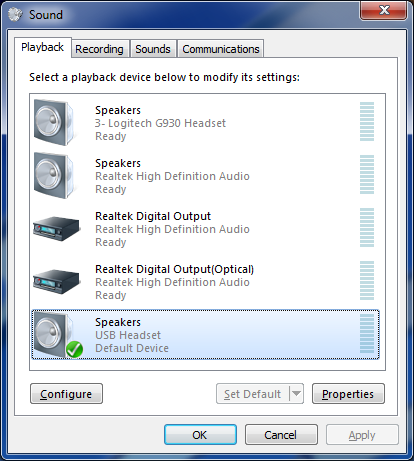 The next step is simply locating and powering the Zona speakers with the included AC adapters. When powered on, a dim blue ring will light behind the speaker grilles to indicate their status. If audio is playing from the source device, it will automatically be played back by the speakers.
Wireless Performance
The speakers were employed in two different test locations. The first was in the same room as the transmitter and the second was in a separate room from the transmitter approximately twenty feet away. There are at least ten different 2.4GHz band Wi-Fi access points that can be detected from the test environment and an unknown amount of other activity in the frequency band.
During testing while located in the same room, the speakers performed perfectly. No audio anomalies were observed.
When testing was moved to the separate room location, there were some intermittent audio issues where audio would be momentarily lost. In order to gain an improved signal, the audio transmitter was moved outside of a wooden cabinet, though some problems still existed, especially with the left speaker which was furthest away from the transmitter. When muting or powering off the speakers, the audio would initiate about once every minute. This phenomenon did not exist in the first test location and seems as though it must be due to noise in the 2.4 GHz band disrupting the communication between the speakers and transmitter.
Audio Performance
Aperion Audio is part of a growing trend among speaker manufacturers and retailers who give a 30-day trial with absolutely no obligation (and even pay for return shipping). This is an important consideration when speaker shopping since room acoustics play an overwhelming factor in how well a given speaker will sound, thus the subjective results obtained in this review are colored by the environment in which the listening was performed.
Several different music and soundtrack choices were utilized to test the Zona speakers and compare them to a set of Energy Connoisseur CB-5 bookshelf speakers ($200 ea.) with Energy ESW-M8 subwoofer ($500). The bass of the Zona speakers was surprisingly sufficient for all but the deepest of material. Volumes were also constrained such that there was no noticeable distortion when pushing the Zonas with deep, power-hungry content. Compared to the Energy speakers, the Zona speakers seemed a bit less balanced and detailed and a bit muddier. This is not to say that the Zona speakers sounded bad at all, but that they didn't seem to have quite as nuanced a sound even when making use of the treble and bass adjustments provided by the remote control. Of course, the Zona speakers are at a disadvantage without a subwoofer to rely on and this may be part of the reason why there was a perception of a murkier sound. Another variable inherent in the testing was that the Energy speakers utilized a Denon AVR-2112 to amplify the analog audio source, while the Zona speaker system utilized its own amplifier, A/D and D/A. The quality differences observed between the Energy/Denon system and the Zona Wireless System is not surprising given the significant difference in price.
Utilizing the Zona speakers as surround is attractive in that it removes the necessity of speaker wires. Unfortunately, this could not be tested as the Denon AVR-2112 that we had access to does not have the ability to route surround sound to pre-outs. This is certainly a consideration that should not be overlooked when considering the Zona speakers for surround duty. Additionally, one should properly account for the power cable and AC adapters that are required for each Zona speaker when contemplating the installation.
Power
Compared to running a typical audio receiver, the Zona Wireless System uses a minimal amount of power.
| State | Power Draw (watts) |
| --- | --- |
| Transmitter | 1.1 |
| Speaker (On) | 2.9 |
| Speaker (Off) | 0.7 |
Conclusion
Aperion Audio's Zona Wireless Speaker System deserves close attention in the right applications. While the requirement for using an AVR pre-out may preclude the Zonas from being used in some circumstances, they can still fit the bill for speakers required in a remote location so long as the wireless interference in the vicinity is not overwhelming. The USB input adds flexibility in being able to easily use the Zona transmitter with any modern PC.
The Zona Wireless Speaker System is not going to rival higher-end and more expensive speakers in absolute sound quality, but they still produce good, clean sound that will be enjoyable in less demanding environs such as secondary listening areas or surround duties.
Compared to purchasing a separate AVR and/or running speaker cabling, the easy-to-install and well-constructed (other than the remote control) Zona Wireless Speaker System presents a compelling value that should not be overlooked especially considering there is no risk or obligation in giving them a 30-day trial run.
Pros
Wireless (except for power cables)
Price
No-obligation trial period
Materials and construction
Flexibility
Ships with everything required for installation
Easy setup
Power use extremely low
Cons
Absolute audio fidelity
Wireless performance under challenging conditions
Surround use requires audio pre-outs on audio receiver
Remote has a cheap look and feel
Thanks to Aperion Audio for providing the Zona Wireless Speaker System review sample.