Aperion Audio Announces ARIS DLNA/Play To Speaker System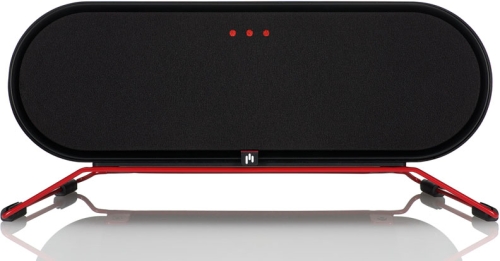 With six drivers, four amps and Aperion Audio's reputation for quality speakers the ARIS looks like a great way to push music around the house using DLNA. The PR (after the click) does not specify what codec/containers or DRM schemes (if any) are supported though – although the W8 "certification pending" is promising because I've heard that it supports "protected" audio over DLNA – so like most things, we'll have to wait until June to find out how it performs.
Redmond, WA – (May 8, 2012) – Aperion Audio, a direct-to-consumer maker of award-winning home theater speaker systems, today gives Microsoft employees a sneak preview of its newest wireless speaker. The Aperion ARIS lets digital music lovers listen to their tunes from any room in their home. They simply place the speaker where they want it and connect via wireless or Ethernet to their home network using the Windows 7 and/or Windows 8 Consumer Preview operating systems.

Most people today store their music on a variety of digital devices, including desktops, laptops, notebook PCs, network storage drives, tablets and smartphones. These devices are usually on the home network, but users can listen to music only on a device that is physically plugged into a powered speaker or stereo system. The ARIS wireless speaker eliminates the need to move music files between devices or plug and unplug cables to hear specific tracks. Using the Windows 7 "Play To" feature, music lovers can send music from any device on the network to an ARIS speaker located where they want to listen.

"The ARIS Wireless Speaker combines our experience in making wireless speaker systems with the media capabilities of the Windows operating system," says Mike Hopkins, Product Development Manager at Aperion Audio. "The result is effortless listening from any room. Plus, with the new ARIS app, smartphone users can choose music from any device on their network and instantly send it to any connected ARIS speaker."

ARIS connects to a home network at the push of a button using Wi-Fi Protected Setup. The all-in-one ARIS speaker system includes six internal drivers and four amplifiers that provide a total of 100 W RMS power. The brushed aluminum enclosure, measuring 6.5 inches high by 14.75 inches wide, increases rigidity to fill most rooms with full-range, distortion-free stereo sound.

"We're excited to see the launch of a product that combines Aperion's experience in building high-quality wireless audio with the built-in music streaming capabilities in Windows," says Aidan Marcuss, Sr. Director, Windows Core Marketing and Ecosystem, Microsoft Corp. " The ARIS products have earned the Compatible with Windows 7 logo, ensuring a seamless install experience."

Key Features of the Aperion ARIS Connected Speaker for Windows:

• Single-piece brushed aluminum enclosure
• Adjustable and removable steel base
• 100 W RMS total power
• Six internal speakers (four powered drivers, two passive radiators)
• Three sound modes: natural, bass boost and enhanced stereo
• Push-button connection to home network using Wi-Fi Protected Setup
• Compatible with Windows 7 (Compatible with Windows 8 pending)
• DLNA® certified

Pricing, Availability and Warranty:

The Aperion ARIS Speaker with ARIS Wireless Card for Windows is priced at $499. Pre-orders will be accepted starting May 8, 2012, and the system is expected to ship mid-June 2012. The one (1)-year limited warranty covers all defects in material and workmanship.


About Aperion Audio:
Based in the beautiful Pacific Northwest, Aperion Audio focuses on ensuring customers enjoy a lifetime of great sound. As a direct-to-consumer maker of award-winning audio products for home theaters, Aperion was first in the industry to offer the Totally Risk-Free 30-Day In-Home Audition™. The company's primary storefront, AperionAudio.com, is a fun and informative home-audio shopping destination backed by "Home Audio Gurus," who provide generous support both before and after purchase. At Aperion Audio, everyone from newbies to audiophiles can get the help they need to research and select an exceptional home-theater speaker system or upgrade for their home audio environment. For more information, visit AperionAudio.com or call 888-880-8992.