Western Digital TV Play Details Leak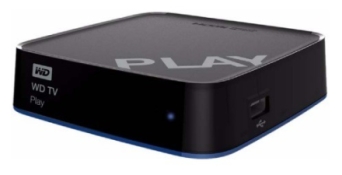 We don't watch FCC filings quite as closely as some sites, but word that Western Digital has a new media streamer moving through the FCC offices seemed worthy of note. The WD TV Live series of media streamers have achieved a fair measure of mainstream success, and the company's latest entry appears to take direct aim at the Roku family by adding support for games. The WD TV Play will sport a redesigned remote and at least two casual game services at launch, along with all the usual media streaming capablities that we have come to expect from Western Digital. Streaming and casual gaming services are looking to be an increasingly important part of the feature list for any new media streamer or smart TV these days, and Western Digital appears ready to play with the big boys.
Western Digital's WD TV line has been one of the more successful forays into the connected media player market, and the company appears to be ready to introduce a new model that brings with it a little big-screen gaming action. The WD TV Play has checked in at the the FCC for the standard battery of tests, and its user manual has revealed a few tidbits about the as-yet-unannounced device.