Samsung Brings Top-End ES9000 TV to U.S.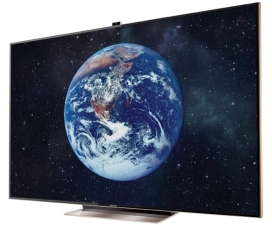 Samsung will be launching their top-of-the-line ES9000 Smart TV in the U.S. in August. The 75-inch monster is expected to cost $9,999, which I am sure that many will agree is a mere pittance given that the TV will be launching with a special, Samsung-exclusive, gesture-controlled version of Angry Birds. Integrated into the .13-inch bezel will be a camera for capturing hand gestures and for Skype calling. Obviously TVs such as the ES9000 are not actually aimed at the mainstream consumer, but new features such as Sound Share and Smart Interaction along with the image quality improvements that come with being the showcase piece in a manufacturer's premier line of televisions, are all previews of what will be coming to mainstream sets in the future.
This TV does all things Samsung's other top-line TVs do: 3D, media streaming, DLNA, built-in camera, dual-core processor, micro-dimming backlight and both gesture and voice control. Samsung is taking gesture control a step further by launching a new Angry Birds app that's controlled entirely by gesture. To toss eggs at those pigs you just wave your hand – no controller needed.