Microsoft Updates My Xbox Live for iPad, Control Xbox 360 from Any iOS device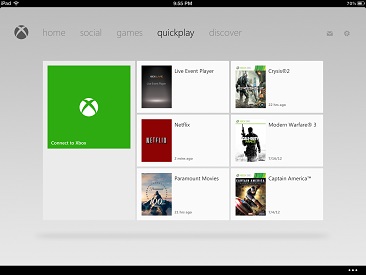 Microsoft has updated their My Xbox Live app for iOS, bringing it up version 1.6 and adding Quickplay support for controlling an Xbox 360 remotely to the iPad. The previous update to the iOS app had enabled Quickplay for the iPhone and iPod Touch, but with this update it is now possible to control an Xbox from any iOS device. The Quickplay tab offers a button for connecting to the Xbox and your six most recent games or apps as starting options. In the lower right hand corner is touch-point for bringing up a couple of quick select options, including a controller icon that switches over to an on-screen remote control interface. There is also a new Discover tab that provides a space for Microsoft to highlight new and featured content. At least for Apple device owners, the My Xbox Live app provides a basic example of the kinds of control options that Xbox SmartGlass should offer when it becomes available later this year. Hopefully SmartGlass will also bring along the one bit of functionality that I think My Xbox Live needs to be useful: the ability to power on the Xbox 360 remotely.
To get started, you'll first need to enable the Xbox Companion feature on your console. Head to Settings -> System -> Console Settings -> Xbox Companion to do so. Next, you will need to snag the app from App Store and once installed, simply sign in with the same Windows Live account that is linked to your Xbox and you're set.