Fractal Design Introduces Node Family of Cases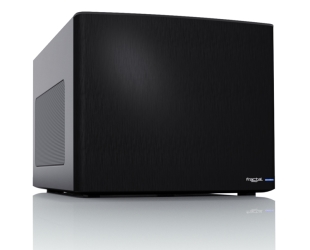 The list of intriguing new Mini-ITX cases just keeps on growing, this time with the announcement of the Fractal Design Node family of cases at Computex. Representing Mini-ITX will be the Node 304. The Node 304 is a relatively petite cube-style small form factor case capable of housing six hard drives, making it an exciting option for HTPC or home server builds. The case is made even more versatile by offering an option to leave out one of the two-drive cages to allow room for double-wide graphics cards up to 12.2″ long. Fractal Design's other new case is the Node 605, a more traditional HTPC case designed to blend in with standard home theater electronics, similar to the nMEDIA HTPC 7000B or the SilverStone Grandia GD06. The Fractal Design Node 605 will accommodate full ATX motherboards, and although it only has space for four hards drives, it does offer a slot for a slim-line optical disc drive. We've seen a lot to like from Fractal Design in the past, so hopefully the new Node cases will continue that trend.
The Node 304 is the more affordable of the two, with a suggested retail price of just $90. It's designed to house Mini-ITX systems with double-wide graphics cards up to 12.2″ long. Squeezing in a card that long will require removing one of the three hanging drive cages. Each cage can accommodate two 3.5″ or 2.5″ drives, so there's plenty of storage capacity to go around. You'll have to make do without an optical drive, though.