SilverStone FT03 Mini PC Case Reviewed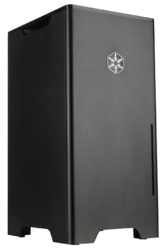 Every so often, a case manufacturer decides to try to break the mold and release something new and different. Such efforts tend to result in, at best, niche products, but occasionally the result is so eye-catching, that I can't help but root for it. SilverStone's FT03 was one such case. The first time I saw a picture of the FT03 in all it's monolithic glory, I was smitten. Well, SilverStone is back at it and have followed up on the FT03 with a pint-sized version for Mini-ITX motherboards. The FT03 Mini is tall for a Mini-ITX case, but retains the striking profile of its big brother and is evidently is even easier to work in and offers superior cooling capabilities. I'm still not completely sold on the top-mounted USB ports, but otherwise it might make a fine HTPC case for those who like to build HTPC systems with a distinctive flair.
The FT03 Mini is the FT03 condensed further still, swapping out Micro-ATX for Mini-ITX and requiring an SFX form factor power supply in the process. Users who didn't care for the look of the FT03 aren't going to find anything new here, but people who dug on the FT03 are bound to find a lot to like.