Cox Communications Updates iPad App with New UI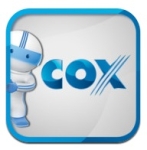 Cox Communications was a little slower bringing live TV streaming to the iPad than some of the other cable TV providers in the US, and the initial release of the app took a somewhat unusual approach to presenting TV listings that made it difficult to judge the relative start and stop times of programming on different channels. It would appear that someone directed their criticism to the right ears, because Cox has updated the app to version 1.1.0 and updated the UI to present programming in a more traditional EPG-style grid. Now if only the company could start integrating remote DVR programming control and maybe show Android tablets a little love as well.
 Cabler Cox Communications joined in on the live TV streaming to iPad craze by releasing its own Cox TV Connect app late last year, and recently updated it to version 1.1.0.