Comcast Shows Off New X1 UI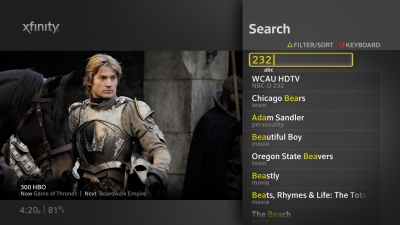 It's been several months since we last heard Comcast chatting up their new settop box UI. At the time, the new UI was codenamed Xcalibur and Comcast was hinting at the ways they were looking to integrate the app experience from mobile platforms with a revamped high-definition live TV and DVR interface. Evidently, things are about to get real. Comcast took to the Cable Show in Boston this week to not only show off the new interface, now called X1, but also demonstrate that the new UI is really just part of a complete software platform. X1 aims to combine traditional live TV services with streaming and on-demand video services, along with extended information apps for displaying things like weather and traffic and integrating other services such as Pandora and Facebook. I wouldn't count on seeing a Netflix app anytime soon, but it certainly appears that Comcast is hoping to leverage software to expand and enhance Comcast services more rapidly in the face of growing streaming media competition. Folks interested in home automation will also be interested in checking out Project Dayview, a dashboard for the TV or computing devices that consolidates information and tasks from all of a subscriber's Xfinity services, including remote DVR control and home security monitoring.
Comcast SVP Marcien Jenckes tells us that there are two parts to the rollout of X1. The first is geographical: it's coming to Boston on May 30th, then five to ten major markets before the end of the year. The goal is to get coverage in all of Comcast's market by mid-2013. The second part of the rollout is penetration into Comcast's customer base. At first, the platform will be limited to Xfinity Triple Play customers, i.e., voice, video, and broadband subscribers. But Jenckes says that they eventually want to shift all of their television customers over to the platform.