Windows 8 May Not License Dolby; Dolby Shares Tumbling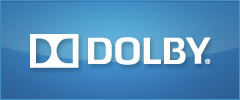 Dolby revealed today to investors that iterations of Windows 8 currently do not utilize Dolby technologies and they are preparing to support OEMs if licensing is not included in the commercial release of Windows 8. Currently, Dolby shares (DLB) are crashing down on the news.
So what does this mean for home theater PC enthusiasts? If Dolby is not licensed, Windows 8 will not be able to decode Dolby Digital soundtracks in DVD or recorded TV playback natively. This should not affect the ability to bitstream the audio to an external decoder such as that found in an audio-video receiver (AVR). For those desiring the decoding of Dolby Digital audio, a commercial DVD playback software package that includes the Dolby license could be purchased.
We work with operating system providers, ISVs and OEMs to support DVD on the PC. In recent years, our mix of PC licensing revenue has increasingly shifted towards the operating system as our technologies are included in 4 editions of Windows 7. However, we have recently learned that our technologies are not currently included in the Windows 8 operating system under development. If our technologies are not included in the commercial version of Windows 8, we expect to support DVD playback functionality by increasingly licensing our technologies directly to OEMs and ISVs, and we will seek to extend our technologies to further support online content playback.

Kevin Yeaman, CEO, Dolby Laboratories

via CEPro