Elgato App Debuts; Allows iPad 2 to Watch, Pause and Record Cable TV Directly From SiliconDust HDHomeRun PRIME CableCARD Tuner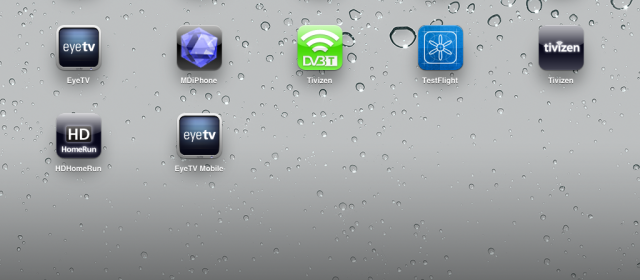 Have you been dreaming of watching, recording and pausing Cable TV on your iPad 2? An interesting app from Elgato called the HDHomeRun PRIME App now provides that functionality. It's currently available in the App Store for $17.99.
You will need to get your hands on an HDHomeRun PRIME, of course. Only "Copy Freely" content will work so that's something you'll definitely want to confirm with your cable operator or verify your Windows Media Center recordings are not copy protected before laying down the cash.
In addition to watching, viewing and recording directly to the iPad 2, recordings can be moved to your PC or Mac. We have learned from SiliconDust that background recording and audio is supported as well. Press release after the break.
Elgato's HDHomeRun® PRIME™ App for iPad 2 – Watch & Record Cable TV Wirelessly

San Francisco, Calif. – August 19, 2011 – Elgato today announced that its HDHomeRun® PRIME™ App for iPad 2 is available on the App Store. The App works in conjunction with the Silicondust HDHomeRun PRIME line of CableCard™-enabled network tuners, and it enables users to stream and record live premium cable TV to iPad 2. Whether you want to watch the news in the kitchen while you make dinner, or the baseball game on the patio on a warm evening, or late night TV without disturbing anyone, the HDHomeRun PRIME App enables viewing and recording of live cable TV anywhere in your home's Wi-Fi network.

Elgato's HDHomeRun App and Silicondust HDHomeRun PRIME together deliver premium television and DVR capabilities to iPad 2. The HDHomeRun PRIME device sends the TV signal straight to the HDHomeRun PRIME App, so there is no need for the user to turn on a computer. This saves energy and adds to the ease of use that users have come to expect from Elgato products. In addition, the HDHomeRun PRIME App lets the user record programs directly to their iPad 2 with the option of transferring those recordings from the iPad 2 to a Mac or PC.

Elgato's latest solution streams cable TV "copy freely" channels to iPad 2. Users with Verizon FiOS or Comcast cable television have a particular advantage, since the majority of channels from these providers are sent with a 'copy freely' flag. And naturally, users receive all the unencrypted digital cable TV (Clear QAM) channels offered by their cable provider.

"With our new HDHomeRun PRIME App, we wanted to offer iPad 2 users even more accessibility to their favorite TV programming," said Adam Steinberg, Elgato's VP of Marketing. "Our HDHomeRun solution opens up a world of TV viewing options for users. Couple this with the fact that you don't need a computer to enable the streaming of live TV to iPad 2, and the constraints of archaic TV watching are a thing of the past."

"Elgato is an innovative leader for TV content control on Apple devices. Silicondust has collaborated for years with Elgato to ensure users the ability to control digital TV on their home network, using the HDHomeRun line of products," said Theodore Head, Silicondust's President / CEO. "This new app continues our vision of Freedom Across Your Home Network allowing you to Watch, Pause, Record Live Digital TV Anywhere in your home, and now from your iPad."

The HDHomeRun PRIME App is available for the introductory price of $17.99 from the App Store on iPad 2 or at www.itunes.com/apps/hdhomerun.

HDHomeRun PRIME is available for $249.99 from http://www.hdhomerun.com/products/hdhomerun/prime

To view a video demonstration of HDHomeRun PRIME, click here: http://www.youtube.com/watch?v=spBMS2yMCzk&feature=youtu.be

*Note that Elgato's HDHomeRun App is only compatible with Silicondust's HDHomeRun PRIME hardware, not previously debuted HDHomeRun products.

About Elgato

Elgato produces award-winning TV software together with a complete range of TV tuners and capture devices to watch, record, and edit TV and HDTV on Macs and PCs. Elgato is the home of EyeTV, the world's leading television solution for Mac computers. Elgato also produces a variety of world-class H.264 video conversion and streaming products. Elgato is privately held with offices in Munich, Germany and San Francisco, California. For more information about Elgato's products and solutions visit www.elgato.com.

About Silicondust

Silicondust USA, Inc. is a San Francisco Bay Area based technology company that develops computer network attached digital TV products for consumer and commercial solutions. With detailed knowledge of network platforms and extensive hardware and software engineering, Silicondust continues to introduce innovative products that enable TV viewing from all computers on a home or office network. Silicondust works with OEM companies to integrate Digital TV into custom solutions. For more information about Silicondust USA, Inc. and HDHomeRun® products and solutions visit www.hdhomerun.com.