Apple Screen Time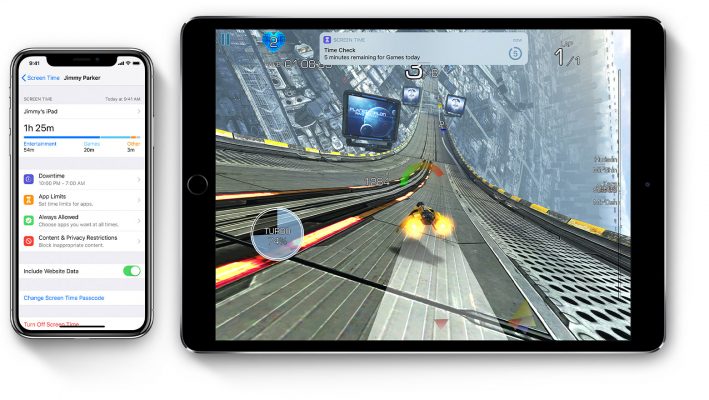 Apple's recent iOS12 release brought significant updates to the platform. The one I'm most interested is Screen Time. I was looking at an external parental control network device, for example Circle. iOS12 offers parental control, which seems to remove the need for an external device at least for iOS devices.
Use
In the past iOS parental controls were more atomized. Children in Family Sharing accounts could request to purchase and family members could share purchases or not. iOS Restrictions settings on each device could limit app install, deletion and in-app purchases, allowed apps, allowed websites and content based on rating and device modification. There was no way within Apple's Restrictions to limit application use time. It was also not possible to centrally manage iOS device Restrictions.
iOS12's Screen Time takes over most of the Restrictions functionality and adds Parental Controls for family devices or externalized self-regulation.
Create Family Sharing, if you have not already.
Create Apple ids for users, if you have not already, and add to Family Sharing.
Update all iOS devices to iOS12
Configure Screen Time settings for each child
After all devices are updated the list of Shared Features in Family Sharing will include Screen Time. Screen Time is in the Settings list. Managed family accounts are configurable from there. The Organizer can centrally manage device application, content, and device allowances.
Screen Time configuration is specified for each user.
Downtime, App Limits, Always Allow and Content & Privacy Restrictions
App Limits are based on categories defined by Apple. Within the categories you define time limits and whether to block usage after the allotted time. A user can request additional time from within the application once the limit is reached. Extensions can be granted from Organizer's phone or tablet, remotely, or directly on the child's device, locally, for 15 minutes, an hour or for the rest of the day.
During Downtime hours Apple defaults Messages and FaceTime as always allowed applications. The Organizer can add installed applications to the list if desired.
Content & Privacy Restrictions previously found under Settings – > General -> Restrictions is now in Screen Time. Allowances around application installation, deletion, in-app purchases, content restrictions, and application change allowance restrictions.
A few items of note, if devices were previously configured under a shared Apple ID setup separate accounts. Screen Time is most effective if each child has his own Apple ID. I would not want to extend You Tube Kids time to all children if only one earned the time, for example. It required additional effort on my part but forced inevitable account creation and device personalization.
There are posted Screen Time hacks children already found. If family accounts are allowed to install apps then if a previously deleted app is reinstalled, it is not bound by Screen Time app category time limits. Others noted that if kids know the Restrictions passcode they've reset it to one unknown by the parent.
I configured my kids' iPads with app install, delete and in-app purchases disabled. I manually update them when necessary. They are also unaware of the Restrictions or Screen Time override passcode, at least for now, little buggers.
Conclusion
It is easy to remotely configure for each account and manage. There are already identified hacks. I hope to see Apple take them seriously. It is a solid start by Apple to provide centralized parental control and enforce self-regulation.