First Look: SiliconDust HDHomeRun Prime Digital Cable Tuner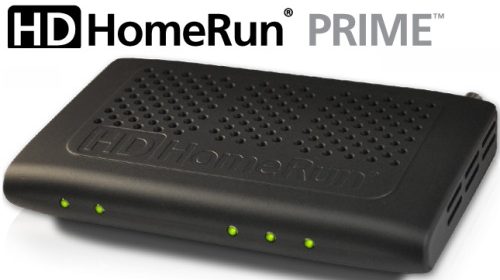 A few months ago there was no competition in the market for Digital Cable Tuners, now there are several form factors, OEMs and interfaces to choose from. Earlier today Aaron provided a first look at Hauppauge's WinTV-DCR-2650 Dual Digital Cable Tuner. Now it is time to do the same for its big brother – the three tuner, $250 network enabled SiliconDust HDHomeRun Prime.
The HDHomeRun Prime arrived in full retail packaging, hopefully a sign that it will find a [temporary] home on the shelf of a big box store nearby. Of course the savvy already know that it has been available for pre-order from Newegg.com for quite a while now an should start shipping on Labor Day weekend.
In the box are the unit itself, brief documentation and cables for power, Ethernet and coax. A driver CD is notably missing, but instead of condemnation some praise is in order as these disc are generally only good for a few weeks (or days) as new revisions become available online – kudos to SiliconDust for skipping the waste.
More time was spent on hold with Cox Cable than it took to unpack and setup the Prime. And after reading off a couple sets of numbers it was ready to go inside of Windows Media Center. Only having spent a couple hours with it; clearly it is too early to get a good read on the long term stability and performance of the device, but so far it just works. Of course, we will be publishing a full review including features like tuner sharing, power usage, etc. as soon as we can, but make sure to drop a comment below if there is a specific use case or feature you would like to make sure we hit in the complete write-up.
Oh, and for those looking to use the HDHomeRun Prime with SageTV – it is looking promising :).