CableCARD Installation: It's Getting Better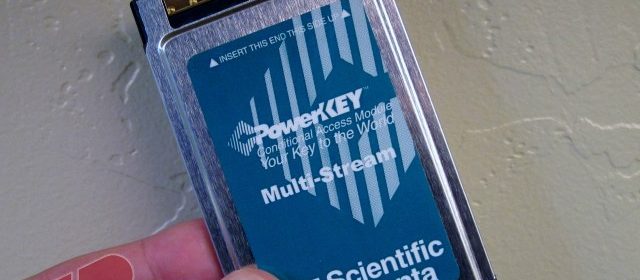 Having just installed my second CableCARD product, I thought it would be good to share my experience. Last December, I posted about my experience installing the Ceton InfiniTV 4. Back then, I had to pay a $75 installation fee and schedule an installer to visit my home only to hand me the CableCARD and call in to have it activated. Meanwhile, set-top box users had the less expensive option of self-installing which hardly seemed fair.
Fast-forward to today when we now have a mandate from the FCC that has brought the self-installation option to CableCARD users. A quick call to my provider, Cox Cable, had a self-installation kit drop-shipped to my front door the next day. I am now required to pay a $20 activation fee which is fair and reasonable. For $20, I get the kit shipped to me and a free return shipping label is included. All the cables needed for installation are also included along with the CableCARD, tuning adapter and installation guide.
The installation guide (attached) is straight-forward and easy to follow. I am positive that even technology luddites could successfully follow the guide. That said, I did run into some snafus in the process.
Once I had gathered my serial number, CableCARD number and Host ID number, I called the toll-free activation number. After navigating the telephone system, I finally reached a human being and began giving my information only to find that the representative I was speaking with was in Pensacola while I was close to 2000 miles away in San Diego. This wasn't going to work out so I had to call in to my local Cox Cable office.
Again, after navigating the telephone system that does everything in its power to prevent human-to-human interaction, I finally roped in a customer service representative to handle my activation. The inevitable "What type of device are you using?" was asked. I responded that I had a "Windows Media Center PC." The representative then explained that PCs didn't work with CableCARD but a TiVo would. Of course, I explained how the other CableCARD on my account has been in use with a Windows Media Center PC since last December and encouraged him to proceed.
He then told me that my CableCARD had been activated, but I wasn't seeing any indication that the CableCARD was truly authorized. It turns out that the Host ID number Cox had scanned when they sent the CableCARD was incorrect, or at least that was what the Cox representative told me. Jeremy Hammer, VP of Systems Integration at Ceton Corporation has since informed me that the Host ID is unique to each device so the Cox representative was obviously incorrect and probably was not trained or had forgotten that the unique Host ID is required for pairing. Once we got that straightened out, the installation was done.
While the experience I had wasn't perfect, it was better than my previous experience. And, while the temptation may be great for many PC CableCARD users to claim they have a TiVo, I encourage you to be honest and proclaim your PC as a CableCARD device. It also helps to exercise patience and stay calm if there is any resistance. That doesn't mean accepting everything the customer service representative is saying. If a satisfactory result can't be obtained, ask to speak to a supervisor until you can get a positive outcome. The more that customer service representatives hear and learn about PCs with CableCARDs, the less problems and resistance the community of PC CableCARD users as a whole will experience in the future.
If you've got any self-installation stories, let's hear about your experience.