Netflix Brings Subtitles to Select Streaming Titles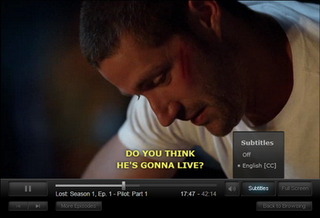 I think this is a great step in the right direction, although I'd be more excited if it was 5.1 support or more HD formats, but I suppose this was probably significantly easier. Not exactly sure why it was complicated to begin wtih given that there's zero bandwidth demand and everything they store already had subtitles when it started…oh well.
I'm pleased to report that today we have enabled closed captioning for some TV episodes and movies that you can watch instantly on your PC or Mac. Although it's a limited library of content with subtitles available – about 100 titles – we now have released the technology and we will be working to fill in the library over time.