Various high definition technologies round up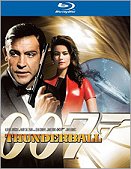 Looking for some new display hotness? Have about 7 grand to burn?
The lucky devils at The Tech Lounge got to see a new Mitsubishi DLP set that uses lasers, aptly named the Mitsubishi LaserVue 65". The fellas were quite impressed as it went up against the widely acknowledged champion of displays the Pioneer Kuro Elite plasma. The review includes pictures of the stunning contrast and especially brilliant red colors.
Rear projection not really your thing? How about Sony's newest KDL-55XBR8 LED backlit LCD? Cnet got to see this expensive top-of-the-line tech in person and naturally compared it to Samsung's LED backlit 950 series and the king o' flat panels the Pioneer Kuro Elite.
Want some content to watch on your new HDTV? How about some newly restored Blu-ray editions of classic James Bond films? A group of the back catalogue of Bond films are being released tomorrow to retails shelves.
High Def Digest and The Digital Bits have put up the first reviews of some of the Bond flicks out tomorrow.
First up is For Your Eyes Only
Over at The Digital Bits all in one smorgasbord we get the new Casino Royale (double-dip) Special Edition, Thunderball (which I personally can't wait to get), Live and Let Die, and For Your Eyes Only. Here are their comments about Thunderball:
Lastly is a little article at CE Pro about all those HDMI 1.3 revisions, I know this question has come up in the forums before.