Big Screen Weather Two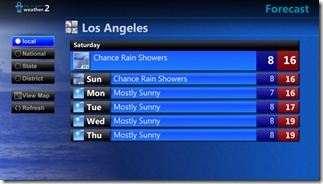 Niall Ginsbourg, famous for showing his great Vista plugins, has been hard at developing an update for Big Screen Weather. Version 1 was for Aussies only and version 2 is designed for over 4000 locations world wide :). You can even get sat. imagery in the US and Australia.
Its always good to see Niall push the envelope with his plugins.
Latest Detailed Global Weather Observations (for over 5000 locations worldwide – including Europe, Asia, Africa, N/S America, Australasia)
Forecasts (3-7 day) for over 4000 locations worldwide
Satellite Imagery, Animated Radar Loops (US + Australia only) and Charts – with a preset catalog of over 1400 images.
'TV Weather' style Geo Browsing of worldwide observations – with panning and zooming to locations (Continent, Region, Country and State levels).
MultiLingual UI and Weather data (9
languages) : English, German, French, Italian, Spanish, Dutch,
Norwegian, Swedish + Danish. (DBCS + RTL Language support such as
Hebrew + Japanese are planned for Q1 next year).