LG Optimus V Android Smart Phone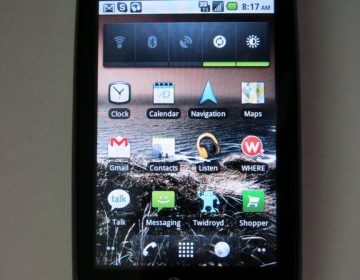 I realize this is only loosely related to home theater, but I picked up the just released LG Optimus V smart phone for Virgin Mobile. This isn't the best spec'd or sexiest phone out there, but it packs a lot of value for $149.
Even better to me is that there is no contract and I can choose a plan that suits my usage. I started with Virgin Mobile's $25 per month Beyond Talk plan which gives 300 voice minutes with unlimited data, messaging, e-mail and web with no extra fees. If you're not familiar with Virgin Mobile, the service uses Sprint's 3G and voice network. I briefly ran a speed test over 3G and downloaded at 715 kbps.
The main details of the phone are that it runs Android 2.2 with a 3.2MP camera/camcorder, 3.2″ HVGA touchscreen, Wi-Fi, Bluetooth and GPS. It comes with 2GB of MicroSD storage that can be upgraded as high as 32GB.
So, now that I've got an Android phone, give me your Android app picks. Are you using your Android phone in conjunction with your home theater or home theater PC?
Here are some examples of showing how flexible Android can be.