Are Media Center Extenders Dead? (again)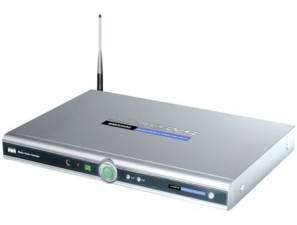 The answer has been asked by many and presumed by even more, but ask
the folks at Microsoft and they still stand strong around the Extender
platform. With Linksys announcing their discontinuing of their Extender products, it leaves us guessing what's to come, since Linksys was one of the original Extender partners for Microsoft. Are they simply discontinuing a 2 year old device to make room for a Windows7 version? Are they out of the game? Nobody outside of Microsoft (and Linksys) knows, but looking back at the Extender history should give us a good idea of what to expect.
5/18 EDIT: In an odd timing from the publishing of this article, HP Announces today that they will also be discontinuing their MediaSmart Televisions and Connect receiver devices.
Version 1 Extenders
For a little bit of history–the Media Center Extender
platform has existed since as long as Windows Media Center, and was
designed to provide a solid ecosystem in the home for the Media Center
technology. The idea has always
been simple–run Media Center on your PC anywhere in the house, and
then buy these little, low power & quiet devices to connect to all
your TVs and "Extend" the Media Center computer to those. The problem
since day 1 has been the lack of parity between what you can play back
on the Media Center PC and what the Extenders can play back.
The original version 1 Extenders were pretty revolutionary in concept. Back then, there was not nearly as many media-type devices, and even less that had any sort of decent performance or interface. Being able to spend $300 to basically duplicate your Windows XP Media Center PC anywhere seemed too good to be true. Unfortunately for all those early adopters, it was.
| | |
| --- | --- |
| | |
| Original Version 1 Linksys… | and HP Extenders |
The original extenders (from HP, Linksys and Microsoft) were plagued with problems–unreliable playback and poor speed and performance, and inability to play DVDs and a variety of other video file codecs natively (such as DiVx, XVid, etc). To add insult to injury, when Microsoft Vista was released to great fan fare (read: sarcasm), it rendered all Version 1 devices obsolete. To be fair, this was a necessary evil as the new extenders simply had faster hardware to improve the complaints of the original. Nonetheless, it was a bitter pill to swallow for the early adopters who never felt they received a justified experience.
So let's summarize, Version 1.0 Extenders:
– Great idea, fairly revolutionary for it's time
– High price tag
– Performance and reliability issues
– Couldn't play back a lot of video codecs
– No DVD playback
Windows XP to Vista Tragedy
When the Xbox 360 was released late 2005, and of course, was compatible with XP Media Center. This was one of the most significant milestones the Extender platform has ever hit, even today. Where very few had bought dedicated Extender devices, there was now a completely untapped world of gamers who had Media Center Extenders–whether they knew it or not. While it still struggled from the same issues as the other devices, this new popularity quickly brought the creation of Transcode 360–a software transcoding software, which would allow you to play non-supported video formats through the Media Center Extender interface–a few months after the hardware came out. Having been around the community since the originals, I firmly believe had the Xbox 360 not been released with MCX support, we still to this day would not have had Transcode 360. Other software like TVeristy would follow shortly and soon users were pretty easily able to playback all sorts of different filetypes.
With the Xbox 360's fast growing popularity and domination of the homes, you might be wondering how Microsoft's partners felt about that. After all, why would anybody spend $300 on a Media Center Extender-only device, when you could spend the same and get a full gaming console, and with a DVD drive.
With the launch of Windows Vista in February of 2007, the answer to the above was still unclear. While Xbox 360's supported both XP and Vista operating systems, it was alone in that regard. With all the previous Extenders rendered obsolete with Vista, and no new Extenders announced (let alone released) it was unclear to the community what would become of the Extender platform. The community was surprised that the only Extender wasfrom Microsoft and not really fitting into the original goal of Extenders–the Xbox 360 was plagued with heat, power consumption and noise issues, three things you never want in a home theater environment. It turned out that Microsoft had been working with their partners all the while and had a big Extender launch party late September of that year–over 8 months after the launch of Windows Vista.
Version 2.0 Extenders
The Version 2.0 Extenders were released with little excitement. I imagine that the largest issue, was that people that believed in the Extender ecosystem had grown tired of waiting and purchased the Xbox 360, and the popularity of units released was underwhelming. Sales aside, these new extenders (we'll count HP and Linksys since the Niveus was essentially an Xbox360) did deliver something following the extender model–lower power, quiet and cool devices that extended the Vista Media Center Experience. The major problem initially was the cost–starting around $300 for a device without a DVD player was a big issue, especially given the presence and features found in the Xbox 360. Add also that the Xbox 360 was the only one at the time powerful enough to extend the actual look and feel of the MCE–the other MCXs delivered a static, choppy, less attractive interface–and it was honestly difficult to even recommend people invest in them.
While HP and Samsung would eventually release Extender devices that improved the performance and experience significantly from the original D-Link and Linksys models, that has not been enough to overcome the deficiencies of all of the devices. While some of these OEMs included built in support for filetypes like Xvid or Divx, there was no standard, which helped confuse end users even more as far as what these devices could or could not do. Trying to get people to understand and adopt the technology was a difficult enough task. Helping them explain which device would actually fit their needs seemed to be a full time job (and if you search the history of TheGreenButton.com forums, it really was). To add to the confusion, only the Linksys DMA 2200 included a DVD drive, and none of them supported DVD playback natively from within the Media Center Extender interface.
| | |
| --- | --- |
| | |
| Linksys Version 2.0 Extender | HP's Version 2 MediaSmart Connect |
I will briefly mention blu-ray format, to which there is no Extender out or announced that would include a blu-ray drive. So while you could at least play an disc DVD through an Xbox blade interface, without any blu-ray drive (and according to Chris Lanier, probably not going to happen any time soon), that means that those $20-30 movies you are buying will be relegated only to your main theater.
With the introduction of Cable Card-enabled computers which were able to record copy-protected high definition television on your PC, this was the #1 selling point for extenders–there was no other way you could play that content on any other room in the house. This would probably have helped with sales, if not for the lackluster support that the cable card-enabled PC's have received in their own right (OEM only, high price tag, major installation issues). But nobody can argue that this "extending" technology was exclusive, unique and for the most part worked.
Things were going smoothly/quietly with the whole Extender world until recently. Knowing and understanding the shortcomings of the hardware in the device was an unfortunate, but at least pretty well known fact. What slowly started and quickly became a problem, was related to the lack of codec support…but this time in relation to plugins. A number of fantastic community driven plugins had been developed–Netflix, Youtube, Hulu apps, etc–which brought a variety of online content to the Media Center interface, but were unable to extend to the Extenders due to filetype support issues. If Extenders were more popular, would those developers have tried harder to extend compatibility? Possibly, but the fact remained that beyond all the current limitations of the hardware, that Extender users had to get used to now being limited with community-developed applications.
That did not surprise me, simply given the internet as it is and the manner in which these applications were bringing that content to the Media Center experience was far from a supported method. What DID surprise me however was when Microsoft announced the CBS-driven Sports Channel a few months ago. Until then, all of the Online Spotlight applications (which are Microsoft partner-released applications for Media Center) worked for both the PC and the Extender without problems–besides maybe some slight performance issues. The Sports Channel was the first Microsoft-supported application which 100% would not work on Extenders. This puts a pretty large wrench into the message Microsoft originally sent with Extenders and makes you start to think about the future of things.
So let's cover the Version 2.0 of Extenders for easy reading:
– Quiet, cool, low power
– Much faster performance than the Version 1.0 Extenders
– High cost
– Less attractive interface, slower speed
– Lack of native filetype playback
– Lack of DVD/Blu-ray support
Looking Forward
So where are we now and what have we learned? Are extenders dead? Not technically, no. But it's definitely not very alive either. Through the last 5 years, we have seen a wealth of other "extender" type devices be released on the market–from the smaller players like The Popcorn Hour, to bigger ones like DiVx player (made by D-Link) to even Apple's own AppleTV. All of these devices have their pros and cons, but they all share the same concept of the Media Center ones–create a low power, quiet, cool device that can leverage your server/computer to stream content to a television.
The most glaring issue I see when I review my list of the pros and cons of the Media Center Extenders is the lack of innovation. Version 1.0 was widely considered to be much more of a "beta" product, that was not ready for primetime and was abandoned quite early. Version 2.0 did much better, but it suffers from a lot of the same issues that version 1.0 had–the devices are still too expensive, and most importantly, they do not match the marketing hype of "extending" the entire Media Center experience to to any TV in the house. With Microsoft now releasing MCE add-ins sans support for Extenders, it begs the question if Microsoft has thrown in the towel on Extenders in general?
With the variety of other extender-type devices, you can throw basically every file format at it for playback and it can play it without problems, with the exception of Cable Card television. But if Windows7 is released with the rumored copy-freely firmware from ATI, then even recorded television shows will be able to be played on any device (assuming the show is not flagged). If you're not a cable card user at all but desire the Extender ecosystem, SageTV has been truly innovating their Server/Extender model–their Extenders can play every format, and it really does mirror the main experience, and now it can even be powered off of a Windows Home Server (rather than needing a dedicated Media Center PC). Add to this all the new mini-style computers from Intel, AMD and VIA that are getting increasingly popular and smaller yet full-powered computers, and one wonders if we can't just build a lower power PC to do all the work and just stream everything from a WHS anyways.
I think the deciding factor to the survival of the Media Center Extenders will be in the next 12 months. What does Microsoft have up its sleeves for the Extender platform with the release of Windows7? I honestly don't know, nor have I heard any rumors about it, but I can't imagine not seeing a 3.0 version of Extenders with such a big (and hyped) release. Windows7 has been accelerated to a great deal to erase a lot of the issues Vista has been recovering from, and I think they would be doing a great disservice to the Extender model to simply migrate the current models over to supporting Win7. If Extenders are released for Windows7 without seriously addressing the issues that have plagued the previous 2 generations, then they will probably fail.
If the original vision of extenders being able to truly extend the PC to any TV–almost 5 years later–still can not be accomplished, then I think it should be abandoned. I've been a believer of the idea since its inception, so I hope I'm wrong…but at this stage, there should be no "yes, but" for anything in Media Center. If the answer is Softsled, and just letting people create their own extenders, I'm sure that would make a lot of people in the community very, very happy.
I look forward to the next 12 months to see how the Media Center ecosystem evolves and what it becomes being a 100% Living Room and Bedroom Media Center user.